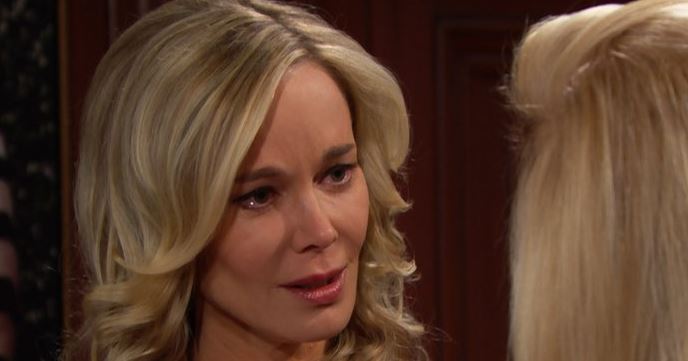 The Bold and the Beautiful fans watched as Bill had Brooke right where he wanted her. He is enjoying every second of what he is doing to this family in the meantime. He's got Ridge and the judge right where he wants them, and he loves it. He loves that they know he knows, and that they know he will do anything and everything to make them suffer for this, but he's sitting back and not really doing a lot at the moment. He's letting them worry, think about it, lose sleep, and stress. What he's done is create a punishment that will keep on giving — to him, that is. He's not happy with their actions, but he does love having them where he has them. And now that Brooke is pleading for her husband, he has her where he wants her, too. We have a feeling that the price of her husband's freedom might be a bit too expensive for her to pay — but she will pay it.
Wyatt and Liam have a little brother, Will. And they've spent a little time with him this week. We don't get to see much of that, but they seem to want to see this young man become a much better version of themselves, and we appreciate that. They all have the same father, and that means that they all have the same genes that may or may not be the best. There is a chance these two older men know that their young brother is so susceptible, and now is their chance to get everything to work in their favor. Will they get the chance to see this all work out in their favor if they are able to continue spending more time with him? Can they teach him morals and good values?
What's Happening on The Bold and the Beautiful
What happens when #BigBrother houseguests guest star on #BoldandBeautiful? There's only one way to find out… Stream it on CBS All Access: https://t.co/koYjWlN0CN @BandB_CBS @CBSBigBrother pic.twitter.com/OHaVN2mbor

— CBS All Access (@CBSAllAccess) November 14, 2018
We love that this is happening, and we are not mad at this at all. We hope that things work out for the best for everyone who is involved in this, so we want to share this with you for your own viewing pleasure. You are welcome, my friends.
What's Next on the Bold and the Beautiful
The ultimate con could have catastrophic consequences. 🚨 See what happens this week on #BoldandBeautiful! pic.twitter.com/3PHj3H0Afo

— Bold & The Beautiful (@BandB_CBS) November 11, 2018
There will be a bit of a sad note this weekend, and it's all we can do to make sure that things will work in our favor. We know that Ridge is upset. He will speak to his wife about how he feels and all he's done in the past, and he might just do that with a hint of regret. There is a good chance that he has some feelings that he cannot handle that will work on his behalf, but we just don't know. We don't know that he can do what he needs to do to make his life better, but he will talk to Brooke about it. We think he might just apologize to her, too. She told him this was a bad idea. Of course, she told him this because she wanted to take Bill's side in all of this. She wasn't worried about the legal implications, of course.
And now it's all a mess. Ridge will sit down and talk to his wife, his son Wyatt, his brother Thorne, his son Liam, and his sister-in-law, Katie. And he will tell them what he thinks that Bill wants, what he might do, and how he might do it. This means there will be big decisions being made in this household, and we think that they will all have to do with Brooke. What happened here is a mess, and he cannot fix it in any way at this point. What will happen to Ridge now that Bill is here?
Stay tuned for more The Bold and the Beautiful and be sure to check out TVOvermind daily for the latest The Bold and the Beautiful spoilers, news, and updates.