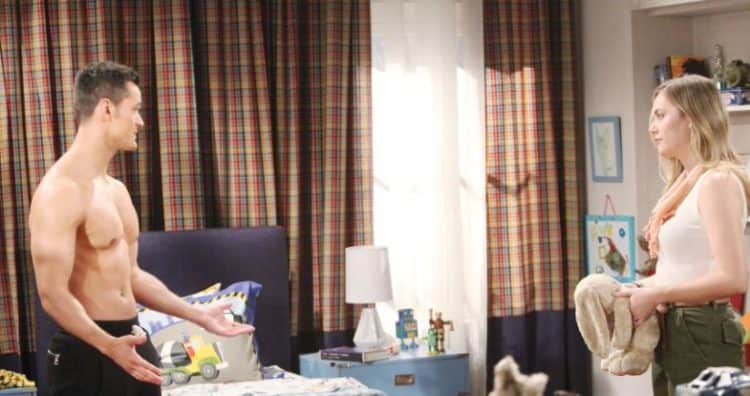 The Bold and the Beautiful fans know that it was a big day for Hope. She announced that she's got a plan in action, and she's not going to mess with that in any way other than the one that works for her. She's going to marry Thomas. Little Douglas has made it clear to her that he is ready to have a mother and a father and he will be better. He's having nightmares — that his father is causing so that he can use them to manipulate Hope — and it worked. And now everyone is concerned, and Hope and Thomas are getting ready to share their vows and make this actually happen. We cannot believe that anyone believes this is the real deal, but it is working for them in some way. It is not going to be pretty if we had to guess how things go down.
Then there was Liam. His emotions are all over the place right now. His wife annulled their marriage not because she doesn't love him, but because she feels that he should be with his kids rather than with her since their own baby died. And now she's marrying another man, and he's not sure how he feels. He just came off a night with Steffy in which they slept together after more than a year of being divorced, and now he's not sure how he feels. Of course, this is crazy to us considering we know he has always loved her and never really been able to get her off his mind. He's a man who loves two women, and he will always feel that way. They both need to let this go and move on from him. He's not good for either.
What's Happening on the Bold and the Beautiful
Did someone say it's Man Crush Monday? 😍 #BoldandBeautiful pic.twitter.com/gR1y5DmEkO

— Bold & The Beautiful (@BandB_CBS) July 15, 2019
Our favorite day of the week, really.
What's Next on the Bold and the Beautiful
The countdown has begun to happily never after! Don't miss it this week on #BoldandBeautiful. pic.twitter.com/VX7Fo8UoPh

— Bold & The Beautiful (@BandB_CBS) July 14, 2019
Ridge and Brooke are having a long talk about a few things, but it will come across as less talking and more screaming at one another. They are in the middle of what is only going to be the end of their marriage, and that's not good. He's going to ask his wife in a very confrontational manner why she hates his son and the fact that he loves her daughter. And then she is going to lash out at him for even daring to speak to her about this, and how much she loves Hope and how she only has her best interests at heart, and whatnot. There is a lot going on here that might be hurtful to those in the moment, but we aren't sure that we can handle much more than seeing them fall apart at the seams. This is ugly, and we get it.
Then there is the fact that Liam is going to go down memory lane with his own life. He's going to look back at all the romantic memories he has of him with his ex-wife, and then he is going to feel more nostalgic and sad than ever. But, this is part of his old life, and he has to get through that. But, we also know that there is a little something else going on. Right now, Detective Sanchez is back making some scenes, and we wonder if this has anything to do with the baby swap secret going down.
Stay tuned for more The Bold and the Beautiful and be sure to check out TVOvermind daily for the latest The Bold and the Beautiful spoilers, news, and updates.