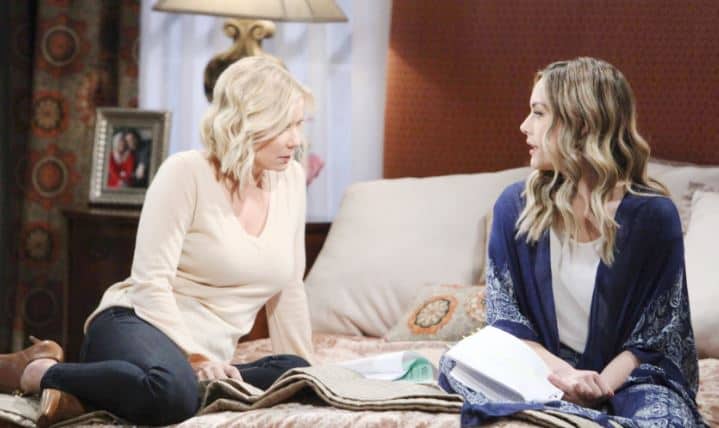 The Bold and the Beautiful fans never have a moment without some sort of amazing action, and this is no different. We saw that Hope is pregnant, Steffy is unhappy about this, Liam — once again — has no idea what to do with his life, and everyone is upset. Well, Bill is not upset. Bill is probably the happiest person in the city that this pregnancy happened. You don't often see a father who is happy that his son got a woman who is not his fiancé pregnant even though he just had baby with her, too. And now things are turning for the worst for Liam, Bill could not be more ecstatic. This might mean he has another chance with Steffy, and he will do anything he can to get that to work out for him. And then there is Brooke. She wants her daughter to take this man from his fiancé and daughter and create her own family with him. It's all kinds of ugly.
We also know that Zoe is Emma's new friend, but she is also Xander's former girlfriend and crazy person. Zoe did this friendship situation on purpose, and Emma had no idea she was the woman that her new boyfriend was talking about all those weeks. She opened up to her friend, and that gave Zoe an inside point of view of all their life situations. Now things are uglier than ever, and we can't help but wonder if there is a chance they can work anything out or if it will all be like this all the time. We don't know. Bu we do know that we will see this take a little bit more of a life of its own, and we will continue to see Wyatt and Sally work on their own new life. They are happy, and we all like it.
What's Happening on The Bold and the Beautiful
Celebrating all of the wonderful parents on the #BoldandBeautiful cast and crew today and every day. ❤️ Happy #NationalParentsDay! pic.twitter.com/QsoxtBHde1

— Bold & The Beautiful (@BandB_CBS) July 23, 2018
Moms get Mother's Day. Dads get Father's Day. And it turns out all parents get National Parents Day, which just so happened to occur recently. We didn't know about it, but it seems that the good people over at the B&B did know about it, and they made it their mission to celebrate all parents, and they sent a very special shout out to the best parents on the show. Who do you think is the best television parent showing up on this particular show? Is it a current situation or someone from the past?
What's Next on the Bold and the Beautiful
She got stabbed in the back…will he get stabbed in the heart? 💔 Tune in this week to find out! #BoldandBeautiful pic.twitter.com/o5tEMHqXVj

— Bold & The Beautiful (@BandB_CBS) July 22, 2018
Emma is not going to be happy when she finds out that Zoe's big new plan puts her in the spotlight and makes it impossible for Emma to get the attention she so wants and feels she deserves after all the hard work she put into this show. She's going to use this to bond further with Xander, and it will work out well for them in the long run. She's just unhappy right now, and we might have a chance to see how this will all play out in some way, shape, or form. She's upset and they will get this woman back if it kills them. She's awful, they know it, and they will do this themselves.
We will also see that Bill is going to use Justin to try and get Steffy back. He will share with his attorney how he has baited her yet again, and he will then ask him to do some work for him on his behalf. Justin will not like this or how it is going, but he will do what his friend and employer asks of him because that's who he is as a person and what he does for a living. And it might work, but we think that Steffy is not entirely sure she believes that Bill is saying anything true to her. She might be too upset to notice, however, and that might make her make mistakes that allow Bill to get what he wants from her. It's all going to be ugly.
Stay tuned for more The Bold and the Beautiful and be sure to check out TVOvermind daily for the latest The Bold and the Beautiful spoilers, news, and updates.