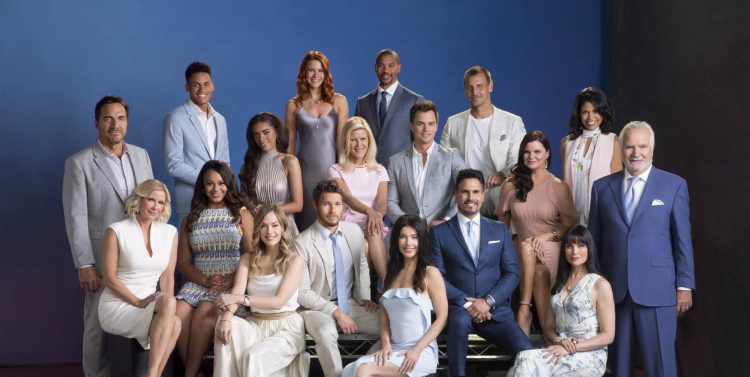 Bold and the Beautiful fans already love what is going on during Celebrity Week, and it's been fun so far. It's been a week filled with summer-ready parties across many of the countries states as they slowly begin their phases of reopening. Here in Florida, our beaches were full, our rivers and springs packed, and everyone was out and about this weekend dining and welcoming the unofficial beginning of summer. What was going on where you are? Yesterday, we kicked of Celebrity Week with a visit from a famous baseball player, and today we are taking our time to see one of our favorite musical artists of all time. You know him as Usher, and we cannot wait to see what he brings to the screen when he guest stars alongside the love Amber and C.J. He's here to perform a song, and Amber loves it. C.J. is not a fan, though, because he dedicates his son to her. We also get to see things like Lauren and Sally and their gossip about the fact that Stephanie and Eric are absolutely finally done for good — well, for that moment of good. This is an episode that aired 22 years ago almost to the day. On that note, we also want to get to know a bit more about our famous celeb.
He Was Only 20 During his Guest Appearance
When he made the decision to head to daytime television as a guest star, he was only 20-years-old and already one of the most famous musicians of his time. Usher Raymond was born on October 14, 1978, but his guest appearance was in 1998. He'd only just written and released his first album, My Way, alongside Jermaine Dupri the year before, and it hit big. Trust me…I remember this album and how good it was, still have it somewhere, and really do perk up every single time I hear a song from it. I was in the 8th grade at the time, and it was a hot album.
He's From Texas
He was born in Dallas, Texas, but he didn't stay there long. His family decided when he was just a young child that it would make more sense for them to live in Tennessee, so they moved to Chattanooga, which is close to the north Georgia border — not at all far from Atlanta. When his grandmother realized that he had some serious vocal talent after his mother encouraged him to join the church choir, they moved to Atlanta in hopes that he would find a way to make it big. They were right.
He Got His Start on Star Search
It wasn't his official first start, but it was the biggest break he'd had. When the family moved him to Atlanta, he had a few opportunities to sing with a group called "Nubeginnings," but his mother took him right out calling it a bad experience. He later met Bobby Brown's bodyguard, and he tried to help him get some leverage in the industry. That's how he got him on to Star Search, where he then immediately earned a meeting with producer L.A. Reid, who was very interested. Unfortunately, Usher's voice changed and he struggled with puberty, so his album with Reid was canned.
He was put on hold, and then he was sent to live with Puff Daddy in NYC to help him adjust, fix his voice, and figure it out. It was 1994 before his first official but little-known album was released. That's why we consider "My Way," to be his first official in 1997 because it hit so big and so fast. That's history.
He's Been Married Twice
He is a man who is very easy on the eyes, and it's no wonder so many women love him. He's got his pick of many, we imagine, and yet he's only decided to ask two women to be his wife. His first wife was his former stylist, and she is the mother of both of his children. They wed in 2007 and their marriage lasted two years. His second wedding occurred with his second wife, Grace Miguel, in 2015 and lasted through 2018.