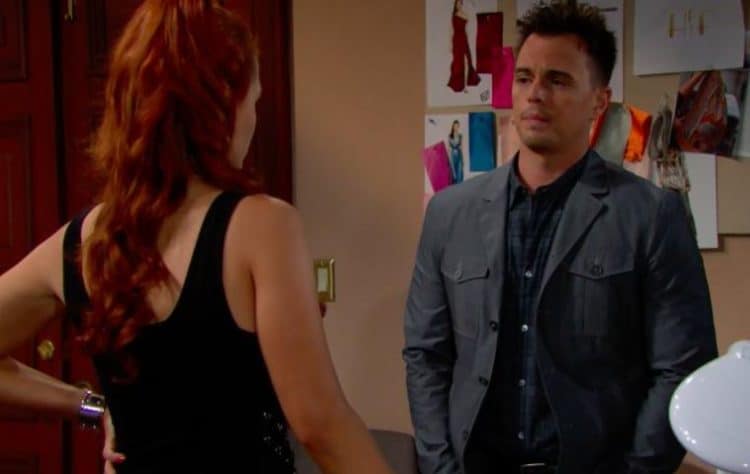 The Bold and the Beautiful fans aren't sure how to feel right now. This past week gave us all we've been looking to see happen for so long, but it's so much worse than we imagined. For one, everyone is so happy for Liam and Hope that their baby is alive, but no one seems to care so much about how Steffy feels. She adopted this baby during one of the darkest times of her life, and she's loved her for months as her own daughter. She didn't know this baby was not hers to adopt. She didn't know it wasn't Flo's baby. These people lied and stole a baby that she could adopt so they could have some money, and she didn't know. She's now being put in a situation she's not sure how to handle. She is her mother, and she doesn't want to give up her baby. But, she has to give up this baby because she has parents who love her and want her back.
And she's crushed. No one is really concerned with how she feels or the fact that now this baby has been mourned twice. She's been thought dead by her birth parents for months. Now she is not dead, and they know it, and the only mother she's ever known has to give her up and mourn her on her own. It's a terrible situation that she has to live with, and she's crushed to have this life situation happening. Of course, the people who knew about this are going to be hated forever. Thomas will never live this down, and we suspect Hope and Liam will just go back to being a happy family and a married couple again before much longer. Right? We cannot see that going another way for them.
What's Happening on The Bold and the Beautiful
Smiling because the truth about Baby Beth is finally out! 👏 RT if you are too. 😃 #BoldandBeautiful pic.twitter.com/qk9TnaJ8Qe

— Bold & The Beautiful (@BandB_CBS) August 9, 2019
We love seeing someone that doesn't get along onscreen getting along like besties off the camera.
What's Next on the Bold and the Beautiful
https://twitter.com/BandB_CBS/status/1158014727122898945?ref_src=twsrc%5Etfw
This is going to be a day of heartbreak, but it's also going to be the day that Wyatt tells Sally what Flo did and how she became involved in all of this mess, and then he will apologize to her and try to make up for all the things he did to her that were not right. She will probably not be all that surprised to hear this, but she will love that he is coming to her to apologize, and we are so certain that there might be some possible chance that they can work through their issues and perhaps get back to their real life and be happy again. On the other hand, there is a chance that Brooke and Ridge will never be on the same page. They cannot agree on anything. Brooke is so happy that her daughter gets to have her baby and that she is not dead, and Ridge is not happy tha this daughter's heart is broken.
But Brooke cannot see that. She doesn't get why her husband is upset, and she doesn't feel that anyone should be worried about Steffy. She thinks everyone should just be happy for Hope and Liam, and she's not concerned that Steffy's life is being torn apart. She can feel both ways: happy for her daughter and sad for Steffy, but she does not. She's awful, and she feels that Steffy should actually be happy for Hope and Liam and just give the daughter she's been raising to them without a complaint. While she is happy that her stepsister and Liam didn't lose their baby, she's crushed; and that is totally fair. Brooke is being horrible.
Stay tuned for more The Bold and the Beautiful and be sure to check out TVOvermind daily for the latest The Bold and the Beautiful spoilers, news, and updates.