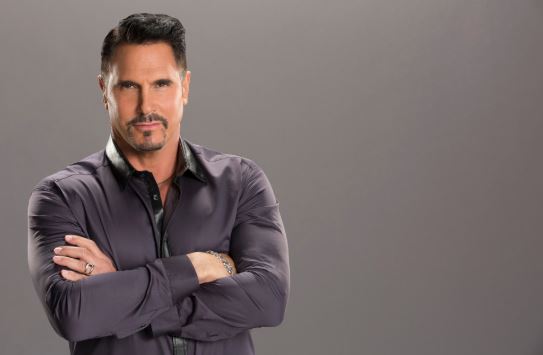 He's currently working as the awful, despicable, very no-good Bill Spencer Jr. on The Bold and the Beautiful. His character is one who loves to make his family miserable no matter what it means to those around him, and he only does wat he feels is good for him. It's easy to see his face and dislike him immediately thinking he's like his character, but it's also easy to remember he's a man who is not like his character, and that he's been more than his fair share of awful soap characters over the years. Here's a few other things you didn't know about Don Diamont.
He's a Soap Superstar
If you can find a soap that Don Diamont did not star in, you're amazing. The man has been in virtually every soap that ever lived. He began his soap career in the 80s when he joined the cast of Days of Our Lives for a year as Carlo Forenza. That was 1984. Then he was cast as Brad Carlton on The Young and the Restless in 1985. He played the character for 11 years until 1996, took two years off, and returned in 1998 for another 11 years. In 2009, he joined the cast of The Bold and the Beautiful where he's been since.
He's a Daytime Record Maker
Don Diamont was named one of People Magazine's 50 Most Beautiful People in the world in 1990. That might not come as a big shock to anyone who has ever seen his face, but it might come as a bit of a shock to hear he's the first daytime soap opera actor to ever be named one of People's most beautiful people. He's a record maker.
He's a Former Model
During his time as an actor in the beginning of his career, he also worked as a model. If you didn't already know this, you certainly didn't know he as the cover model of "Playgirl" in both 1988 and 1995. That's not something many men get to say they've done.
He's a Father
Don Diamont has six children of his own, and one child he's raising for his late sister. He's raising his sister's son after he death in 1998. He also has four sons with his first wife, and he and his second wife, whom he married in 2012, have twin sons of their own. He's might not have any daughters, but he could potentially have seven daughters-in-law one day, and that will bring a bit of diversity to his family.
He Has a Famous Son
Diamont's son Alexander is a famous football player. He once played quarterback for Indiana University, which means he's is a college player. That's a big deal for any young athlete, and his father has said more than once he's quite proud of his son for his accomplishments on the football field.
Diamont is Not His Real Name
In fact, it's his mother's maiden name. His real last name is Feinberg. However, he's been using his mother's maiden name since he began working as a model prior to his acting career. He states that his mother's maiden name is more 'rhythmical' than his real last name. He's been using it so long he considers it his name.
He's Jewish
In case you didn't glean that from his real last name, Don Diamont is a Jewish man. He's stated that this is not something he was very happy with or welcoming of until he was a much older man, but he's learned to embrace his ethnicity and work with it in his adult years.
People Magazine Loves Him
Not only was he considered one of the sexiest people in the world when he was first beginning his career, the magazine also named him the Sexiest Veteran Soap Star. This was back in 2009, and it was a huge honor for him. He's not someone who doesn't appreciate this.
He's Been in Commercials
While some people begin their acting career in the commercials, Don Diamont is a man who did them once he became famous. He was well into his acting career when he took on a role as a Sure Ultra Dry commercial campaign. This was in 1995.
He's Worth A Lot of Money
Don Diamont has a net worth of approximately $4 million, which is impressive for a soap actor. He's made it his career to work on daytime television, and it's one he's proud of. He's going on more than 30 years in the business, and that's an impressive net worth for someone who has been working this long. He's made it his goal to be successful, and he's made it.
Stay tuned for more The Bold and the Beautiful and be sure to check out TVOvermind daily for the latest The Bold and the Beautiful spoilers, news, and updates.