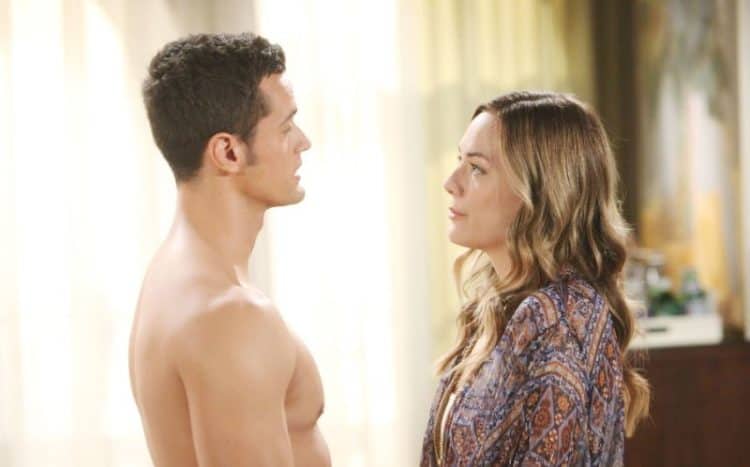 The Bold and the Beautiful fans know that Flo is panicked after she learns all about Thomas and his past. He's already threatened her, and now she feels like this might just happen to her, and it might just make the most of her life. She's upset, she's not happy, and she is not getting things to work for her the way that they once did. She's losing it, and she's going to go off the deep end. Everyone in her life wants her to keep quiet about this. They are all too worried about what they want, how they want to live, and what they want to see happen than they are about how Liam and Hope actually feel about their lives. They have a baby they think is dead who is nothing short of totally alive, and everyone is hiding it for their own reasons. And none of their reasons are actually good.
Hope is in danger, and everyone seems to know that. She's married to a man who is totally obsessed with her, but she's not into him. She doesn't see just how much she means to him, either, and that is a problem. She is a woman who has a lot more going on than she is going to admit, and she's got a lot more going on that she is going to be comfortable with. She's opening up to her new husband, who she views as nothing more than a friend, about her feelings of love for her ex, and she's unaware that he has anger. She's put herself in danger by admitting to Thomas that she still loves Hope. It's scary, it's dangerous, and someone needs to come out and tell the truth before he can take her into a world that is dangerous and dark and ugly and she cannot come back from.
What's Happening on the Bold and the Beautiful
During the commercial break, we're talking the @bandb_cbs kissing scenes with @don_diamont and @KatherineKellyL's very "JOLLY" famous family! @CBSDaytime pic.twitter.com/fFCxJPmlV2

— The Price Is Right (@PriceIsRight) July 29, 2019
Who doesn't love the Price is Right?
What's Next on the Bold and the Beautiful
https://twitter.com/BandB_CBS/status/1155478015582904320?ref_src=twsrc%5Etfw
Flo's done. She cannot keep this secret any longer. She's afraid for her life, and she is tired of being a liar and a horrible person, and she's going to tell Wyatt the truth. But, her mother is doing anything and everything she can to stop her from opening up to him and sharing the truth. She wants to be honest with he hope that he can forgive her — though we just don't know this is the kind of mistake she can be forgiven for — and she thinks that she might just have a chance to make things work if she's honest. It might also get Thomas off her back and away from her, too. So, she makes it clear to everyone she is going to confess. Except Shauna is not going to allow this. We cannot see her making this situation work for herself no matter what happens.
Additionally, Liam is finally starting to put together the many pieces of this puzzle, and it's not going well for him. He's finally starting to realize that while he thought there might be something strange and secretive about this baby, he didn't have a clue until just now how big this might be and how big this really is for him. For the first time, he realizes this baby is Beth. She might honestly, really, potentially be Beth. He doesn't think that Steffy had any knowledge of this — in fact, we know she did not — and he is beyond elated to find out the truth and see if he can salvage his life and his wife. But, he has to crush Steffy in the process.
Stay tuned for more The Bold and the Beautiful and be sure to check out TVOvermind daily for the latest The Bold and the Beautiful spoilers, news, and updates.