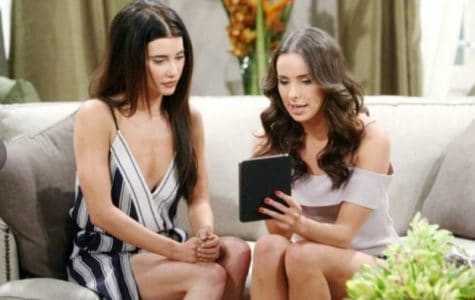 The Bold and the Beautiful brings nothing if not consequences for those who cannot get their lives in order, and things aren't looking so good for Ridge and Quinn. Even if they decide to end their illicit affair, they are related. She's his stepmother, and they will spend ample time together at family functions. Now that they're all in Australia, we hear that their affair is more widely realized than they understand. They aren't going to stop until someone makes them, and it doesn't appear anyone is going out of their way to do that. They have been sneaking off to spend time together discussing the end of their affair, but they never seem to actually end it or stop meeting. They're close to being caught by someone who wants to put an end to it rather than someone with a profitable interest in their affair.
Brooke and Eric are both going to end up hurt, and we have reason to believe they will find out here in the next few days or so. They will turn to one another because of their shock, and we hear that they will even discuss ending the relationships they are in. Will Quinn make the decision to leave Eric, or will he make that decision for her? Will Brooke care that Ridge is hurting her with Quinn, or will she see this as her out so she can go back to Bill? And will Katie feel betrayed by this and leave for good? We have heard rumors she's been offered a job as a cohost to a popular talk show, and that might mean she's no longer available to film this show, and this might be the perfect excuse to write her out.
Imagine being betrayed yet again by your sister. She already took your husband, left him, got engaged to someone else, ignored you when you told her you believe her fiancé is cheating on her, and now she's in a position where she's got someone else telling her the same thing and now she's a believer? It's an ugly situation, and she can't seem to get over it.