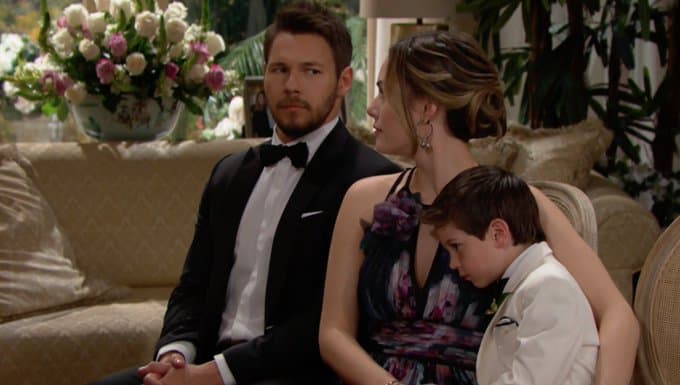 Bold and the Beautiful fans know it was a rough week. It seems that everyone and their mother knows that Thomas is not trying to marry Zoe because he loves her, and they all tried to tell her this. She is not hearing it, though. Even when his own son had a total and complete meltdown on the wedding day before they were to wed, he decided that perhaps the wedding was not the best idea. She decided that she doesn't care how Douglas feels because she's ready to marry Thomas and this is their life now. She pushed him to get married anyway, and we already dislike her. We are disliking her more and more by the day. He's even worried about his son, and that's never a problem he has. Hope is trying to do all she can now that she knows the truth, but what will happen?
Brooke and Bill shared a kiss that they did not have any business sharing. They did not have a second to spare when it comes to this, and they are not having a good time right now. They both did wrong, she's pushing him to remember he loves Katie, and yet she's still hanging around and talking about it and telling him how unhappy she is in her marriage and how much she misses him. She's a walking contradiction, and she's a hot mess. We cannot stand this, and we suspect that Wyatt might see past his father's stories into his eyes. Can he see that his father clearly has feelings for Brooke that he is trying to hide as he tells his son all about the many things he dislikes that are all coincidentally upsetting Brooke right now? It's a bit much, and they will not stop this madness.
What's Happening on Bold and the Beautiful
https://twitter.com/BandB_CBS/status/1237804966653222912?ref_src=twsrc%5Etfw
Who doesn't love a bride?
What's Next on Bold and the Beautiful
Will Thomas and Zoe say I do? You won't want to miss what happens this week on #BoldandBeautiful! pic.twitter.com/dLlKIHHPZ4

— Bold & The Beautiful (@BandB_CBS) March 8, 2020
Steffy has to come clean to Brooke and to Ridge and tell them what she knows. She has to tell them what she learned, how she learned it, and how she inadvertently played a role in helping her brother do what he did. She did not know that he was a liar and that he was trying to manipulate both Hope and Liam, but she now knows, and she's making this right. She tells them, and they will not be happy with her, but how can they honestly be mad when she literally did not know what she was doing and how this was happening? This is a mess, and they know this. They know she has some issues to work through, and they know she has to focus on things in her own life right now. They know she's going to do some tough things and go through tough times. We know this.
Douglas is going to do something sweet for Hope and Liam, too. He's got a little surprise for them and baby Beth, and he cannot wait to see their reactions when he shows them what he did. He is such a sweet child, and it's so easy for us to see why Hope has fallen so hard for this baby. He is all the things that are so good about all the people, and we love that. We just adore it. He's so sweet, and this might be one of those things that just makes us smile so big. He's a sweet kid, and they all love him.
Stay tuned for more The Bold and the Beautiful and be sure to check out TVOvermind daily for the latest The Bold and the Beautiful spoilers, news, and updates.