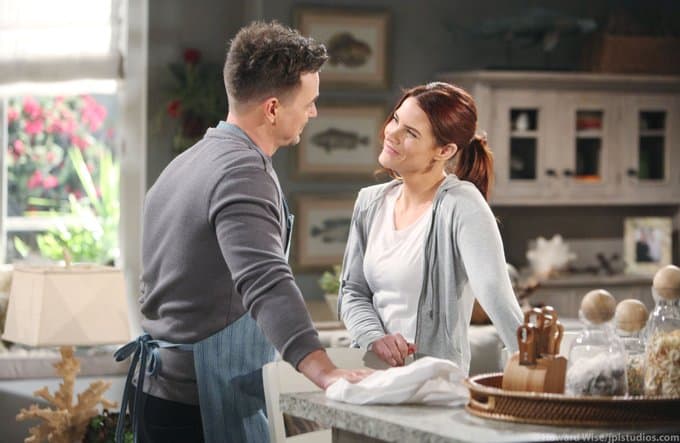 Bold and the Beautiful fans know that there is a lot that might not work for them, but right now we can see that little Douglas surprised his family and he made sure that Liam and Hope got to get married in the cabin. He did a wonderful thing for the, but will this work in their favor? We do know that Liam still has feelings for Steffy, so this might not be something that she can work on in her own right. She might not be happy with the fact she remarried a man who still loves another woman, but we want to focus on how cute it was. Meanwhile, who is shocked and surprised that Bill went out of his way to interrupt the reunion that was going on with Ridge and Brooke in their home after she invited him back into the house to be together? It was meant to be passionate and wonderful, but that did not work out.
Shauna made mention of something pertaining to Ridge that might just make Quinn feel she can ruin things. She's still on the hate Brooke train, so this is something she feels she can use. She also wants to see her good friend end up back together with the man who is with Brooke. She wants to ruin this marriage for more than one reason, and nothing is about to stop her from doing just that. But, what kind of information might that be? We don't entirely know, but we do know that things will have to get a little more interesting at some point, right? There's a lot at stake here. Sally is still avoiding the fact that her doctor keeps texting and Wyatt is asking questions, and she is doing her absolute best to keep it that way.
What's Happening on Bold and the Beautiful
Liam and Hope lovingly reunite their family with the help of a very crafty Douglas. WATCH FULL EPISODE: https://t.co/u847xY9jA8 #BoldandBeautiful pic.twitter.com/OqTwkFiPOV

— Bold & The Beautiful (@BandB_CBS) March 17, 2020
So sweet.
What's Next on Bold and the Beautiful
Brooke and Ridge's love is stronger than ever, but will it last? See if Ridge finds out about Brooke's secret kiss this week on #BoldandBeautiful! pic.twitter.com/O8ZCsToR8Z

— Bold & The Beautiful (@BandB_CBS) March 15, 2020
Things are looking good in the land of Liam and Hope now that they are officially married thanks to Douglas, and it all seems that nothing of the sort worked out for Thomas and for his plan to marry Hope. His own son did this to him, and that has to hurt. There is a lot of hurt around here, and it's not going to get any better. Bill is losing his mind over Brooke. He was head over heels for Katie a solid week ago, and now he's kissing Brooke, fantasizing about her, and he's even got the audacity to show up at her home knowing that she is there with her husband have their big, passionate, romantic reunion. She doesn't care. She's not at all invested in any of this, and it's not a big deal at all. We know this is not good news, but it is what it is.
Then there is all that is going on with Shauna, who let something slip to Quinn that we know her friend is going to use against her. She knows that she has some ammunition to use for Brooke and Ridge and the demise of their marriage, and we are certain that she doesn't really know just how much she shared of this to her friend. But, that's that. She's also worried about her daughter, who is no longer with Wyatt, who is suddenly living with Sally again. This is all too much. We can't even stand this situation, and we don't know how we will continue to watch this train wreck unfold in front of us.
Stay tuned for more The Bold and the Beautiful and be sure to check out TVOvermind daily for the latest The Bold and the Beautiful spoilers, news, and updates.
Tell us what's wrong with this post? How could we improve it? :)
Let us improve this post!