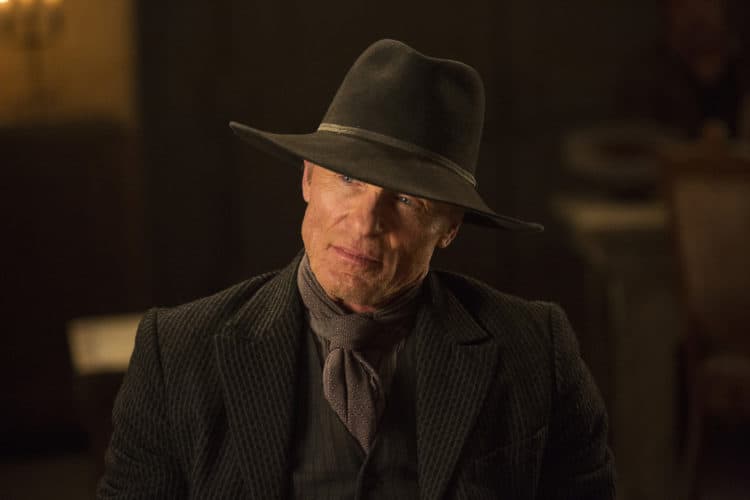 "Westworld" is one of HBO's most critically acclaimed shows in recent years, as the premium cable channel has always been known to have, so it should be no surprise that the futuristic android drama has captivated such a large audience. Even with the literal roller coaster that each season of the show has been, season 2 specifically was a bit all over the place. Season 2 was just as informative, if not more so, than season 1 but as this season had to build off of the first and set a path for the future of the series. The future of "Westworld" is not something that can be easily predicted as the show has been filled with twists and turns that are impossible to see coming since the very beginning. Although it appears to take at least 2 years between seasons, season 2 was well worth the wait as it opened so many doors and answered just as many questions. Below, we've ranked the most interesting moments from "Westworld" season 2 and how this season compares to the previous season and more.
20. Ford Meets Akecheta
Akecheta was one of the most interesting characters seen throughout all of season 2 of "Westworld" but he remained a complete mystery and each character of the show involved with him, saw him as a different kind of man, or host. Typically the characters that Ford tends to have intimate discussions or interactions with tend to be rather important to at least a few storylines. Akecheta is clearly no exception to this as he himself had many mysteries of "Westworld" and its lore locked within him. Overall, this is a telling from Akecheta about him meeting the man that he says "put them to sleep in the first place".
19. Death is Always True
As he was in season 1, William also known as The Man in Black, is one of the most interesting and heavily involved characters in Delos' massive wild west area known simply as the Westworld park. We learned that William is not only a popular and well-versed gunslinger in the park but also heavily involved in the company behind it and its dark exploits of man. William had his own sense of wrong and right and when in the park, especially in season 2, he starts to lose himself within the park and its people. William is quite a violent man but for him, he's aware of this and calls himself a man of reason and regardless of this he is one of the most acknowledged visitors of the park.
18. Akecheta Wanders The Lab
This scene is interesting all on its own just due to the incredible inclusion of the Westworld version of Nirvana's popular single "Heart Shaped Box". Some of the most interesting moments and scenes from "Westworld" include various original song renditions of popular songs from different genres and eras. Outside of the song presented in this scene, this scene featured Akecheta waking up on the tables that they generally repaired the damaged hosts on, in a Delos lab.
17. Teddy Ends His Life
Teddy was a very consistent and prominent character from the very beginning of "Westworld" but as season 2 of the show started to come to a close, we saw different personalities arise within Delores and Teddy. Something that never changed with Teddy however was his love for Delores. This was shown only more and more as not only the show progressed but specifically season 2. With all of the self-realization that all of the hosts are going through, it was only a matter of time before it destroyed one of them psychologically from the inside out and unfortunately, that's exactly what came to Teddy.
16. Delos Reinforcements
It was new to us but should be no surprise that Delos had such an impressive military of their own to handle severe situations, such as the park collapsing in on itself from the inside due to a host rebellion. The Delos military arrives on the shores of the island and investigates what exactly is going on or happened. As they explore the shores they find bodies littering the shores after some sort of event.
15. Ford and Maeve
Ford and Maeve both had their own signature, interesting moments in "Westworld" season 1 but season 2 showed us a deep connection between the two. As Arnold created Delores, Ford created Maeve and in this the two have become leaders of factions within "Westworld" without either of their immediate acknowledgment. While the two appear to be nothing more than pawns for the heads and creators of the park, we soon learned that each would have their own missions and intentions outside of this.
14. Delores Wants It All
Upon learning more and more about herself, such as self-realization, Delores becomes her own person with each action she takes and the further she digs into herself and the mysteries that surrounded her. Upon reaching this new version of herself Delores came to the conclusion that what the humans have belongs to her. This may sound evil but Delores doesn't just want this for herself but for her fellow hosts.
13. Ford and Bernard Part 2
As stated earlier, Ford and Bernard are each very interesting and smart individuals that each have their own roles to play in the park and its inner workings. Although Bernard had much of himself to discover, as each episode seemed to teach us something new about him, his conversations with Ford in The Cradle are all the more interesting. This list of interesting moments from "Westworld" season 2 features several moments with Ford and Bernard but part 2 of the pair in The Cradle features very interesting conversations compared to the rest, but not as interesting.
12. William and Ford Talk
Although Ford died at the end of season 1 of "Westworld", he made several appearances in season 2 via memories or even in the minds of hosts and humans that are still in the park. Not anyone is having experiences with Ford but Bernard and William are two characters that have some of the most interesting conversations out of most other characters. When it comes to this moment specifically between William and Ford, it appears to be more of a flashback than currently happening in the state of the park.
11. Ford and Bernard Part 1
As stated above, with Ford and Bernard's conversations in The Cradle, they are all very interesting and some of the most informative moments from the show in season 2 overall. This moment specifically had Ford and Bernard begin their very extensive conversations wandering around key parts and discussing various elements of the park, inside and out. We ranked this moment between Ford and Bernard higher than part 2 of this moment due to the subjects in which they discuss.
10. James Delos' Final Words With Logan
We hear a lot about James Delos throughout the show, which is expected as the character created the park in which all of these events have been unfolding. This moment taught us a lot about James Delos, such as his relation to Logan, a character we were introduced to at the very beginning of "Westworld" with the first episode. Logan arrived to the island with William, before he was referred to as the Man in Black, a vicious gunslinger within the park.
9. William Survives Ford's "New Narrative"
At the end of season 1 we saw Ford unleash his new narrative within "Westworld" when he was shot in front of an audience of customers and investors within the company. It should have been expected with everything else he had endured during the events before what we've been shown in season 1 and 2 of "Westworld". Not long after ford awakens from the events of the night before, he finds himself in even more trouble but that's nothing new for the interesting character.
8. Ford and Bernard Part 3
Yet another moment on our ranked moments from "Westworld" season 2 list, is the final moment that featured Ford and Bernard exploring The Cradle and deep conversation. As with the other parts of their conversations in The Cradle, Ford and Bernard have some of the most informative exchanges of words. Ford and Bernard are deeply connected and in this final moment of their conversation we became fully aware of Bernard's hatred towards him in his mind and how we wants his overall freedom.
7. William and Delores
Much like Teddy and Delores, William and Delores have a deep connection as well but their connection is fueled by severe interest on a different level. Although Teddy and Delores were destined, and programmed, to be with and for each other it became very clear that this was to keep Teddy in line and to help Delores evolve. In this moment specifically between Delores and William we learned that William had come to terms with what Delores truly is and that they could never truly be what he wants of them.
6. Delores Talks With Bernard
Upon watching "Westworld" season 2 I didn't personally find it to be as constantly interesting and mind-blowing as season 1 but when a well-known character such as Delores showed such a scary sense of emotions, it intrigued me once again. Bernard does a unique diagnosis on the hosts but when he does a diagnostic run on Delores it's much, much different. In this particular moment, it was very interesting to see Delores engage in not just this way with emotions but the way she talks to Bernard is most intense.
5. William Encounters Emily
William, in every single way, had been a highly interesting character from the beginning, even before we knew William and the Man in Black were the same person. Upon discovering that they are the same character, it made a lot of sense but at the same time was a complete shock to watchers of "Westworld". When William is traveling through the desert and noticed someone on a horse approaching him, he was hesitant as he has shown trust issues but when they say "Hi Dad", we learned she's his daughter.
4. Delores and Co. Kill the Major and his Men
Delores had discovered this newfound anger and so called enlightenment that is causing her to be so damn strong-headed and charging into danger. Major Caddock and his men are one of several groups of people that stand in the way of Delores and her new motives. As stated earlier, Delores is now inspired to take what is hers from the humans as she feels the hosts deserve it more and in that path are Caddock and his now dead soldiers.
3. Bernard Fights Ford in His Mind
Upon discovering that he is a host and that Ford is messing with his mind Bernard starts to break himself apart from reality and attack Ford. Earlier in season 2 of "Westworld" we learned that Bernard is also Arnold, Ford's enemy of the intellects but also his partner in creating the park and what had become today. Overall, Bernard's is trying to save the island regardless of if someone is human or host but these arguments with Ford are preventing Bernard from doing it his way.
2. Akecheta Finds Logan
Logan is found in episode 8 of "Westworld" season 2 by Akecheta after he got abandoned there as a way for others to get through the so-called Maze. While Akecheta is aware of newcomers to what he was programmed to believe is his him, he is also aware of his programming to the extent of not being allowed to harm humans. Overall, Akecheta while we was never going to harm Logan, decided to give him a blanket and assure him that his people would come for him soon. This became one of the most interesting moments of "Westworld" season 2 as Akecheta and Logan are both some of the most interesting characters of the show.
1. Post-Credit Season 2 Finale
Finally, at the number one spot on our most interesting moments from "Westworld" season 2 is the post-credit scene of the season's finale. In this extremely interesting scene, William enters a very questionable part of the park, or so he seems to think but when who we thought was his daughter appears to be some sort of therapist or doctor things change. William is always very aware of the situations he's in, to the fullest extent, but here it seems like he is completely unaware of what is happening.