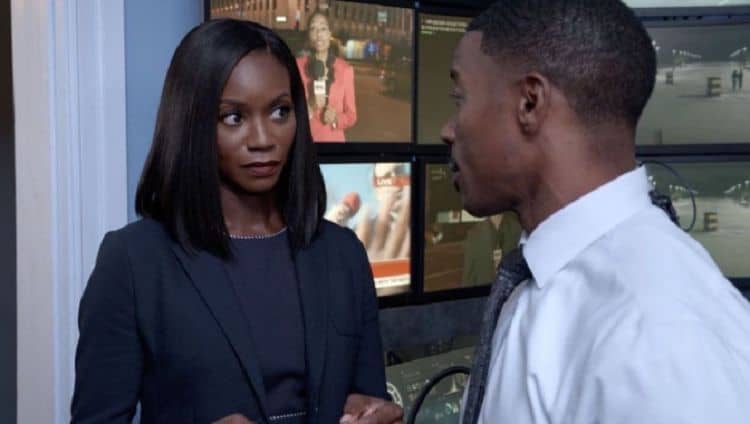 Taja V. Simpson's journey hasn't always been easy, but it's definitely been worth it. Since making her on-screen debut more than a year ago, Taja has gone on to land some pretty impressive roles. Most people will recognize her most from being in shows like The Oval, A House Divided, and The Bold and the Beautiful. She has also brought her skills to the big screen for roles in movies like Boo 2! A Madea Halloween and The Preacher's Son. Taja's natural ability to play any kind of character combined with the dedication she has to her craft has earned her respect from people all over the industry. Keep reading to learn 10 things you didn't know about Taja V. Simpson.
1. She's A Louisiana Native
Taja was born and raised in Lake Charles, LA and she is very proud of her southern roots. Although Louisiana is where she initially developed her interest in acting, she wasn't able to pursue it due to a lack of theater and arts-related programs in her area.
2. She Loves Watching Movies
There are lots of actors who have expressed that they don't like watching TV or movies in their free time because it reminds them too much of being at work. Taja doesn't feel that way, however. During a Q&A on her Instagram profile, she shared that watching movies is one of her favorite things to do in her free time.
3. She Has Behind The Scenes Experience
Most people who are familiar with Taja know her best for the work she's done as an actress, but they may not be aware of the fact that she's also done other things. Taja is a writer, director, and producer and she will probably do more behind-the-scenes work in the years to come.
4. She Studied Communications
Despite falling in love with acting at an early age, Taja decided to focus on something else during her time in college. She earned a bachelor's degree in mass communications with a focus on broadcast journalism from McNeese State University. After college, her plan was to become a reporter/news anchor.
5. She Has Her Own Lipstick Line
Entertainment isn't the only thing Taja is passionate about. She also loves the beauty industry and she's all about bold looks and bright colors. She started a lipstick line called the Taja V. Simpson Collection. At the moment, she has three different shades of lipstick on for sale in her online store.
6. She's An Author
Taja is truly a woman of many talents. If you thought being an actress and an entrepreneur were the only things she's done, you might want to think again. Being an author is another thing that Taja can proudly add to her resume. Her book, Cracking The Acting Code: A Practical Step By Step Guide To Becoming A Professional Actor, was released in 2017.
7. She Has Theater Experience
The last several years of Taja's career have been focused on on-screen opportunities, but she also has a lot of experience in theater. According to her resume, she has been in nearly a dozen stage productions including I've Been To The Mountaintop and The Autherine Lucy Story.
8. She Loves To Stay Active
Looking and feeling her best are two things that are right at the top of Taja's priority list. She enjoys being active and she makes sure to include exercise into her regular routine. In addition to doing traditional workouts at the gym, she also loves doing other things such as boxing and swimming.
9. She Started A Production Company
Taja is the founder of a company called The Dream Is Real, Inc. In an interview with Voyage L.A., she said, "The Dream Is Real, Inc. is a production company that specializes in Film / TV. We are most proud of all the work we've done. To date, we've produced stage plays, films music videos and premieres. We pride ourselves in working not only with the best in the business but also the best 'positive' people we can find. Negativity and non-positive attitudes are not welcomed on our sets. If you're not a solution-oriented person, with a can-do attitude, we don't work with them." Unfortunately, however, it appears that the company is no longer active.
10. She Loves Baking
Spending time in the kitchen is the last thing a lot of people want to do, especially after a very long day. For Taja, however, the kitchen is one of her favorite places to be. In her Q&A on Instagram, Taja revealed that she loves baking. If it weren't for acting she probably would have become a pastry chef.
Tell us what's wrong with this post? How could we improve it? :)
Let us improve this post!