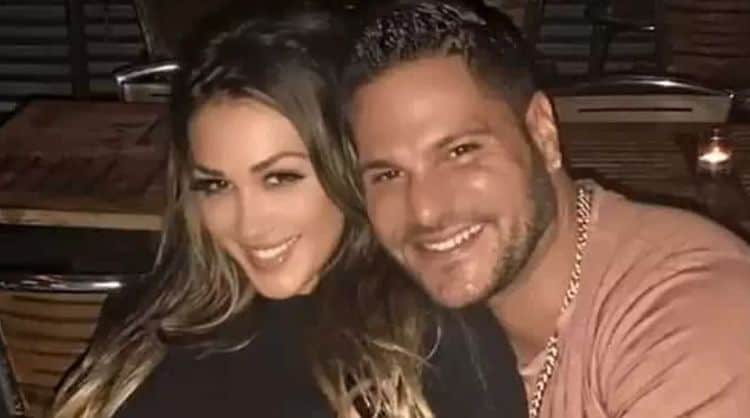 Jen Hartley was born October 28, 1986, in Tulsa, Oklahoma. After graduating high school early, Jen moved to Las Vegas when she was just 18 years old. Since then, it's fair to say the Jersey Shore star has seen (and caused) a whole heap of drama. Her tumultuous on-screen relationship with on- off boyfriend Ronnie Oritz- Magro has kept viewers of the popular reality TV show gripped to the edges of their seats, while their antics off-screen have proved just as dramatic. In May 2019, Jen was arrested on suspicion of assaulting Ronnie earlier this year… an arrest that proved to be just another in a long line of similar incidents. To learn more, read on to discover ten facts about the feisty star.
1. She's a bad girl
Jen is as infamous for her outbursts as she is for her love life. Her most recent arrest came in May 2019 following a New Year's Eve fight with on-off boyfriend, Ronnie Oritz- Magro, at the Hustler Club in Las Vegas. What Ronnie did to anger the volatile Jen is unknown, but how it ended was with a thrown ashtray, a punch in the face, a bloody nose, and one seriously aggrieved boyfriend. Ronnie filed a report of domestic battery on Jan 3rd, 2019, and all of 5 months later, Jen's behavior finally caught up with her when a warrant for her arrest was issued.
2. It's not the first time she's been arrested
Jen's latest arrest follows a similar incident that happened almost a year ago. In June 2018, Jen was arrested on suspicion of beating Ronnie and dragging him with her car. Officer Laura Meltzer from Las Vegas Metropolitan Police Department confirmed the arrest to Hollywood Life: – "Our officers made the arrest after 10:20 p.m. on Sunday and they made contact with the individuals involved and made the arrest for misdemeanor battery, with Jennifer listed as the primary aggressor. She was then transported to jail and booked."
3. She claimed Ronnie broke into her apartment
Following their New Year's Eve fight, Jen matched Ronnie's police report with one of her own. The Jersey Shore star alleged Ronnie had broken into her flat and smashed a bunch of her possessions, including her TV and photo frames. Despite police saying that Ronnie was a person of interest, friends of the troubled star were quick to jump to his defense, with a certain inside source telling People Magazine "He moved her stuff out of his house into her apartment. She was home at her apartment when he was doing this. He didn't break in. He busted a table while he was there because they were fighting – he left, she called the cops and that was it."
4. She thinks Ronnie is a narcissist
Shortly after Ortiz-Magro reported their New Year's Eve fight to the police, Jen took to social media to slam her on/off boyfriend. His crime? Being a narcissist, apparently. "A narcissist's response to your truth is filing a police report against you or taking you to court for the very things that they are guilty of," she wrote. Perhaps someone should tell her that as faults go, domestic abuser ranks somewhat higher than narcissist.
5. She may or may not have cheated on Ronnie
During one of their many public battles, Ronnie posted a series of Instagram posts that suggested Jen may have cheated on him. The post included some pretty lewd references to what Jen had been up to with an unidentified male. The claim followed allegations that Ronnie himself had been enjoying an illicit fling or two… something he flatly denied despite a significant amount of evidence to the contrary. Ronnie finished of his post with a cynical "#ButI'mTheCheater."
6. It's not only Ronnie she fights
Jen's turbulent relationship with Ronnie may be the one drawing all the headlines, but her past relationships have been no less dramatic. According to a police report filed by her ex-husband Joshua Rodger, Jen not only took a swing at him, she even threatened him with a baseball bat (although thankfully, she's better at swinging her fists than she is at swinging a bat, and Rodgers managed to escape without too much harm done…. although as You Tango reports, he did file his police report while he still had blood on his teeth). After Jen responded with a plea of self-defense, the case was ultimately dismissed.
7. She has a son from a past relationship
In December 2017, Ronnie broke the news that Jen was 6 months pregnant. Their daughter, Ariana Sky, was born later the following year, with both Jen and Ronnie clearly thrilled with the new addition to their family. But Arianna isn't Jen's only child. As fans of her Instagram page will already know, Jen has an older son, Mason, from a past relationship.
8. She has a troubled past
According to Radar Online, Jen's misdemeanors don't just include assault and battery. In 2017, the feisty TV star was arrested for 'deliberately removing her top' during a session in a public- hot tub. Things didn't stop there, with Jen proceeding to show off her 'breasts, buttocks and/or genitalia'. She was subsequently arrested for lewd and lascivious conduct.
9. Her Instagram name is Tater Tot Kitty
By now, we've become used to the many strange and wonderful names people give themselves on social media, but Jen's choice of handle is truly unique. When it came to deciding on an online moniker, Jen plumped for Tater tot Kitty. Why she chose it is just as much a mystery as what it means, but at least its original.
10. She was arrested for a DUI
Is there no end to Jen's troubled past? Not only has the beleaguered star been arrested on multiple accounts of assault, battery and indecent exposure, she's also managed to find the time to fit a DUI in there, just for good measure. In 2015, Jen was pulled over by police after they spotted her driving without her headlights on. After testing for alcohol, Jen was found to be over the limit. Her sentence for the misdemeanor? 2 days in jail, 69 hours of community service and compulsory attendance of driving safety lessons.
Tell us what's wrong with this post? How could we improve it? :)
Let us improve this post!