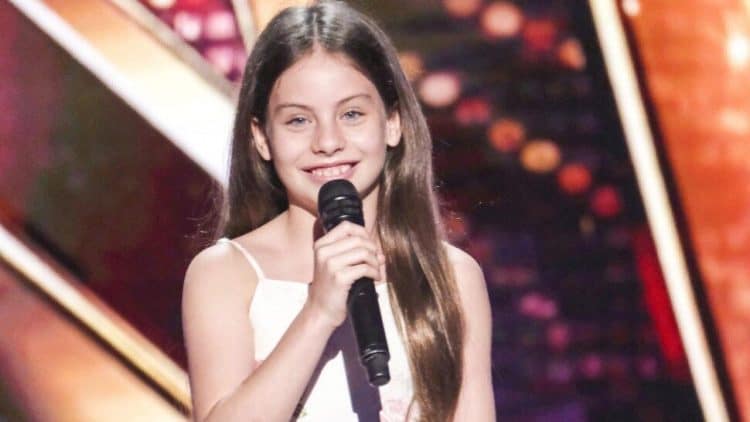 It should be easy to admit that a lot of us are a little jealous of talent such as that shown by Emanne Beasha, especially considering that she's so young and has so much life experience still to learn. But at the same time it's easier to be happy and proud of a girl that has this kind of talent and shows that she's dedicated to what she can do and wants to get up and show the world. That's the kind of spirit that takes a person a long way and to be perfectly honest even if she didn't sing another day she's attained the kind of skill and notoriety that would carry her along for quite a while. But the great thing about this is that she does seem to want to progress with her singing career and if things go well she could easily be one of the biggest sensations of her generation and someone that people will be talking about for years to come.
Here are a few things you might not have known about Emanne.
10. She earned the golden buzzer on America's Got Talent.
Zach Seemayer from ET seems pretty impressed that she managed to get this kind of ovation from the judges and it's easy to see why since at this age a lot of kids aren't quite this talented, but Emanne has shown an amazing display of range when it comes to her voice. There's no doubt that she deserves the accolades she's earned thus far.
9. She started singing opera when she was just six.
There are a lot of kids that at age 6 are happy to know how to hum along and sing the words to a few of their favorite songs, and then there are those that really can sing but don't think of it as anything but a hobby. But singing opera when you're that old is something else altogether since it indicates that you're meant for something special in life.
8. As of now she's eleven years old.
It does seem as though this might be a lot of pressure to put on Emanne since she's still so young, but at the same time it would seem as though she's being carefully groomed and being given the chance to be a kid as well as a singing sensation. Sometimes it's necessary to focus on just being a kid so as not to miss out on some of the best experiences in life.
7. Her parents found out she could sing when she was just 2.
Honestly it wouldn't be a time to freak out if your kid started singing so well at age 2 but it would be time to think about your options since quite honestly enrolling a child in a singing class if they show promise could easily be the way to keep them interested and keep their voice developing into something that could get them noticed later on down the line.
6. She's the winner of Arab's Got Talent.
On one hand it does seem as though it might be a little bit embarrassing to lose to a kid in a contest that features mostly adults, but there are a lot of people that don't mind losing to someone that's got this level of talent, since honestly that's what the show is all about after all.
5. Even at a young age she has a massive following.
This isn't too surprising since quite honestly people are all about following anything and anyone that is blowing up on social media and that has a lot of promise when it comes to media coverage. There's no doubt that her numbers could climb as she gets older, especially if her career keeps moving forward.
4. She did appear on Little Big Shots.
Again seeing her on just about anything that can showcase her talent doesn't seem like it's much of a stretch since she's proven that she's the kind of kid that get up on stage and do her thing in a big way and impress a lot of people. One can only hope that as she gets older this continues to be the case since interests do change as people age.
3. At one point she's even received a gold medal of merit.
You've got to give talent its due sometimes and she's managed to impress enough people that she was afforded a gold medal of merit for her singing ability.
2. Her father owns an ice cream factory.
Wouldn't this be every kids dream? Okay, maybe not all kids, but it's kind of evident that her parents have been able to work hard in order to provide a good life and have been successful doing it.
1. So far it would seem that she has a wide array of interests.
Being a kid this isn't too hard to believe since there's time and opportunity enough that she might want to experience many things before really picking a path for her life.
This is nothing short of impressive.