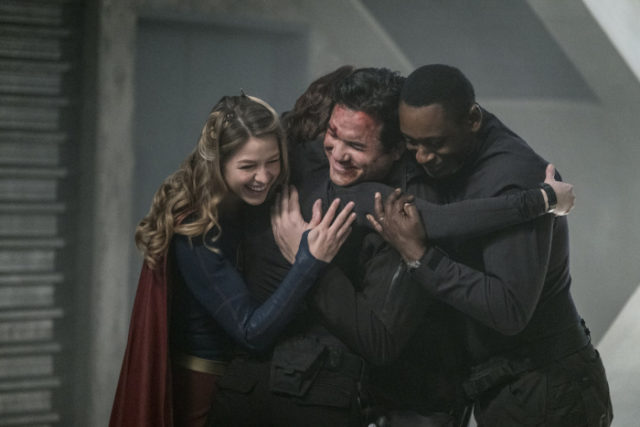 Don't let the header image on this review fool you. Tonight's Supergirl reunion between Jeremiah and his two daughters is not as happy as the photo above makes it out to be. In fact, the suspicious return of Dean Cain's patriarch is what causes the most conflict in "Homecoming," as it results not only in relationship problems between the newly dating Kara and Mon-El but also a major fight between Kara and Alex, which ends with Alex delivering perhaps the most vicious and mean words she's ever said to her adoptive sister before on Supergirl, delivering an ultimatum of sorts by telling Kara that she's either a part of this family or she's not.
So does all this distrust and and tension lead to a good episode? For the most part, I would say yes. Even though "Homecoming" hits some familiar beats (mainly Mon-El not listening to Kara yet again, a problem that has been explored too many times already throughout Season 2), it also tells a deeply moving story about the Danvers sisters and their family, even when events throughout the hour are predictable. It's quite obvious that not everything is what it seems to be with Jeremiah (that's TV storytelling 101: when a character's return seems too good to be true, it probably is), but Supergirl doesn't make his turn near the end of the episode the most important part of "Homecoming." Instead, it's the fallout from Jeremiah's evil actions that receives the most attention, and Alex and Kara's reactions to their father's true nature are extremely well-done and emotionally affecting.
Alex and Kara have been forced to deal with the pain of Jeremiah's absence for so long that it's entirely understandable why they would turn a blind eye to some of his more suspicious behavior. Thankfully, Supergirl doesn't make Kara too naive, as she tells Alex that they need to look at their father's return from every single angle as he has spent just as much time with the enemy (if not more) than he has with them during their lives. But Kara is also able to have that objective point of view because Jeremiah is her adoptive father and not her true flesh and blood; while she does love him as if he was her real father, there's still a little bit of distance that she can put between them because she knew (and in the case of her mother, continues to know) her real, birth parents. Alex, on the other hand, only has Jeremiah as her dad, and while an argument can be made that J'onn has filled that father figure role for the past two years, it's not the same thing. Jeremiah is the man who raised her, who has loved her since she was first born, and out of Supergirl's main characters, Alex has felt his loss more than anyone else, which is why she made it her mission to find Jeremiah and rescue him near the end of last season.
Alex's love for her father, along with her passion to save him, is what makes that scene between her and Maggie during the closing moments of "Homecoming" so powerful. Barely any words are exchanged between the couple, as Alex cries into Maggie's shoulder, letting out the anger and betrayal and sadness she feels over her father's allegiance to CADMAS, an allegiance she can't even understand at the moment (Jeremiah tells Alex that what he's doing is all for her), which makes it all the more frustrating. With her tears, Alex pours out every ounce of hope and love she once had for Jeremiah; although Jeremiah isn't shot and killed by Alex in their final scene together, he does, in a way, die in her heart in this week's episode. No matter what is revealed about him in the weeks to come, whether Jeremiah is working for CADMAS as some type of long con or if he truly is evil, the relationship that Alex had with him will never be the same.
Meanwhile, Kara's scene with Mon-El near the end of "Homecoming" serves a similar purpose. She mourns the loss of the father she knew and loved, but her and Mon-El's reactions also say something much bigger about their blossoming romance. In this scene, Mon-El takes Winn's advice and finally listens to Kara, asking her what she needs from him instead of believing that he has all the answers or knows the exact right thing to say. The exchange that follows between them is sweet and sad, and it's also the most mature moment we've seen from their young relationship so far. Mon-El puts Kara first when she needs him to the most, and while it doesn't excuse his actions from earlier in the episode (he should be doing a better job of listening to Kara by now), it signals that Mon-El is evolving into the man that Kara always believed he could be. As Mon-El has said before, Kara makes him a better person, and nowhere is that truer than in their final scene together tonight, as he not only holds her when she asks him to but also follows her into action when Winn calls with the news about what Jeremiah has stolen. Here's hoping that this new, more thoughtful and mature version of Mon-El sticks around.
And what about what Jeremiah actually stole? It turns out that he transferred the DEO's files that contained the National Alien Registry to a drive that he then handed over to Lillian Luthor, and with this information, it appears that CADMAS plans to do something quite sinister. Lillian Luthor seems more threatening than ever with the enhanced Hank Henshaw and Jeremiah Danvers by her side, but if Kara, Alex, and the rest of the DEO team can bounce back from this brutal of a betrayal, they'll prove that they can do just about anything.
Other thoughts:
There's some wonderful emotional exchanges between Jeremiah and other characters that happen earlier on in "Homecoming," and I'm especially fond of his and Eliza's reunion and his thanking J'onn for looking after his daughters. However, now that we know that he's working for CADMAS, all of those scenes are a little tainted.
Dean Cain does fantastic work in tonight's episode as Jeremiah, both before and after the reveal that he's working for CADMAS. I'm a fan of Cain but he hadn't really impressed on Supergirl until tonight, and since it looks like he'll be in more episodes to come this season, I hope he continues to deliver.
I really enjoyed Mon-El and Winn's scenes tonight, and I hope that they spend more time together in the future. Also, how great was Mon-El's reaction to seeing Winn with his new alien girlfriend? I'm just so happy for Winn, you guys.
Also, I really liked that the writers had Winn tell Mon-El to be good to Kara. It's a quick little exchange that they have, but it's a nice reminder of the romantic feelings that Winn had for Kara in the past and also about how much he still cares about her today as friend.
"That's a knife. I shall not shake your knife." This Mon-El line felt like it was improvised by Chris Wood, and whether it was or wasn't, it was the moment from this episode that made me laugh the hardest.
"Do you need anything else?" "To wake up with me." "Hey, I'd love to."
What did everyone else think about this week's episode of Supergirl? Comment below and let me know.
[Photo credit: Cate Cameron/The CW]
Supergirl Season 2 Episode 14 Review: "Homecoming"
Summary
Jeremiah's suspicious return causes major conflict between Kara and Alex in a solid episode of Supergirl.