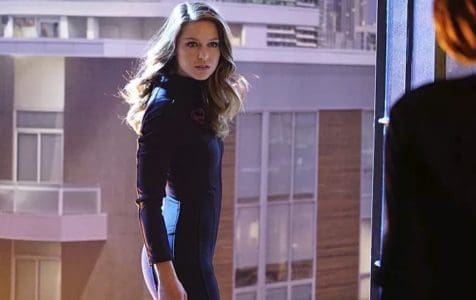 Supergirl's co-showrunners, Jessica Queller and Robert Rovner, together with their main, cast revealed significant changes in the works for Season 3 at their SDCC panel. "The theme of season 3 is 'What does it mean to be human?'" said Ms Queller, "and all of those characters will be exploring that question, especially Kara." The panel revealed four casting announcements and provided hints about character arcs. Also, Calista Flockhart returns as Cat Grant, CEO of CatCo Worldwide Media, the show's fictional media empire.
This writer cheered seeing reports of Ms Flockhart's return as Cat Grant."The way that Calista appears in the first episode is really clever," series star Melissa Benoist (Supergirl/Kara Zor-El) told reporters at the SDCC. Also, EW expects Ms Flockhart to recur this season. That's what many writers said at this time last year when production of Supergirl moved from Ms Flockhart's hometown of Los Angeles up the west coast to Vancouver, BC. Ms Flockhart did appear in the first two and last two episodes of Season 2. Hopefully, Cat Grant's sharp wit directed at celebrities and mentoring moments will be more plentiful in Season 3.
Perhaps Ms Flockhart's appearances will allow Mechad Brook's character James Olson to flourish in the workplace more than he did in Supergirl Season 2. "We have amazing things in store for James," Queller said. "He's going to have a new love interest. He's going to step up at CatCo back to his roots as a journalist and photographer in a way that we haven't seen him do fully that harkens back to Jimmy Olsen's character." As acting CEO, James tired to do what Cat did and sometimes even acted subservient his print Managing Editor. While the Season 2 writers' room couldn't seem to figure out what to do with James at CatCo, they used him elsewhere. Mr. Brooks' James and Jeremy Jordan's character Wynn Schott formed crimefighting duo. James employed his martial arts skills as Guardian, whilst Wynn served as gadgeteer and Guy-in-the-Chair. Mechad Brooks' interpretation of James has really grown the character up and moved him forward in storytelling. It will be exciting to see how he develops in Season 3.
The showrunners told their panel that all the characters in Supergirl, regardless of species or what planet they hail, from will wrestle with what it means to be human. Alien Lyra will still be dating Wynn. Alex and Maggie will struggle with their relationship and how much time their jobs consume. And J'onn J'onzz will find out his father survived the Pale Martians holocaust of the Green Martians. Carl Lumbly joins the cast of Supergirl as J'onn J'onzz's father in Season 3.
Mr Lumbly will play M'yrnn J'onzz a Martian religious leader who advocates pacifism. Mr Lumbly's character will push J'onn J'onzz in unexpected ways. David Harewood who plays the younger J'onzz said of M'yrnn, "There's going to be some complications. J'onn always thought he was the last Green Martian, so it's going to be extraordinary to find that not only is he not the last Green Martian, but the other one is his father." Mr Lumbly joining the cast of Supergirl provides another example of a long standing tradition where stars of past successful DC properties appear in current of television programs. More about this tradition later this week. The Martian Manhunter himself spoke in Mr Lumbly's voice on the early 2000s Justice League animated series.
Supergirl's producers and stars announced additional casting news at SDCC. Adrian Pasdar, Yael Grobglas, and Emma Tremblay will also the cast Supergirl. No stranger to superhero universes, Mr Pasdair previously appeared on Heroes and Agents of SHIELD, and voiced Tony Stark on the animated Avengers Assemble. On Supergirl, Mr Pasdair's ruthless real estate tycoon, Morgan Edge, will surely clash with Supergirl and Lena Luthor (Katie McGrath). Ms Grobglas, previously of Jane the Virgin, will play a DC psychic villain turning victims' own minds against them. Ms Tremblay, an Elysium alum, will appear as Ruby. A smart, independently minded National City kid, Ruby will find herself in jeopardy for her fascination with Supergirl.
Supergirl returns to the CW's broadcast airwaves in October. So, be sure to check your local listings for the nearest CW affiliate. And keep it right here for continued coverage and commentary on all your favorite shows.
Save