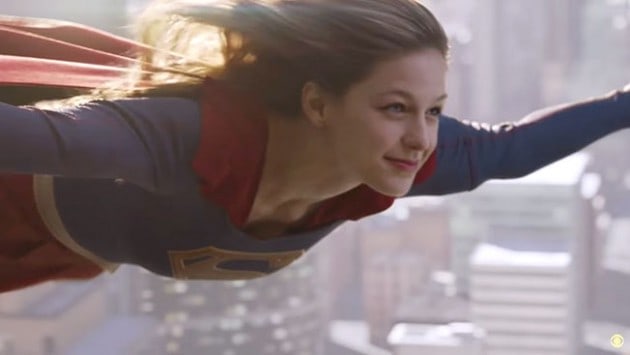 To clarify, this article and the ones similar to it that will follow are not reviews of this fall/midseason's pilots (because pilots can change a lot between now and when they broadcast). These are just my first impressions of the not-for-air network pilots that I have been able to screen. First up: CBS' Supergirl, which premieres on Monday, Oct. 26, at 8:30 p.m.
The Cast: Melissa Benoist (Glee) as Kara Zor-El/Kara Danvers, Calista Flockhart (Ally McBeal) as Cat Grant, Chyler Leigh (Grey's Anatomy) as Alex Danvers, Mehcad Brooks (True Bloood) as James "Jimmy" Olsen, Jeremy Jordan (Smash) as Winn Schott, and David Harewood (Homeland) as Hank Henshaw
My First Impression: Although it'll air on CBS, Supergirl feels very similar in tone and style to The CW's The Flash in its first hour, and that's neither surprising, since both shows come from Greg Berlanti, or a bad thing, especially considering that The Flash was one of the biggest hits of the 2014-15 TV season. Still though, all comparisons aside, this is a solid pilot, one that does a terrific job in establishing its main character and the world around her. Benoist is excellent as Kara, showcasing a lot of the "girl next door" sweetness that she illustrated as Marley on Glee but also bringing an energy and intensity to Supergirl that makes her believable as both a young woman finally fulfilling her dreams and as a powerful superhero that could fend off the worst kind of alien adversaries. The rest of the cast works well, too, particularly Leigh as Kara's sister, Alex (who has more to do in the pilot than I would have initially thought), and Jordan's Winn. Harewood is a talented performer, when given both dramatic and (as shown on Selfie) comedic material; however, he's stuck playing the stereotypical "tough military man" role at the moment, being forced to deliver cliched line after cliched line. Here's hoping the series develops him more in future episodes.
In addition to its strong characters, Supergirl is also a great-looking pilot. Glen Winter, who is well-known for his ability to bring superhero stories to life on the small screen with his work on Smallville, Arrow, and The Flash, does a fantastic job of capturing the grand scale of Kara's heroic saves but also the smaller, intimate moments of the episode's more emotional exchanges. Also, the effects in Supergirl's pilot are top-notch; the show definitely benefits from having a CBS budget versus a CW one. I wonder whether or not Supergirl will be able to deliver this level of special effects every single week, but it's also not something that I'm too worried about.
Ultimately, like Arrow and The Flash before it, Supergirl gets off to an incredibly strong start. It establishes a fully-formed world full of interesting characters that I want to follow, provides its audience with a compelling protagonist to root for, and paints a solid picture of what a weekly episode of this series will look like and also what the season-long arc will be. Sure, it's a little overstuffed and exposition-filled in places, but what pilot doesn't have those problems? Overall, Supergirl is, at least to start, pretty darn super.
My Interest In Watching More: Incredibly high. I have faith in the duo of Greg Berlanti and Andrew Kreisberg, and I'm a big Ali Adler fan, so I trust the people making this series. Plus, Benoist was one of the best parts of the fourth and fifth seasons of Glee, and she's even more impressive in this role, which means even if the story isn't always interesting, I'll certainly keep watching for her. But as I said above, this is a strong pilot, and I'm excited to see how the series develops over the course of its first season.
[Photo via CBS]