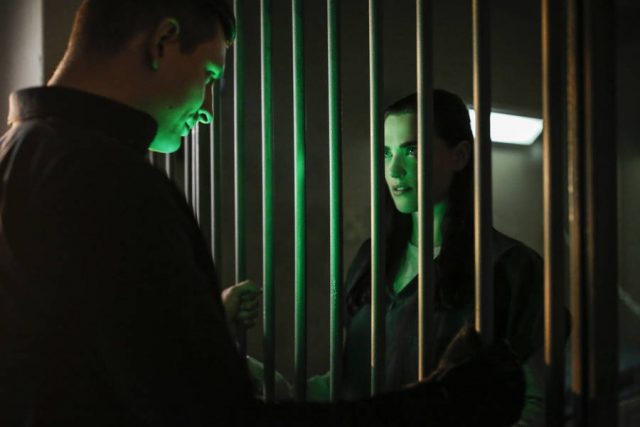 I didn't realize just how much I missed the Luthors until tonight's Supergirl. This week's episode, appropriately titled "Luthors," centers on the complicated relationship between Lena and her adoptive mother, Lillian, as the series and its characters try to decide whether or not Lena is as evil as the rest of her family members, or if the good that Kara sees inside of her is actually for real. Even though it's been a little while since Lena has appeared on Supergirl (Katie McGrath's last episode was the mid-season finale, "Medusa"), the show picks up right where it left off with her character, continuing to explore Lena's true nature and delivering the series' best episode of 2017 so far.
While I've enjoyed the Supergirl installments that we've gotten in the new year, they've all lacked the energy and emotion that the show possessed throughout so much of the fall, when it kept hitting home run after home run. "Luthors," though, finds that missing spark by bringing back Lena and Lillian and making their storyline not just a battle between a daughter and her mother but also a test of faith and friendship, as Kara keeps believing in the goodness of Lena despite the overwhelming evidence against her. It helps that the Kara/Lena friendship has been one of the best, most developed relationships in Supergirl Season 2, along with Kara and Mon-El (who we will talk about a little later) and Alex and Maggie, and it also doesn't hurt that Brenda Strong has been a fantastic villain throughout this second season, providing Kara with a more complex and threatening adversary than what she had to face off against during Season 1. Since all of these components have been working on their own, putting them all together into one episode ensures that it will be a thrilling hour of television, and while "Luthors" doesn't feature any of the best fights or stunts that we've seen so far in Supergirl Season 2, it doesn't matter–it's the conversations throughout this episode that keep us on the edge of our seat.
The most engaging of all these interactions occur between Lillian and Lena, as the mother-daughter duo have strong scene after strong scene in "Luthors," beginning with the talk between them at the prison near the beginning of the episode, in which Lena discovers that she truly is a Luthor. The reveal that Lionel is Lena's biological father isn't necessarily shocking, but it's still a powerful reveal due to all of its implications. In one short exchange, we learn exactly why Lillian was always so cold and distant from Lena (she reminded her of Lionel's mistress and of the affair that almost ruined their marriage), and we also see Lena's main reasoning for why she would never end up like Lex (she didn't share his blood) crumble in front of her. She doesn't utter the words aloud, but after learning the truth about her parentage, Lena begins to wonder: Am I actually different than Lex, or am I just fighting off the inevitable?
"Luthors" doesn't give us a definitive answer to that question; Lena remains the same, good, kind-hearted friend that Kara believes in throughout the hour, but one of the episode's final scenes, in which Lena remembers her mother's instructions when she played chess as a child, seems to indicate that her downfall is eventually coming. And if that is the case, and Lena's turn to the dark side will happen at some point this season on Supergirl, I'm okay with it, because of how well the writers have constructed her arc throughout this season. It's not the multi-year, heartbreaking devolution of Lex Luthor from Smallville, but there are moments with Lena, from this episode and others, that certainly remind me of that storyline, which is the highest praise that I can give to the Supergirl writers. The fact that I'm so invested in Lena's journey and her friendship with Kara (How sweet are the two of them together?) is all due to the talent of the writers and the marvelous work that Katie McGrath is doing in this role.
But even though this week's Supergirl doesn't gift us with any definitive answers about Lena's character or her friendship with Kara, it does finally provide us with a clear direction for Kara and Mon-El's relationship, as she admits her romantic feelings for him and tells him that she was hesitant before because she believed that she couldn't have everything. Now, though, after holding back and fighting against what her heart has told her, Kara finally thinks that she can have everything that she wants, that she doesn't have to put her desires on hold to be Supergirl, and she's ready to see where things go with Mon-El, which leads to them almost kissing before Mr. Mxyzptlk (aka Mxy) pops up and interrupts them at the worst possible time.
Part of me can't help but be mad at the Supergirl team for creating yet another roadblock for Kara and Mon-El, a couple that I've been rooting for since his introduction at the beginning of the season (Melissa Benoist and Chris Wood are just so damn charming together that their characters' romance works even when it shouldn't). However, I'm also just so happy to see Kara finally being honest with herself and with Mon-El and going after something that she wants for a change, after so many episodes of self-sacrifice and self-sabotage. Her belief that she can finally have everything she wants does trouble me, because typically a line like that foreshadows doom on the horizon for the character or couple that delivers it, but here's hoping that we get to see Kara and Mon-El actually be happy together for at least a little bit before more drama gets in their way and causes problems. And hey, if not, just give me more of the Luthors–their messed-up, family dynamic always helps bring out the best in this superhero show.
Other thoughts:
Kara is both insanely brave and incredibly stupid when she leaves to fight Metallo on her own, since it took her, Superman, Alex, and J'onn together to take down the two Metallos earlier this season. Fortunately, J'onn does show up near the end of her fight with Metallo to help out, right before the Kryptonit-powered villain explodes, sending Kryptonite-infused radiation gas into the air. Kara's daring determination here shows how much she cares about and values Lena as a friend, which is going to make it all the sadder when she eventually lets Kara down and turns evil.
Apologetic and humble is a good look on James. After several weeks of him being arrogant and smug about his work as The Guardian, I was so happy to see him be a mature adult and apologize to Kara after Lena was proven innocent. Even better was the two of them working things out and agreeing to be friends again; I've missed their friendship on this show, and I'm excited to see what happens at their next game night.
Can we talk about how wonderful it was to see Alex introduce Maggie to J'onn, James, Winn, and Mon-El? Such a small but sweet scene that I was so happy to see included in this episode. And how great were J'onn and Mon-El's responses to the news?
"Luthors" gives us our first actual glimpse at Lex Luthor in the Supergirl universe, and sure, it's short and it's when he's a child but it's still Lex! Plus, we learn that Lex has secret facilities and vaults all around the area, despite the fact that he's locked up in prison, and we also find out through James that Lex and Clark were best friends before they became each other's worst enemies, similar to how their relationship was on Smallville.
Cyborg Superman returns in this episode, and since he escapes with Lillian before Metalla blows up, I'm sure we'll see much more of him before Season 2 ends.
I love the hard but true lesson about journalism that Snapper gives to Kara near the end of the episode. The dynamic between the two of them is always so much fun to watch. I want more of Kara as a reporter in the second half of Season 2.
"You eat donuts, right?" "Well, I am human."
What did everyone else think about this week's episode of Supergirl? Comment below and let me know.
[Photo credit: Bettina Strauss/The CW]
Supergirl Season 2 Episode 12 Review: "Luthors"
Summary
Kara tries to prove Lena Luthor's innocence, and Metallo returns in the best Supergirl episode of 2017 so far.