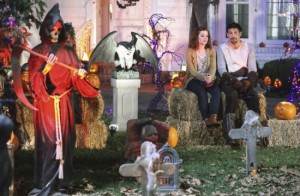 For its first four episodes, Suburgatory seemed to have ingested a handful of Red Bulls from Dallas Royce's fridge, as the show went about a mile a minute and enough punchlines to fill an entire season of lesser comedy. It was a very funny, whip-smart amalgamation of a fish-out-of-water story, a tale of daddy-daughter bonding, and a hodgepodge of pop culture influences that had a pretty distinct point-of-view.
Who knew it took slutty mushrooms, a near demonic possession, and inappropriate Christmas cards for the show to slow down and take a breath?
Don't get me wrong, "Halloween" was still very much a Suburgatory episode, heavy on the snark and doubling down on the snort-worthy punchlines/reveals, but there was a little more character building and bonding going on than usual and the episode was better for it. The episode followed up on the obvious tension George and Dallas exhibited in last week's episode with even more flirtation, which was subverted by the arrival of Dallas's husband Steven (Jay Mohr). We hadn't learned a lot about Steven prior to "Halloween", but from the looks of his brief appearance, Dallas's character just got fleshed out in a big way. She was already the most developed Suburgatory-ite, even from her few scenes in the show's pilot, and "Halloween" told us a lot about her marriage without much interaction between the two spouses. It seems like Dallas's sparkly eyed gazes at George are due to the fact that her own marriage is pretty dormant, with obviously rich Steven more concerned about his no shoes policy than the man in the executioner's mask creeping around his house and Dallas unwilling to let her husband kiss her anywhere but the top of her head. For being a sitcom, it was a sad touch; Dallas is such a chirpy, bright spirit that seems to be masking a world of hurt behind her big grin and gaudy fashion sense.
We didn't get much of a sense of who Steven was, though, and I'm curious how they're going to reconcile his presence into the rest of Suburgatory. It's been mentioned that he works a lot and tends to stay away, but now that he's here, what effect will he have on Dallas? Or George? Hell, or Dalia? The wealthy-dead-only-cares-about-his-money trope is one that has been used a lot in media, especially TV, and seeing how a show that openly mocks certain tropes handles something like that going forward should make for interesting angles in proceeding episodes.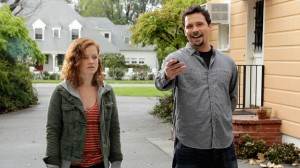 Neighborhood Association (and gumdrop rainbow enthusiast) Dallas and George's plot was quite cute in "Halloween" and I appreciate how they're making her one of the go-to characters early in the show. I'd like to see some of the outlier characters (Sheila, Ryan, Fred, Mr. Wolfe) catch up a bit on the character development train, but having Dallas be the person to keep George company and show Tessa that Chatswin isn't go bad is more than satisfactory at this point in the game.
While George was busy trying to show Dallas that sometimes being scared is okay (a subtle nod to Tessa's realization that she's fine now with being in the 'burbs?), Tessa was embodying the spirit of not-dead-dead-girl Misty, thanks to a nasty bump it, a bright blue track suit, and the addition of the word "redonk" to her vocabulary. When I first read the synopsis for "Halloween", I thought it was going to be like the My So-Called Life Halloween episode, where Angela has visions of (and interacts with) a former Liberty High Student, so I was relieved to find that Suburgatory went after this type of plot with tongue planted firmly in cheek. Just as George got to bond with Dallas, Tessa got to spend more time with her new friends Lisa and Malik, who were scared to death that she had "become" Misty. It was a nifty little take on the typical outcast-girl-becomes-popular-and-forgets-her-friends story that a lot of sitcoms have done, especially since it culminated in a bizarre almost-exorcism and Misty's reappearance as a snotty angel.
I don't know if she's supposed to be a new addition to the world of Suburgatory, as she said now that she's not dumb anymore, her parents would take her back to Chatswin for trick-or-treating, but the character of Molly made what could have been a silly reveal that much funnier. Amounting to a brunette member of the KKK (Kenzie, Kimantha, and Katelyn, who were dressed as cowgirls tonight just because), Molly was very funny in her limited appearance, logistical questions not withstanding.
Suburgatory's Halloween special took a time out from its regularly scheduled breakneck speed to spend time with an increasingly friendly George and Dallas, while solidifying Tessa's newfound relationships with Lisa and Malik. While I love the show's sense of humor and think that the fact it already has a well-constructed identity to be a positive sign going forward, episodes like this are necessary for us to fully invest in the characters. Both George's story and Tessa's story worked because even though Halloween is a holiday built on masking oneself and hiding from the world, the daddy-daughter duo let down their guards ever so slightly and realized that the people of Chatswin may not be so bad after all.
Thoughts, Quotes, & Observations:
"That's enough. You're good at Halloween."
"I was gonna cut Tessa's head off with my guillotine, but I really have no follow through, so…"
"I went during the flush."
"Who let all these bees in here?"
"Ho just died. Sucks."
"But we don't have a lot of time. Hoarders comes on in an hour."
'I'm going to kill you last." "I appreciate that. I have dinner plans tomorrow."
"Lisa, still redonk, I see."
"That stings! What is that, you pimp?!"
Where do you think Chatswin is? I keep trying to guesstimate by using the show's opening sequence, but it goes by so fast, I can never get a good look. I'm thinking it's either Connecticut or Massachusetts, but I could very well be wrong.
The best running gag was Tessa's elaborate stories about the tombstone in the yard.
I loved Malik's Jam Master Jay costume and would gladly rock that every Halloween until the end of time.
Dallas's fears include bats, twins, mice, and triangle eyes.
Next week: Tessa tries to get her school more involved in charity, but it backfires in a big way. George and Noah have a tiff over a dental bill. (You'd think Noah would let George install a panic room and call it even, but no…) Also, a transsexual homeless person.