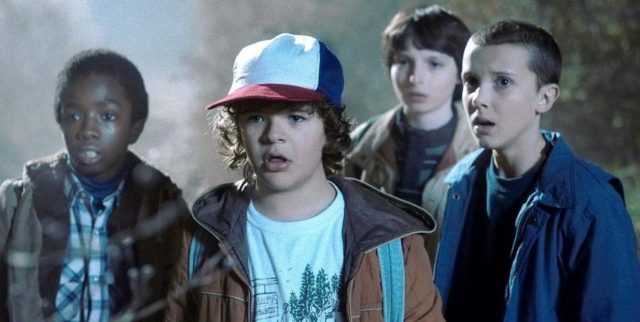 Netflix has struck viewer gold with fan favorite series, Stranger Things. It's now enjoying it's second season as well as it's own after show. With all the hype around the nostalgic show, it's got us wondering, who is going to have the biggest career when all of this is over?
Winona Ryder obviously had quite the career before Stranger Things ever came along (Girl Interrupted, Black Swan, Edward Scissorhands to name a few), but she has fully revived her status as a leading lady with the role as Joyce Beyers. She even has a new movie coming up (in post-production), called "Destination Wedding," her first in almost two years.
As much as we love Miss Ryder, she's not the only one with some new roles up her sleeves. Beloved Sheriff Jim Hopper, played by David Harbour, will also enjoy some pretty major successes in the days to come with his roles in Human Affairs (post-production) and his much anticipated role as Hellboy (filming). Given the way that comic based movies have taken off in the past few years, this could be a major step for an already successful actor.
Natalia Dyer, who plays Nancy Wheeler, has even more jobs lined up than Winona Ryder or Harbour, with the movie Mountain Rest in post production, After Darkness (completed), as well as a role in upcoming Tuscaloosa having been announced. While Dyer has played several parts, she is mostly known for her previous role in the Hannah Montana Movie, so it will be interesting to see if all of her impressive, upcoming screen time will pull her up from (nearly) anonymous to famous.
Not to be outdone by her screen time bestie, Shannon Purser (Barb) will also enjoy some new roles in 2018, including two movies, Sierra Burgess is a Loser (she will lead as Sierra), and Life of the Party. She's also had some other great roles, including on the popular Riverdale and Rise series.
Yet it's not just the older actors and actresses enjoying success after their roles in Stranger Things.
While Caleb McLaughlin (Lucas) and Gaten Matarazzo (Dustin) don't currently have any upcoming roles that we know of, several of the other kids from the show do.
Child actor Finn Wolfhard appeared in The 100, Supernatural and several other shows before he played Mike Wheeler, best friend of Will and admirer of Eleven. Aside from Stranger Things, he is probably best known for his recent role as Richie Tozier in the 2017 adaptation of Stephen King's IT. He has other upcoming roles hinting at success, including Dog Days and a player in a TV series called Carmen Sandiego. It is unknown if he will reprise his role in the second IT movie (flashback scenes perhaps), but it seems fairly likely.
However, the one to look out for seems to be Millie Bobby Brown, aka Eleven. She's been in a ton of stuff you've heard of (even if you didn't know it was her), including NCIS, Grey's Anatomy, Modern Family and BBC's The Intruders. In an interview with NPR, both show creators had high praise for Millie Bobby Brown, citing her ability to listen, asking to redo takes and her "almost freaky" ability to portray her emotions without words. High praise for any actress!(Check out the full interview here)
With several successful shows at her back, professional respect, and an upcoming role in the newest Godzilla movie (currently in post-production), it's likely that her career is just starting and has a bright future ahead of her.
Tell us what's wrong with this post? How could we improve it? :)
Let us improve this post!