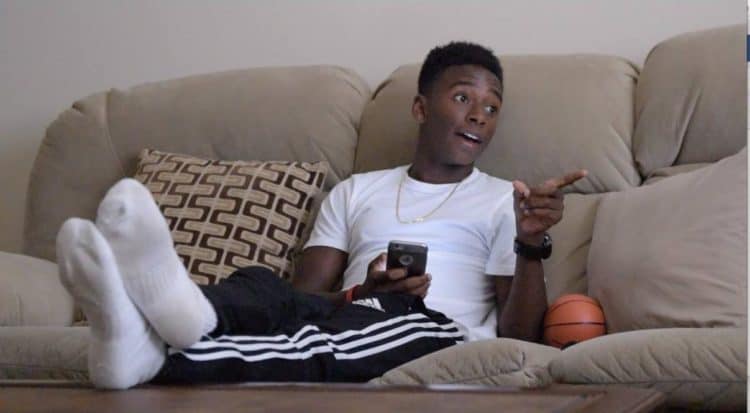 Stevonte Hart has been in the entertainment industry for more than a decade. During that time, he has gone from being a virtually unknown young actor to a rising star. He got his first big break in 2018 when he landed a recurring role in the OWN series Queen Sugar. Since then, he has kept the ball rolling and the last couple of years have been great for him. His latest role in the Peacock series Bel-Air has thrust him into the spotlight yet again and Stevonte is starting to prove that he really is here to stay. If he continues down this path, he could end up becoming one of the best actors of his generation. Keep reading to learn 10 things you didn't know about Stevonte Hart.
1. He Started Acting At An Early Age
There doesn't seem to be any information on the internet that explains what inspired Stevonte to get into acting. We do know that he started fairly young, though. His first on-screen appearance was in the 2009 movie Mississippi Damned. Additionally, a video posted by TL Modeling Agency in 2013 shows an 11-year-old Stevonte's demo reel.
2. He's A Private Person
Even after spending so much time in the entertainment industry, Stevonte has never gotten caught up in the hype. He appears to be a very humble person and he also isn't someone who likes to share his business with the world. In fact, it doesn't appear that he has revealed any information about his personal life.
3. He's Undergone Acting Training
While it doesn't appear that Stevonte has studied acting in a drama program, don't get it twisted. Stevonte's resume shows that he has had a good amount of training. Some of the places he's trained include the Richard Brander Acting Studio, the Film Acting Academy, and Next Actor Studio. He has also worked with various acting coaches over the years.
4. He's A Poet
Acting might be the main way that Stevonte likes to express himself, but it's definitely not the only way. He also loves poetry and likes to write his own. In a post on Instagram, Stevonte shared a poem he wrote. It's unclear if he has plans to release a collection of poems.
5. He Likes Fashion
If there's one thing that Stevonte and his character in Bel-Air have in common, it's that they both like to look their best. Fashion is another way that he likes to share his personality with the world and he has a great sense of style. He isn't afraid to get creative and try different colors and patterns.
6. He Likes to Watch Movies
There are plenty of actors who have expressed that they don't like to watch movies or TV shows in their free time. Stevonte isn't that kind of actor, though. During an interview with AfterBuzz TV, Stevonte mentioned that he loves watching movies. Not only does he do this for entertainment, but he also uses it as a tool to study and improve his skills.
7. He Was In Little Fires Everywhere
If Stevonte looks familiar to you, that may be because you've seen him before. He played Brian Harlins in the popular Hulu miniseries Little Fires Everywhere. His character was Lexi Richard's boyfriend but the couple eventually had a falling out when he realized the Richard family's casual racism. Despite not having a starring role in the show, Stevonte still put on a memorable performance.
8. He's Not Really Into Social Media
Social media has become a very powerful tool over the last decade. It has been especially helpful for people who work in the entertainment industry. Surprisingly, however, Stevonte doesn't seem to have much of an interest in social media. He has accounts on both Instagram and Twitter, but he doesn't post very often. When he does, it's usually in regards to his work.
9. He's Not Really In High School
In his most recent role in Bel-Air, Stevonte plays a high school student. In reality, however, his high school days are behind him. Stevonte is 20 years old which makes him slightly older than his character. Thanks to his youthful appearance, though, he can probably continue to play teenagers for a few more years.
10. He's Thankful For All Of The Opportunities He's Gotten So Far
No matter how talented a person is, making it in the entertainment industry isn't an easy thing to do. For that reason, Stevonte doesn't take anything for granted. He appreciates all of the opportunities that have come his way and he is hoping that more doors continue to open for him in the future.
Tell us what's wrong with this post? How could we improve it? :)
Let us improve this post!