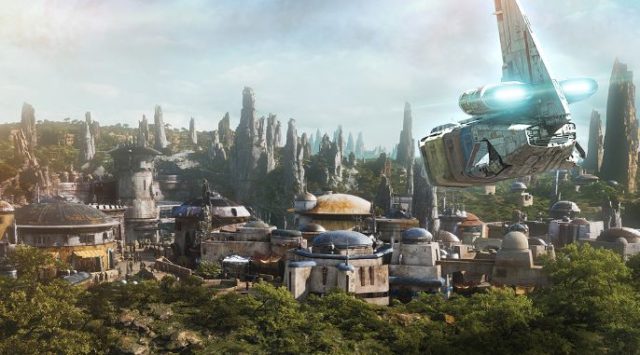 As a brand that is constantly striving to ensure that all their visitors are happy, Disney is always looking for new ways to introduce exciting new attractions and rides to its parks. They try to make sure that all the activities are relevant and relate to the movies that are the most popular. The Epcot Center is currently undergoing massive renovations to create a new park with an array of innovative rides for guests.
Epcot is not the only of Disney's theme parks undergoing massive changes. Both Disneyland Park in California and Disney's Hollywood Studios in Florida are having a new themed area developed that is entirely devoted to the Star Wars franchise.
Representatives of the parks first made the announcements August 2015 and both parks are set to launch in 2019. The themed areas at both parks will be called 'Star Wars: Galaxy's Edge'. Walt Disney Imagineering collaborated with Lucasfilm Story Group to design the parks and both groups were in agreement that they should be based on a new planet that is created especially for Disney.
Since the news of the news parks was first revealed, Star Wars and Disney fans alike have speculated about how they themed areas will look and what the planet will be called. Now, Disney has finally announced exciting news about the parks.
They have revealed that the planet on which the themed areas are based will be called Batuu at both locations. Disney also released a statement in which the theme parks were explained further and a little background to the concept was given.
They have described it as a remote outpost on the edge of the galaxy that was once a busy crossroads that was originally bypassed when hyperspace travel was on the rise. The planet has now become a thriving port for adventurers, rogue traders, and smugglers. It has also become home to those who want to stay out of the mainstream. As the reach of the First Order is expanding, Batuu is also a safe haven for those who are avoiding them.
Disney went on to say that although Batuu was new to visitors, the planet is already known to many of the characters from Star Wars and will include both familiar and unfamiliar characters, all of whom see this planer as a place for epic adventures.
The planet's name was first revealed as a surprise to those visiting the Star Tours ride which is also at both locations. This meant that those attending the parks on that day were privileged with the exclusive reveal first-hand.
As Batuu is not a planet that has featured in any of the Star Wars movies, it has a lot of potential in terms of both design and future stories. Although this planet is a fictional creation of the design teams involved, they have taken inspiration from real-life locations. They even traveled to Morocco and Istanbul to study weather, culture, and architecture.
How their ideas have come together and what visitors can expect will not become clear until the parks launch these themed areas. Therefore, fans will have to wait until early 2019 before they can visit 'Star Wars: Galaxy's Edge' at either location.