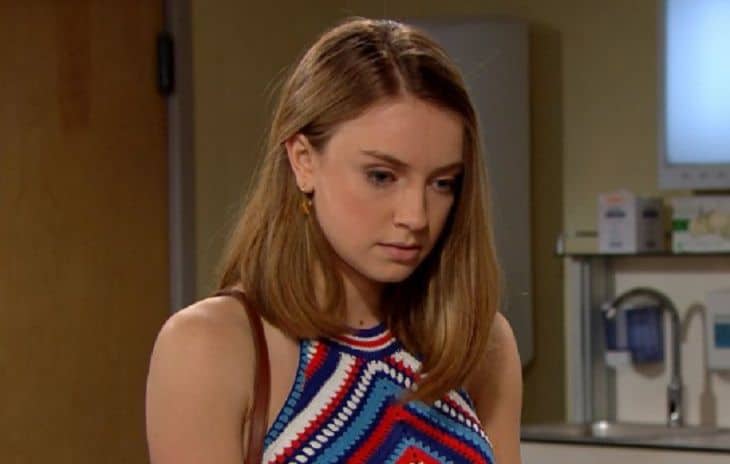 You may know her as Coco Spectra from the American television soap opera "The Bold and the Beautiful" or her recurring role as Ruby Rizzoli in "Parenthood" or Carly in "Modern Family" and Claire Danes in "Homeland." Before gracing the television screens in "The Bold and the Beautiful," Courtney Grosbeck had already made a stride in the acting scene. She has made a name for herself ever since she began acting in her teenage days. She is a sensation who captured the hearts and minds of soap opera lovers through her numerous television roles. Not so many details about Courtney Grosbeck are public besides her appearance on television shows. Here are some things about Courtney Grosbeck that you probably did not know.
1. Began acting at a young age
Courtney Grosbeck's journey in acting traces back to her days in middle school. She was born and raised in Jupiter in the United States and developed an interest in acting while in middle school. According to NBCUMV, she took part in theater productions based in her hometown. Courtney Grosbeck later went on to become part of various notable films. Her debut role was in a comic series "DayDREAmers," where she plays as a student of Dream Middle School. After her successful role in the show, she moved to cast in Brian Grazer's American comic film "Parenthood" as Ruby Rizzoli. In the year 2015, she landed the role of Dani in the crime thriller television series "The Player" previously titled "Endgame."
2. Nominated for Outstanding Young Actress
Courtney Grosbeck's name was among the names announced by the NATAS for the 45th edition of the annual Emmy Awards. She earned herself a place in the list Daytime Emmy's nominees in the category of Outstanding Younger Actress in a drama series. As per Variety, her nomination by the National Academy of Television Arts & Science follows her exceptional performance as Coco Spectra in CBS's "The Bold and the Beautiful." Fellow casts from the television drama show also got nominated in other prestigious categories. Scott Clifton, who plays Liam Spencer, was among the nominees for the Outstanding Lead Actor in a Drama Series. At the same time, fellow TV star Reign Edwards got nominated in the same category as Courtney.
3. How her family perceives television romance
How would your family members or friends react to your involvement in romantic television scenes? Well, they most probably would have mixed reactions as some would be in favor, while some may show their displeasure. Courtney, however, admits that both her friends and family members have been supportive of her career in acting despite her involvement in intimate scenes. As maintained by Soap Opera Digest, she opens up that her friends barely tease her for her intimate scenes. Instead, they are keen to find out how she gets along with fellow casts on set and in real life. She maintains a cordial relationship with fellow cast members making her comfortable while shooting such intimate scenes.
4. Her aspirations in the entertainment industry
Most celebrated television personalities often aspire to bag numerous accolades in the entertainment industry, unlike Courtney Grosbeck, who desires to use her position and platforms within her reach for a good cause. She often expresses her adoration for actively championing debates revolving around racism and sexism. She is optimistic that in the future, she will use the extensive reach of film and television to enlighten and push for the solutions of issues surrounding sexism and racism. Her resolve to be a social justice ambassador is quite refreshing, and we hope that many celebrities would join the noble cause of making the world a better place.
5. First on-screen kiss
Many people would be shy to talk about their first kisses, candidly let alone kiss in front of gazing eyes. Courtney Grosbeck and fellow castmember Antony Turpel opened up about their experience first on-screen kiss. Antony admits that it was his first kiss and felt nervous about it. Though both experienced their first on-screen kiss during the shooting of the scenes, they have become used to it and are no longer shy of such intimate scenes.
6. Loves coffee
Courtney enjoys a cup of coffee during breaks while they shoot scenes. Antony took note of her addiction to Vietnamese coffee while they were waiting for their scenes. The beverage serves to boost her energy when she gets exhausted from her hectic acting career.
7. Favorite scenes in "The Bold and the Beautiful."
Courtney is nostalgic about a specific scene in "The Bold and the Beautiful," where she gets into an in-depth conversation with Antony, who plays the role of Ridge Forrester Jr. They are fascinated by the scene because it depicts a real-world scenario. She additionally is thrilled by a scene where she pulls a stunt to be Antony's lifesaver.
8. Nominated as best-supporting actress
Grosbeck's career in acting has had quite memorable moments, which include her Emmy's nomination for Outstanding Young Actress. She, however, did not stop at that; in 2019, she got shortlisted in Madrid for the International Film Festival alongside seven nominees for the Best Supporting Actress in a Short Film. Courtney Grosbeck got recognized for her role in "Then & Now."
9. Sister to Chelsea Grosbeck
Chelsea Grosbeck is the eldest sibling in her family. She is also an actress, just like her younger sister Courtney. She takes credit for her appearance in movies such as "Gina" and "The Genie-In-Training."
10. Relationship with Courtney Hope
They share the name Courtney and often while on set, they confuse other cast members. Hope and Grosbeck are close friends besides being sisters in the series. They share a lot of similarities in the real lives and as Spectra sisters. Courtney Hope admitted that she got along with Grosbeck quickly, and they often hang out together to discuss their families, careers, and other things.