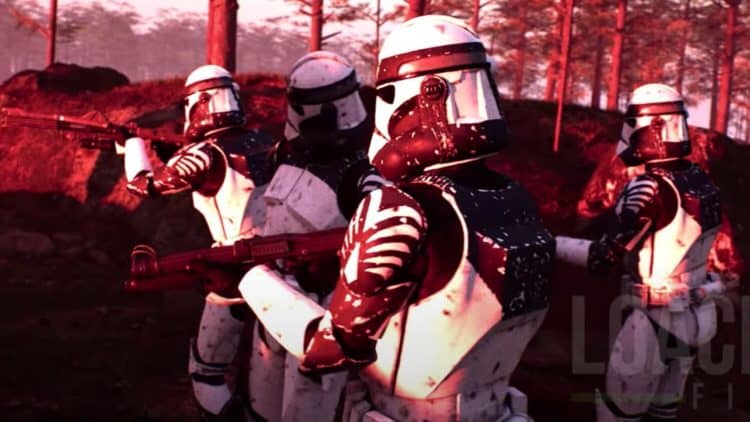 Star Wars fan films just keep getting better and better, and there are a LOT of them when you really start looking. But few if any really ever go into the whole idea of what went on in the minds of the clone troopers when they were given the dreaded Order 66 and ended up turning on their Jedi companions. The obvious idea was that they simply forgot about the camaraderie, the idea that the Jedi were actually trying to keep them alive, and the fact that the Jedi had been in the same situations as they were, leading from the front and not the back. In Betrayal it's seen however how the programming that each clone was put through on Kamino obviously wiped their memories and gave them an alternate view of what had really happened during previous battles, painting the Jedi as ruthless aggressors that cared nothing for them. The acts seen in the trooper's memories, of the quarren Jedi first helping his fellow soldiers, and then leading them to slaughter, was amazing in detail and in that it offered an inroad to what the troopers must have been seeing, since any other explanation doesn't make a lot of sense considering that a lot of the clones looked up to the Jedi and respected them. There is one sticking point though.
It does kind of feel as though some clones tried to resist the programming since if we remember Revenge of the Sith, a lot of the clones simply took aim and fired the moment that Order 66 was given, but in this representation the program was slower to take effect. Perhaps the simple perspective was slower so that we, the audience, could see what was really going on inside the trooper's head, when in reality it was a blink the moment that Order 66 was given, and the Jedi had become the enemy by the time his eyes opened. That would kind of explain it really, since otherwise the events in the movie would have meant that the troopers could have turned on the Jedi at any time, which is obvious, but that kind of turnaround is still amazing since the morality of many troopers would still cause them to fight the program as much as they could. Despite the finality of it and how horrible it might sound, there was a genius to Palpatine's desired programming for the clones, since he could pit the galaxy against itself and step into the position of power and assume his role while the people continued to tear at one another. Then, as a 'benevolent ruler' he could begin to solidify his power base by taking out the only order that could possibly prove to be a roadblock for him by using the same army that had been made to fight alongside his enemies for so long. It kind of sounds cheesy when it's said like that, but it's still genius since despite the massive effort and the attempt to play the long game, Sheev Palpatine actually made it work and manipulated his way into a role that most couldn't attain and in a way that many couldn't even conceive of.
It's a bit sad though that throughout the second and third movie that a lot of people didn't think much of the clone troopers since they were essentially tools, pretty much like stormtroopers became later on, no identity save for a number and no real use other than to be ordered about like cattle. Even worse, a lot of clones knew their worth to the Republic, and they knew that trying to get out carried a stiff penalty. It's easy to think that the clone troopers weren't about to be given a cushy retirement when the war was over, as a lot of them conveniently disappeared at some point. In a big way one has to wonder why anyone would think that Star Wars isn't part horror story since there are plenty of elements that correlate with the real world, though we choose to focus on certain aspects and leave others because they haven't been shown in any great detail. Movies such as this however are there to remind us that when it comes to Star Wars, there's very little real innocence when it comes to the things that have been done and the way that some individuals have been treated. Maybe that's why the fan films are gaining so much more attention than what Disney churns out though, they're not cutesy and they're not Disneyfied in a way that makes them appear even remotely cute and cuddly in any way. There are serious stories at work here, something more along the line the original trilogy, but with even more edge and desperation that makes them so easy to enjoy since they're telling a story that never really gets told.