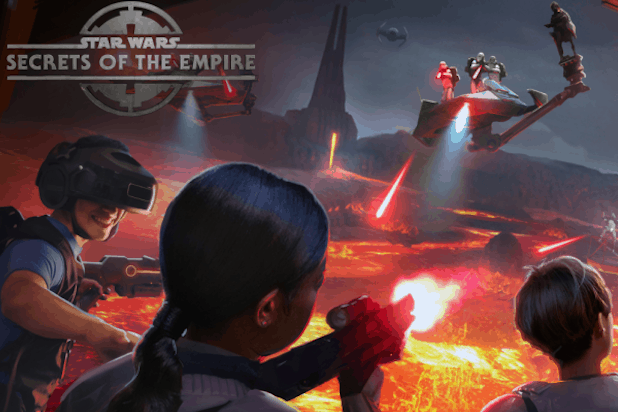 If you've ever wanted to know what it's like to experience the Star Wars universe then you might be in for a treat with this new and exciting development. It's not going to be like the typical VR experience, there will still be headsets and everything, but it will be an engaging look into the Star Wars universe that will be interactive and allow the gamers to fully immerse themselves into the gaming world. For Star Wars fans this will be an unparalleled treat as they await the next Star Wars that is coming out this December.
The attraction should be coming soon to select locations.
The attraction will be coming to Orlando and to Anaheim.
Disney is teaming up with The Void, a VR company, to bring forth this impressive and totally interactive design. Players will be able to interact with each other, their environment, and with characters in the game. It will be a gaming experience that will have people flocking to be the next in line. They've been fairly sparse with the details, but what we do know is that it will allow the players to engage with their surroundings on a level that's more impressive than anything that's ever been seen before.
Not much is known about the plot of the game, but it is titled "Star Wars: Secrets of the Empire".
With that kind of title one can assume that it will be a very quick and action-packed game. Already we can see from the ad that players will be squaring off with stormtroopers and possibly interacting with fan favorite K2SO from Rogue One. If that's just a sign of things to come then there's no telling what else will be included withing the game. The settings, the characters, all of it could be so mind-blowing that fans won't want to stop playing.
It will likely be entirely new canon.
Ever since Disney purchased Lucasfilm the Star Wars canon has been a changed thing. This has upset a great number of fans that have followed the franchise for decades, but it has also brought in a very large number of new fans that want to see something new and exciting. While a great deal of the story has been kept largely intact to keep as many people as possible happy, this game will no doubt go off of the new canon that has been created, as K2SO's appearance seems to imply. In truth this won't be likely to bother much of anyone as much of what has been kept still follows true with the original source material, just as the movies will.
The advent of this game is going to be huge most likely. Star Wars fans and even those that don't watch the franchise will likely be waiting with great anticipation for this to arrive. The game itself sounds amazing, and the graphics are bound to be equally impressive given the track record of Disney and the grandeur of its many projects.
Tell us what's wrong with this post? How could we improve it? :)
Let us improve this post!