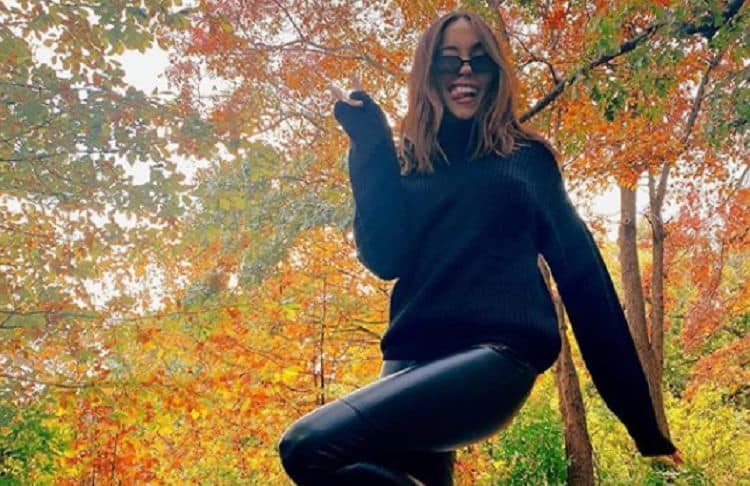 Sophia Culpo is best-known for being the younger sister of social media influencer, Olivia Culpo. These days, however, she's been working hard to make a name for herself. While she hasn't yet achieved the level of popularity as her big sis, Sophia's social media presence isn't too shabby. She has more than 123,000 followers on Instagram and that number is likely to increase thanks to the sisters' new business venture. Sophia, Olivia, and their other sister, Aurora, have gone into business together with a new fashion line, Culpos x Inc. The brand is a partnership with Macys and the clothing promises to be stylish just like Sophia and her sisters. Keep reading to learn 10 things you didn't know about Sophia Culpo.
1. She Loves To Cook
Sophia lives a very healthy lifestyle and she's really big on nutrition. For those reasons, it's easy to assume that her diet is probably pretty boring; that's not true, though. Even though she is careful about what she puts in her body, she enjoys cooking and baking and loves to get creative in the kitchen.
2. She's A Model
Being Olivia Culpo's sister certainly isn't Sophia's only thing. She is also an up and coming model who is a natural in front of the camera. At the moment, it's unclear whether she has modeled for any major companies, but if not that's something she seems to be working towards.
3. She Has Always Loved Fashion
Admit it, when you heard that a group of social media sisters was starting a clothing line you wondered what on earth made them qualified to do that. In reality though, this decision didn't just come out of nowhere. All three of the Culpo sisters have great senses of style and have always been heavily involved in fashion.
4. She's Adventurous
Sophia is the kind of person who loves living life to the fullest and for her that means taking advantage of every opportunity to have fun and experience something new. She loves doing things like going hiking, boating, and exploring all sorts of different places.
5. She's A Brand Ambassador
Having a large number of followers on social media has officially become currency. When you're popular online, you can get paid simply to post about a company's product or service. Sophia has officially reached that place and she has become a brand ambassador for several companies including USANA Health Services.
6. She Loves To Stay Active
Maintaining a beach body all year long isn't an easy thing to do, but Sophia is about that life. She loves to stay active and working out is an important part of her regular routine. Whether she's hitting the gym or going for a run outdoors, she works hard to keep her mind and body in good shape.
7. She Was On The Track Team In High School
Sophia's life may be all about social media now, but there was once a time when sports played an important role in her life. She was a member of her high school's outdoor track and field team where she competed in high jump. Her days as an athlete may be over but that competitive mindset may come in handy in other areas of her life.
8. She Has A Personal Favorite From The Clothing Line
Like the rest of her sisters, Sophia is very excited about the launch of Culpos x Inc, and she has a personal favorite from the line. She told Grazia Magazine, "My favorite from this October drop is definitely the jumpsuit that's off-the-shoulder and has thumb holes. It's so comfortable. I travel in it and then I pair it with heels to dress it up into something you can go get dinner in and go on a date in. But then also pair it with sneakers to literally cozy up on an airplane and go sleep in."
9. She Appreciates A Good Sale
In the fashion industry, there are lots of people who like to brag about how much they spend on luxury clothing items and accessories, but Sophia isn't afraid to admit that she appreciates a good sale. During an interview with Shop-Steal, she shared a story about how she purchased a Prada bag on sale in Italy for under $500.
10. She's Done Lots Of Traveling
Sophia was born and raised in Rhode Island but currently lives in Los Angeles. In addition to moving across the country she has also gotten the chance to do lots of traveling. She has visited several beautiful places including Puerto Rico, Hawaii, Italy, and Mexico.