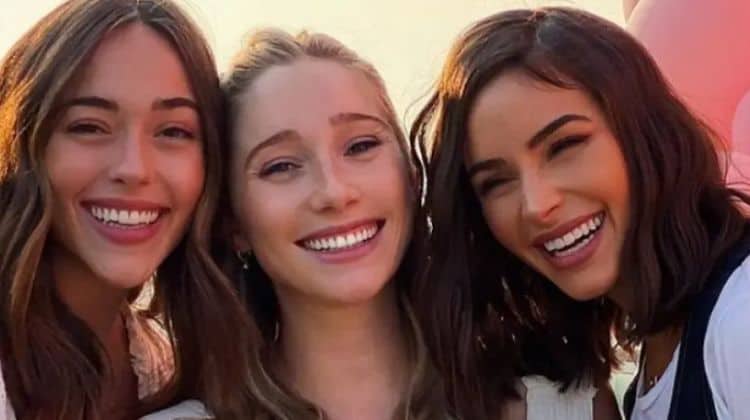 Many people would advise against doing business with family, but Aurora Culpo and her younger sisters have decided to go all in with their latest venture, a clothing line called Culpos X Inc. Aurora and her sisters, Olivia and Sophia, have gotten lots of attention on social media over the last several years and they've all officially reached influencer status. With the three of them harnessing their power, the possibilities seem limitless. Aurora's life as a mom and an entrepreneur may be extremely busy, but she's excited to embark on this new journey with her sisters and see where it takes them. Keep reading for 10 things you didn't know about Aurora Culpo.
1. She Suffered From Diastasis Recti During Her Pregnancy
Many women would describe pregnancy as one of the most beautiful and difficult experiences they've ever gone through. While there is lots of excitement around bringing a child into the world, pregnancy can often be very hard on women's bodies. This is something Aurora experienced when she developed something called diastasis recti during her pregnancy. She told PVolve, "Diastasis recti is when the rectus abdominis muscles in your abdomen separate during pregnancy, leaving a gap. I had to be extra careful of my form so that I didn't cause further damage."
2. She Loves Interior Design
Fashion isn't the only thing Aurora has a keen eye for. She also loves interior design and has the ability to see the potential of a space when she walks into it. She enjoys sharing her interior design projects and ideas with her followers and has an entire section of her Instagram highlights dedicated to it.
3. She Lives Her Life As Intentionally As Possible
Lots of things have changed for Aurora since becoming a mother, and one of those things has been the way she goes about making decisions for her life. These days, Aurora has become much more intentional and she is very mindful about the things she does because she wants to make sure she's setting a positive example for her children.
4. She Loves To Do Yoga
Aurora has always been the kind of person who likes to stay active, however, that doesn't always mean she spends every single day hitting the gym. She likes to get creative with her workout routines and yoga is one of her favorite things to incorporate. Not only does doing yoga on a regular basis benefit her body, but it also helps her mind as well.
5. She Has Spoken Out Against Racism
Speaking out on uncomfortable subjects isn't an easy thing to do, especially when you have a hard platform and you could lose supporters because of it. That, however, hasn't stopped Aurora from using her voice on Instagram to support the fight to end racism.
6. She's A Brand Ambassador
Aurora has almost 70,000 followers on Instagram and many of those people regularly look forward to seeing her posts. For that reason, she has become an attractive person for companies and brands to partner with to help advertise their products. She is currently a brand ambassador for P.Volve as well as USANA Health Services Inc.
7. She Loves To Cook
Even though Aurora has lots of things on her plate (no pun intended) she still likes to find the time to cook whenever she can. Cooking gives Aurora another chance to express her creative side and she loves putting together fun dishes. The good news is that she often shares her recipes on Instagram so her followers can recreate her magic.
8. She's Already Picked Her Favorite Item From The Culpos X Inc Fall Collection
The Culpos X Inc. clothing line may be new, but Aurora already has a favorite item. During an interview with Grazia she said, "My favorite is the long-sleeved sweatshirt dress. I like it because it's short, but you can wear tights under it, you can wear high boots, you can wear sneakers. It also has these cool shoulder pads in it."
9. She Spends A Lot Of Time Outdoors
Aurora likes a relaxing day at home as much as anyone else, but what she really loves is to spend time outdoors enjoying fresh air and the beauty of nature. When the weather is nice, you can usually find her outside. She loves lots of outdoor activities including hiking, swimming, archery, and skiing.
10. She Loves To Travel
If you've gotten the chance to travel, you would probably agree that visiting different places is always an unforgettable experience. Aurora has been fortunate to do a good amount of traveling and she enjoys going to all sorts of destinations whether here in the United States or abroad.
Tell us what's wrong with this post? How could we improve it? :)
Let us improve this post!