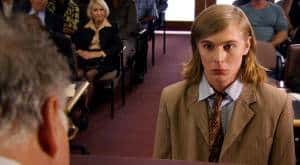 I held off on this review due to the satellite provider claiming last night's episode was going to be "Abbud" instead of "Stanley" and didn't want to post the wrong review. Now that we know that it was DirecTV's fault and not another controversy laden issue, I now give you my review of last night's Skins, which was all about Stanley and his terrible, horrible, no good, very bad week.
First and foremost, if you saw the original Skins series, then you will know that this is another direct adaptation of the "Sid" episode of series one. While the shell of the "Sid" episode was there: Stanley/Sid's in trouble at school, Stanley/Sid has issues with his dad, Tony screws over both Stanley/Sid and Michelle for his amusement, etc, there wasn't anything necessarily new. There were a few new aspects in "Stanley" that deviated from its original source, but the episode in general didn't hold up, but not in the way many Skins purists might feel.
The main problem this episode had was the previous week's "Cadie," which took an original character from the UK series, Cassie, and gave her a new name and a new background. There wasn't anything resembling "Cassie" in "Cadie" and that was where "Stanley" dropped the ball. To be truthfully honest, if "Stanley" had of aired before "Cadie" then my tune might be slightly different. It's just that after seeing what "Cadie" did with the original material, the writers got kind of lazy with "Stanley" and didn't take an opportunity to further diverge itself from the source material. While it pains me to say it, "Stanley" (and maybe the "Chris" and "Tony" episodes) represent what Skins purist are screaming to the creators: "We've seen it already. Give us something new!"
It is also good to note how much praise both "Tea" and "Cadie" received compared to the other three episodes that have aired so far.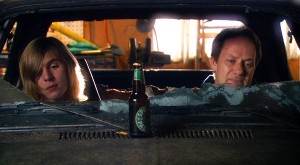 If Skins is picked up for a second season, hopefully the writers will give us a 'new' season without any elements from the UK's show. Sure we have four more characters to explore (Daisy, Abbud, Effy, and Michelle for those who lost count) and we have yet to see what they have to offer, but they are already shot and in the can, which means there is little chance to course correct the show at this point. Season Two will be Skins USA's chance to truly fly and become their own beast and I hope the show takes on that challenge, if it is given to them.
As for "Stanley", the episode showcased not only Stanley's bad luck, but the complicated and strained relationship between Stan and his father Mark. This was, to me, the backbone of the entire episode, because it displayed that no matter what Stanley did, his father's attitude towards him would always factor out in the end. It's clear that Mark's father was just as much as a dumbass to him as Mark is to Stan. The judge's advice at the end of the episode to break the chain of ignorance could've been the best thing Stan heard all year and it didn't only adhere to his lineage. I'm betting that we will see a new Stanley come next week, one who will not take crap from Tony, especially after the B.S. his alleged best friend drug him through.
As far as the Cadie thing goes, when did she enter the psych ward? And wasn't it an about face to see Cadie's mom actually being a parent for once? Talk about odd…
What was your take on the episode?
Tell us what's wrong with this post? How could we improve it? :)
Let us improve this post!