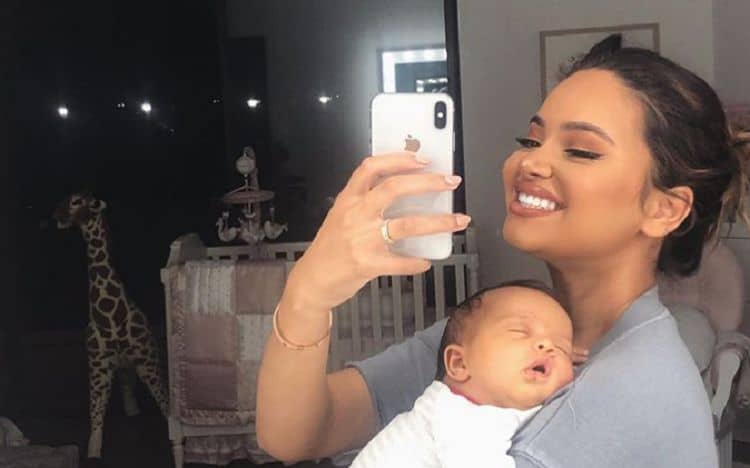 When Austin and Catherine McBroom started their YouTube channel, they did not know it would grow into the successful platform it is today. Therefore Landon, Austin's brother, also decided to venture into the same and began his channel with his girlfriend, Shyla Walker. Before then, little was known about them, but they now have a substantial fan base with Shyla's Instagram having 1.2 million followers thanks to her 112 posts. Below are more details about her that you most likely did not know.
1. She always wanted to have a daughter
Some people have never envisioned having kids, and Renee Zellweger tops the list. She said that motherhood has never been her ambition, and she does need children to be happy. Shyla Walker, on the other hand, has been picturing being a mother to a little girl; therefore, upon discovering that she would be getting one, it was a magical moment. The social media influencer disclosed that no words could express the joy she felt, although, throughout her pregnancy, she thought she was having a boy.
2. She was criticized for the gender reveal party
You can't please everyone, so we are advised to do what makes us happy. Shyla and her boyfriend may have thought that everyone would be delighted by their gender reveal party, but some of their fans were disappointed. Although the YouTuber said the gender reveal was the most magical day of her life, people realized that she barely showed any emotion, unlike Landon, who cried. Others commented that she was only acting surprised because she looked like she already knew it would be a girl.
3. She wanted to be a baby cuddler
While some of us are pushed to get our degrees so we can be lawyers or doctors, Shyla had other things in mind. Her love for children made her want to spend every minute with them; hence she thought about becoming a professional baby cuddler. Now that she has her own baby, she must be living her dream.
4. Her boyfriend has cancer
Fans could not fail to notice that Landon has lost weight; he has gone from weighing 149 pounds to 110 pounds, which is quite low for a 23-year-old. Shyla announced that after doing a biopsy, they found masses between and around his lungs. Tests confirmed that Landon has lymphoma, and according to Glamour Fame, doctors put him on chemotherapy. He has already done his first session and experienced positive results, including a weight gain of 20 pounds. Therefore once he is through with all the sessions, he will get back to being the healthy-looking entertainer we know.
5. She had postnatal depression
Motherhood is beautiful, but people have varied experiences once the baby is born; while some are over the moon about the change in their lives, others grow distant from everyone around them. Shyla fell in the latter category and even shared a video talking about how she felt that no one, including her family and friends, cared about her when she gave birth to her daughter. Fortunately, she sought help and was diagnosed with postpartum depression, thus began taking medication to control her hormones.
6. Her relationship with Landon almost was over before it started
They may look like the perfect couple today, but their first date almost did not happen. Like nearly every love story in this social media era, theirs also began on Twitter when Landon reached out to her in 2016. Landon later invited her out to their first date, which was in Santa Monica, to watch a movie. He arrived in time, but Shyla played hard to get even on that day by making him wait outside for half an hour. Landon may be a patient man, but he wondered what was making her that late so he kept honking his car, which irritated Shyla so much that she almost did not go.
7. She does not mind baring it all
We have become used to hearing celebrity nudes have been leaked, but some want to share pictures of their bodies with the world. It has especially become a trend for pregnant mothers to do photoshoots exposing their bumps, and some have set standards; Alanis Morissette did a beautiful one where she was naked underwater. Shyla also posted hers on Instagram and said that she was heavily criticized for it. She explained in the picture, that although she seems to be completely naked, she was wearing a strapless thong.
8. She allegedly does not like dogs
They say that nothing prepares you for motherhood like caring for pets, so maybe that was the idea Landon had when he gifted Shyla with a dog. That was back in February 2018, and she even posted a picture of herself with the dog, Fiji. However, when a few weeks ago, fans kept asking her what happened to Fiji, Shyla did not bother to respond. One follower said that Shyla and Landon took him to a "puppy boot camp" so he could learn to be less aggressive. Another one added that Shyla never liked the dog anyway, and her body language in the videos where Fiji was featured said it all.
9. She appreciates growing up without technology
Technology has taken over the world, and we have become addicted so much to our mobile phones that we cannot leave home without them. It has become such a problem that sometimes we have to go on a social media cleanse and reconnect with nature. As for Shyla, she now has social media to thank for paying her bills, but when she looks back, she can only be grateful that technology did not interfere with her enjoying her childhood.
10. Her likes and dislikes
Shyla may not like dogs, but according to The Famous People, she loves elephants. Her favorite color is baby pink, and if you have to take her out, get her some seafood or sushi. However, she cannot stand anyone who chews food with their mouth open, and when quenching her thirst, a green tea Frappuccino from Starbucks is all she needs.