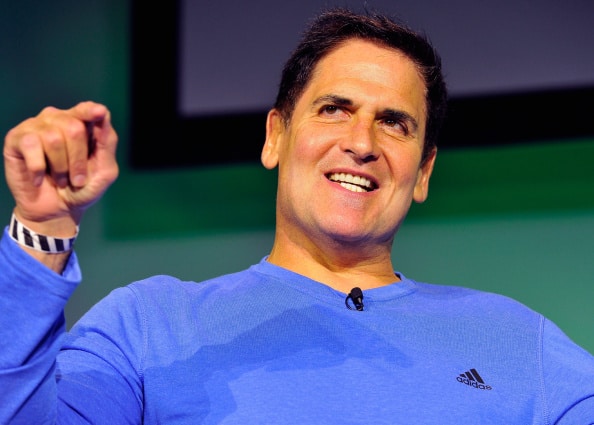 Shark Tank has built quite a following on Friday nights. The day of the week that was once dominated by hit shows in the 90's like Full House and Family Matters turned into a graveyard for television viewing in the 2000's. Sometimes a network would even move a low performing series to Friday nights to burn off several episodes before giving it the official ax. However, some shows tend to thrive on Friday nights. Once of them is the reality show Shark Tank, currently airing on ABC at 9 PM. Mark Cuban is one of the sharks that invests in new products from entrepreneurs. He has been with the series since season three. Here are four quick facts about the owner of the Dallas Mavericks that you may not already know.
1. He has shelled out a lot of dough
Since 2012, Mark Cuban has invested in over 80 deals during his time on Shark Tank. He has given entrepreneurs almost $20 million to become a partner of their companies. Cuban has even given several companies $1 million, including Beatbox Beverages (a boxed wine company) and Rugged Maniac (an obstacle course company).
2. He was accused of insider trading
Shark Tank star Mark Cuban was accused of insider trading in 2008. Cuban apparently sold stock of the company Mamma.com shortly before they became diluted. It was believed Cuban made this trade based on secret information. The charges were dismissed in 2009, but the SEC appealed. In 2013, a jury found Cuban innocent of any wrong doing.
3. He wants to own other sports franchises
Mark Cuban wants to own other sports teams than the Dallas Mavericks. The star of Shark Tank has tried unsuccessfully three times to purchase a baseball team. In 2008, Cuban put in a bid to purchase the Chicago Cubs. This would be followed by bids to buy the Texas Rangers in 2010 and the Los Angeles Dodgers in 2012. Cuban also had expressed interest in owning the NHL team the Pittsburgh Penguins.
4. He has helped veterans
Shark Tank star Mark Cuban uses his billions of dollars to help people in need. In 2003, he started the Fallen Patriot Fund. The money donated to the organization is used to assist families of U.S. military members that were killed or injured in the Iraq War. He matched the first $1 million that was donated to the organization.
Is Mark Cuban your favorite Shark on Shark Tank? Let us know in the comments section below.
Photo by Steve Jennings/Getty Images for TechCrunch
Tell us what's wrong with this post? How could we improve it? :)
Let us improve this post!