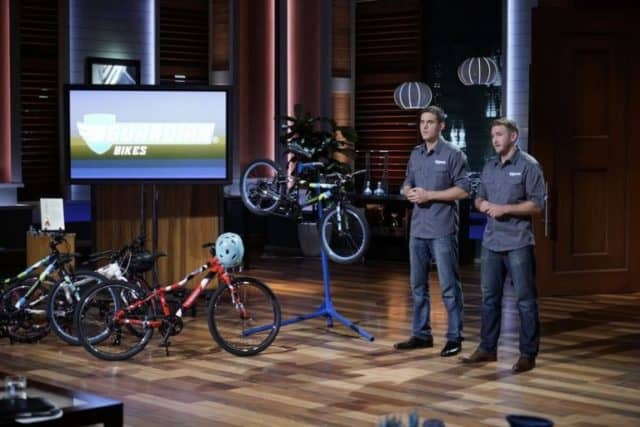 Are kids bikes a market that's not being paid enough attention to? That's what Brian Riley and Kyle Jansen think as they've created their product called "Guardian Bikes" which are being marketed as the World's Safest kids bikes. Guardian Bikes is an offshoot of Riley's SureStop business which supplies bicycle brake components to other bike manufacturers. What differentiates Riley's bikes from other kids bikes is the functionality of the brakes themselves. The secret to the brakes is when you squeeze a hand brake, equal force is applied to both the front and rear brakes. This reduces the probability of a wipeout and injuries. According to the Shark Tank Blog:
Guardian Bikes launched at the Interbike trade show in Las Vegas in September, 2015. Riley believes kids' bikes are an underserved market. He realized that when his SureStop customers weren't putting the brakes on kids' bikes. So far, they have bikes for sale in dozens of shops nationwide. They're also available online.
There are three models. A twenty inch, single speed bike costs $319. Twenty inch 6 speed bikes are $399 and twenty-four inch, seven speed bikes cost $419. All models ship "99% assembled" and feature the SureStop braking system. The company likely wants a Shark's help with ramping up production and getting into mass retail outlets.
I think the biggest challenge to Riley and Jansen is going to be convincing the sharks just how important a market this is, not to mention if there's any money to be made in it. While kids' bikes may be an underserved market, these sharks have no intention to invest in something that can't make millions. In order to make the kind of money these sharks are accustomed to, Guardian Bikes would more than likely have to be a dominant play in kids bikes. That I think might pose a problem. While the idea is excellent in terms of safety, how marketable is it? That's what we'll find out on the next episode of Shark Tank.