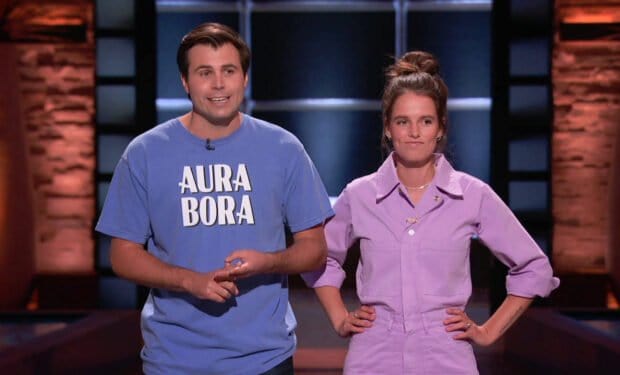 Shark Tank fans everywhere know that products in the food and beverage industry don't tend to get deals. This space is very competitive and many of the Sharks prefer to steer clear instead of trying to compete with established companies for shelf space. Every once in a while, however, a special food/beverage product comes along and the Sharks can't help but jump at the opportunity to be a part of it. That was certainly the case when Aura Bora appeared on the series during season 12. Pitched as a unique sparkling water brand made from herbs, fruits, and flowers, Aura Bora was ready to shake things up in the seltzer world. Let's talk about what's been going on with Aura Bora since its appearance on Shark Tank.
Aura Bora's Pitch
No matter how great a product is, a good pitch is a must when entering the Shark Tank. Just like real sharks can smell blood in water, these Sharks can sense when someone isn't on their A-game. Needless to say, when husband and wife entrepreneur team Paul and Maddie Voge came on the show to pitch Aura Bora, they were ready to present the Sharks with an opportunity they couldn't refuse. They had done their research and their company had already gained some traction. Paul and Maddie explained that their beverage was made from a delicious blend of herbs, fruits, and plants. After the Sharks got a chance to taste Aura Bora, they agreed that it was great. The couple was asking for $150,000 in exchange for 5% of the company which is a pretty tough ask on a show like Shark Tank. It's very rare to see the Sharks do a deal with such little equity. Their ask was counted by Robert Herjavec who offered them $200,000 in exchange for 15 percent of the company. Despite not wanting to give up that much equity, they excitedly accepted his offer. With all of the experience Robert has, there's no doubt that he could bring lots of value to the business.
What Happened To Aura Bora After Shark Tank?
Being on Shark Tank proved to be an awesome experience for Aura Bora. In addition to getting a deal, the exposure from the show brought an immediate boost in sales. Since working with Robert, the product has continued to grow tremendously. According to Shark Tank Tales, Aura Bora is now available in 1,200 retailers all over the world. Some of those retailers include Sprouts, 7-11, Amazon, and some Whole Foods locations. Additionally, Aura Bora has found a good deal of success on social media. The sparkling drink currently has 18,000 followers on Instagram and that number is only going to continue to grow. After Shark Tank, Aura Bora continued to attract additional investors. According to FoodBev.com, Aura Bora raised an additional $2 million. A press release announcing the investment stated, "Aura Bora says the capital will be used to grow its team, support brand expansion and strengthen its direct-to-consumer channel. Notable investors include actor Scott Eastwood, musician Marley Williams, consumer products accelerator SKU and CPG-focused venture capital fund Balanced Breakfast." In the release, Paul Voge also added, "With the support, guidance, and insights from our accomplished team of investors, we look forward to evolving Aura Bora and the sparkling water category as a whole. We'll continue to reject conventional flavors and artificial ingredients, and instead create wild, plant-based combinations made with real ingredients to our consumers."
Customers Love Aura Bora
So far, people seem to be really impressed with Aura Bora. Even though the beverage costs a pretty penny, apparently it's worth it. A reviewer on Amazon wrote, "Aura Bora is the perfect drink. It's sparkling but not too sparkling…It feels like a little escape from your day but there's nothing unhealthy or detractive about it (besides, maybe the price point – it IS 2x the price of La Croix and other similar options). Anyway, I blew through my 12 pack in 2 days and ordered more so…we will see what runs dry first – the Aura Bora well or my bank account."
The Future of Aura Bora
Over the years, there have been lots of products on Shark Tank that have gotten deals and still failed. However, Aura Bora is one of the show's many success stories and it looks like the product has a very bright future. Even though we weren't able to find any official information on what the company plans on doing next, it's clear they are ready to keep growing and they will likely be introducing some new flavors over the next couple of years. Hopefully, the success of Aura Bora will open the door for other beverage products that appear on Shark Tank in the future. While it's true that the industry is very competitive, there's still room for new options.
Tell us what's wrong with this post? How could we improve it? :)
Let us improve this post!