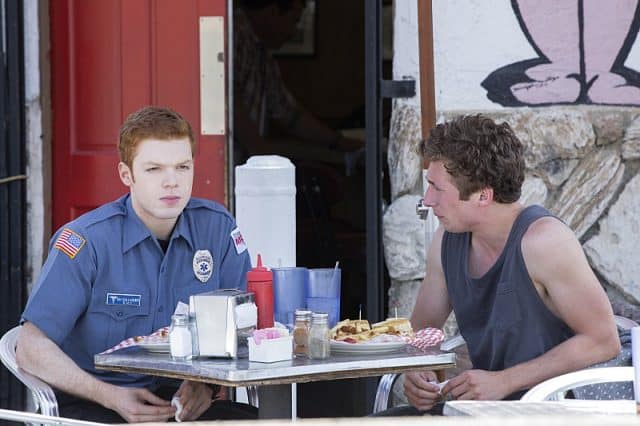 Shameless' second episode of this season was so solid and dynamic it had me smiling or laughing the entire episode.
I loved that the writers didn't let the Ian/Caleb plot linger, they got right to it. Ian confronted Caleb and discovered that he didn't believe he was cheating on Ian if it was with a woman. Caleb claimed that no one is one hundred percent anything, when Ian said he was one hundred percent gay. Ian, in an effort to test the theory, slept with a woman, and hated every second of it. The scene was a little unusual and because it was Ian it made it so funny! Even better, Ian, Carl and Lip are all consulting each other throughout the episode, which leads to a lot of nice moments between them. It made the family feel really normal for those few scenes.
Caleb's feelings about sleeping with women brings up the topic of bisexuality, which Ian uses as a deal breaker. I think it's strange that the writers chose to introduce Caleb's bisexuality and his infidelity at the same time. It only reinforces stereotypes, and the character's reasoning seems strange and out of character. Maybe we will see Caleb again? Maybe not.
Carl and Kevin embark on difficult tasks, one of which was charming and the other difficult to watch. Kevin tried to be the housewife while Svetlana and V were working, and he's not very good at it. He even tries to hire a topless model to do the cleaning. Didn't work out so well, and it was so cute like Kevin always is. Then Carl has the worst time of his life while he's trying not to think about women, and his girlfriend post-surgery. I'm glad they're giving Carl more scenes, it's working really well for him.
Fiona makes several changes at Patsy's Pies, and what a power trip! She fires the two older women who work for her, and replaces them with young attractive women. I can smell trouble with this one. One of her employees invited her out to a bar, one on condition: bring Lip. They introduce Fiona to Tinder and she loves it. Shameless always does a nice job of keeping the show modern, but reminding us that the Gallaghers are poor, so I'm glad this end of social media hasn't entered the show until now. This new element could go horribly wrong, but I'm eager to see what happens with Fiona and her newfangled toy.
This solid episode ends like any other though, with Fiona taking her rage out on Frank. It's clear to the viewers, and to V, that Fiona hasn't discussed the wedding with anyone. I wonder if Fiona will crash and burn the same way she always does, or if this season will be different. In the end, I really loved this episode, because it balanced the characters well, and it did a lot of new things for the Gallaghers.
[Photo credit: Cliff Lipson/Showtime]
Shameless Season 7 Episode 2 Review: "Swipe F*** Leave"
Summary
Relationships are challenged in every way for the Shameless faves in Season 7's second episode.