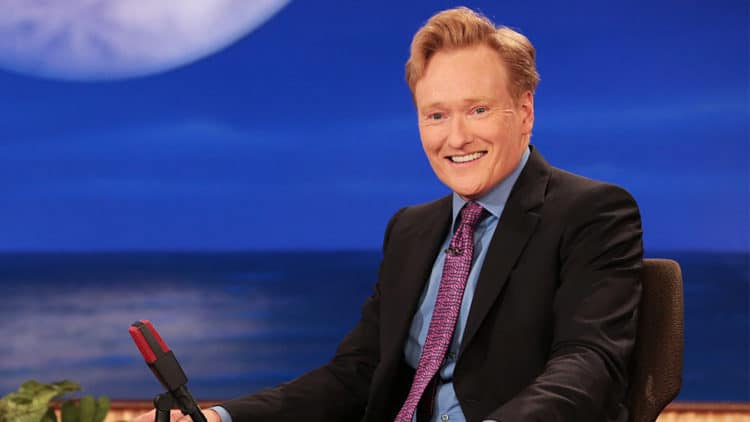 Has it really been 11 years? Just to make certain that fans of Conan O'Brien don't flip out it needs to keep being said that he'll be moving to HBO Max eventually and WON'T be ending his run entirely. But his time on TBS will be up eventually and the show will be taken off, which is bound to be traumatic for those that don't pay attention to the news and frequent the show only now and again. It does sound a though between now and his final day that the show will be taking a look back at all the hilarity that's been delivered over the years and that Conan and his crew will be trying to ease the fans into another show at some point. Those that watch Conan are likely going to be trying to decide if they want to follow him to HBO Max or if they don't feel like making that jump and can live without him. From the perspective of someone that's only watched a few minutes of several late-night shows, it does feel as though people are bound to overreact to this news and will no doubt be weeping to see one of their favorite hosts leave until they realize that he's not leaving, he's jumping sites, that's all. A lot of folks are probably going to wonder if his next show is going to be more of the same or if he's going to change things up, but seriously, he's going to be the same guy doing the same thing in a different way. The dependence that so many people have on late-night hosts is mind-boggling, but there's no need to bash it or call people out for it unless, as it happens, some people take it way too far. The level of fandom that exists and makes people idolize certain folks is kind of bizarre since personally, I have a lot of people in show business that I enjoy watching and feel are some of the best at what they do, but rarely has it happened that I've gone to the level of NEEDING to see any single celebrity all the time. Some folks just need their Conan fix every now and then. Hey, if it works for them.
Late-night has been a hotly contested field for a lot of years now and to be certain it's been won a time or two by various hosts and has over the years become a struggle at times to see who's going to pull in the biggest ratings. A lot of people can still remember the days of Johnny Carson and several others and how the talk show scene used to be, but the likes of Jay Leno, David Letterman, Conan O'Brien, Jimmy Kimmel, and several others have definitely changed the landscape in a big way. There's bound to come a day when the hosts that we know now and that so many revere decides to finally hang it up, but it's not bound to come for a while since to be sure, hosting a late-night show isn't bound to be as easy as some might think, but it's definitely not the most labor-intensive or mentally challenging position either since every show does have its own writers and while the hosts likely have other duties it does feel that they don't always do much more than being who they are, which is a pretty big contribution to the show, and in some cases is the only reason such shows exist. Conan moving to another network isn't a huge deal, it's if Conan's show changes in a fundamental way that people should be thinking that it might be a good idea.
The chances are that it will be the same Conan and possibly a different format, which most people should be able to deal with since they've been watching the guy for long enough that they're likely used to his act and aren't bound to stop watching him. One of the only things that could disrupt anyone's ability to watch the late-night host is if they don't happen to have the streaming site, which is easy enough to sign up for and might even still offer a free trial to let people see if it's worth it or not. One good thing about this is that the switch isn't coming just yet, so people will be able to sit back and recap what's been going on for the last 11 years and enjoy the memories that have been made. It's likely that some people might flip out when hearing that Conan is saying goodbye, but hopefully they'll realize that he's saying goodbye to the network, not for good. That likely won't come for many years yet, as being a late-night host appears to increase one's longevity somehow.