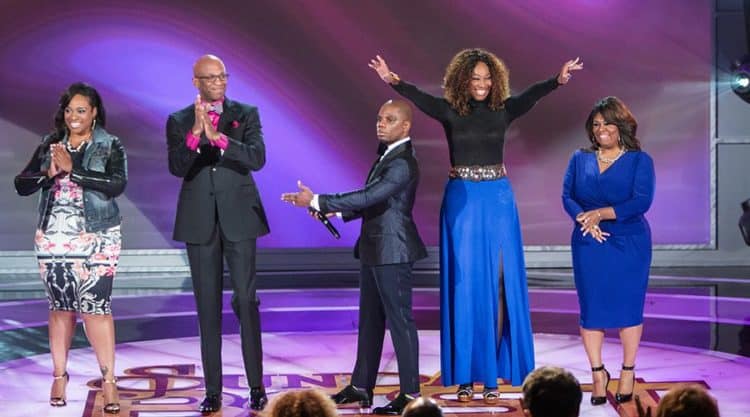 BET TV aired a popular reality television show titled "Sunday Best," which ran from July of 2012 through August of 2015. The television series featured a gospel music singing competition with undiscovered talent from America, vying to win the top prize of a national recording contract for taking first place, other rewards for the top contender included a cash prize and a brand new automobile. The series ended on August 30, 2015, but it has recently been reinvented. In case you're not familiar with the program and you're a big fan of gospel music, here are ten things that you probably didn't know about "Sunday Best" but may be interested in hearing about.
1. The show produced a Grammy Award winner
The season 3 winner of "Sunday Best was Le'Andria Johnson. Her debut album was released in September of 2011, and it was followed by a Christmas EP titled "Christmas Best" in December of 2011. She won a Grammy Award in 2012 in the category of Best Gospel/Contemporary Christian Music Performance. she was the first "Sunday Best" winner to receive this distinguished award.
2. The same host will return for the reboot
The reboot of "Sunday Best" was launched on June 30,2019, as promised in April of the same year. When the show returned, Kirk Franklin came back on board as not only the host of the series, but also as a mentor. He was joined by Erica Campbell, Kelly Price, and Jonathan McReynlds who are serving as judges for the competition.
3. This year's judges are all well-qualified
We learned that "Sunday Best" has brought on fully credentialed judges to help in selecting the winner of the competition. Kirk Franklin who is hosting the show is a legend and Grammy Award winner in music. As for the judges, Erica Campbell who hosts "Get Up Mornings" as well as having a successful career in gospel music is joined by Jonathan McReynolds and Kelly Price who are both Grammy Award nominated music artists.
4. There was a 4 year absence of the series on BET and viewers were not happy
We were curious about why the popular series disappeared for four years and then made its return in late June of 2019. Fans were upset when the show was cancelled and were asking why, but the answer was that BET had made the decision. This was bad news for aspiring gospel music hopefuls, but after a four year hiatus, it's finally back.
5. Kirk Franklin is a ground breaker
For those of you who are not familiar with Kirk Franklin, he is one of the best choices to host "Sunday Best" and here is why. He's won a total of fourteen Grammy Awards and has sold more than 10 million albums throughout the world. He is also a writer and producer who has blazed the trails for those who are coming behind him. When it comes to the gospel music business, he's transformed the genre with new sounds and approaches and he's also currently working on his 13th studio album and he has more than 25 years of experience in the music business.
6. The show was long running
"Sunday Best" was aired on BET for a number of seasons that spanned nearly a decade. It ran for eight glorious seasons, helping aspiring gospel singers to gain the exposure they needed to make it in the gospel music industry and gave them a chance to prove their mettle. There were a total of 90 episodes of the reality television series aired.
7. "Sunday Best" is going international
Fans of "Sunday Best will be thrilled to learn that the US reality television series is going to spread their wings. They're already up and running with a good head of steam in the United States, but they've added a new component. On Sunday, July 7 ,2019, the show made its international premiere, following by just a week. While the auditions have previously been held in Nigeria and Lagos as well as Detroit, Atlanta, DC and Dallas, they've added Johannesburg, South Africa and London, England to the list of audition cities for international contestants to try out.
8. There are a lot of firsts for the new season of "Sunday Best"
The creators of "Sunday Best" are bringing the series back bigger and better than ever and there will be a few changes. This season will be the first to require all auditions to be conducted in person without an audience. There will also be no musical accompaniments so singers will perform acapella. Another new aspect of the show provides for an online process for submissions which took place prior to the live auditions.
9. Jonathan McReyonolds is a genius
We learned that one of the new judges for season nine has an impressive curriculum vitae. He is not only a Dove Award Winner, Grammy nominee and has won the Stellar Award 8 times, he has a long list of accolades. He is an NAACP Image Award nominee, a Billboard Music Award nominee, he earned a Masters in Theology at the Moody Theological Seminary, he's a member of the faculty at Columbia College, a contributor for Huffington Post, he founded a nonprofit organization called Elihu nation and he was accepted for membership of Mensa because of his high IQ.
10. You can watch "Sunday Best" online
Whether you're new to the "Sunday Best" reality television series or have simply missed a few episodes, you can catch up and get ready for the next installment before it airs. You can find episodes of the hour long shows online and watch them for free.