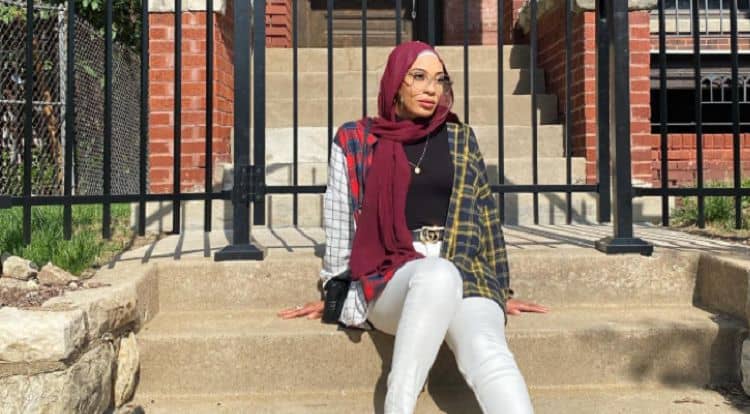 Shaeeda Sween is a woman who is well-known to those who enjoy shows such as 90-Day Fiance. She became part of the reality show world when she met a man by the name of Bilal online. He's from Missouri, and he is a real-estate investor who does well. They hit it off, they got engaged, and they decided to do things the reality star way – on television for the world to see. How are they doing? Let's find out.
1. She Slid Into Her Man's DMs
It turns out that these two had a few friends in common when they first met, and it was all her making the moves. She was interested in him, saw him hanging out on Instagram, and she was ready to make a move. She slid right into his DMs and the rest is history. There was no warning she'd be in there, but it worked in her favor – according to Bilal Hazziez.
2. She Disputes Bilal's Claims
However, if you ask her what happened in their relationship, she has a different story. She says that he was liking her photos on Instagram. She saw, checked him out, thought he was cute, and she hit the like button on a few of his recent posts. That's when, she says, he slid into her DMs. Of course, we don't know who is being truthful, but they both seem to think it was the other.
3. She is From Trinidad
She's a woman from the islands, and he came to see her and meet her family not too long after they met online. While there, she was able to introduce him to her family, and that is when he made the decision to propose to her. That's how they ended up in this situation.
4. She is a Yoga Instructor
Her entire life is about yoga. It's a job she loves, and it's a career choice that has made her happy over the years. She's got a lot going for her, and she is hopeful that she can open her own studio in the states and have a huge clientele she's able to share her energy with.
5. Her Fiance Lied to Her
He did not want to find a woman who was in this for his money, so he purposefully did a lot of things to conceal his financial status from her. He is a father with two teenage kids, and he fully expects his fiancé to sign a pre-nuptial agreement so that he can protect his children and so that he can protect his own financial assets.
6. Her Fiance Was Married
While we aren't entirely too sure what his story really is, we do know that he was allegedly married or in the process of a divorce when he and Shaeeda met. However, while he was married to his previous wife for a decade and they did have two children together, there seems to be a rumor that Shaeeda is his third marriage. That's not something that is easy to keep to yourself, and it's something that's even more difficult to keep from the world.
7. She Wants Kids
One of the issues that they had in their relationship is that she wants kids of her own, but he is no longer interested in having more kids. He's already got two of his own, and he seems uninterested in having more. However, they seem to have reached an agreement of sorts.
8. They are Married
Despite the fact that they seemed to have a rocky start of things at the beginning of their relationship, they do have a lot of good going for them. For one, they've been married almost six months at this point. They wed on December 18, 2021, so it seems that things are going well for them at the moment.
9. Heartbreak Led Her to Yoga
She was in a dark place in 2017. She was in the midst of a horrible breakup with the man she thought would eventually be her husband. It was during her time of sadness that she came across yoga and learned to love it. She taught herself, then she became certified, and now she is an instructor.
10. She's Very Private
Despite being a reality show maven at this point, she and her new husband are very much into keeping their marriage and their relationship to themselves. She's a woman who is not interested in being too public or vocal about things, and it has worked for her.