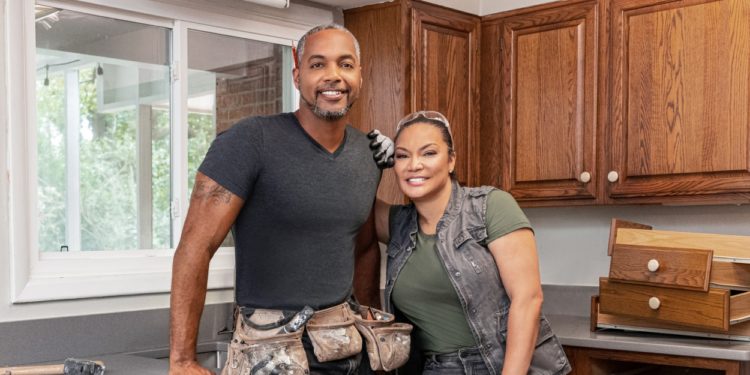 Most of us are probably pretty familiar with the idea that you should never mix business with pleasure. However, for some people, business and pleasure have proven to be the perfect combination. Husband and wife team Mike Jackson and Egypt Sherrod are proof. The two have earned their own show on HGTV and their fans couldn't be any more excited. The series, Married to Real Estate, will follow the couple as they work to get their clients into the home of their dreams. Although it won't always be easy, Mike and Egypt are always committed to making their clients happy. Keep reading to learn 10 things you didn't know about Married to Real Estate.
1. This Isn't The Couple's First Time On TV
If Mike and Egypt look familiar to you, that's probably because you've seen them before. Egypt has been featured on other HGTV shows such as Flipping Virgins and Property Virgins. She and Mike have also been judges on HGTV's competition show, Rock the Block.
2. Mike And Egypt Won't Always Agree
Just because Mike and Egypt work well together doesn't mean that they're always on the same page. Throughout the series, viewers will see times when Mike and Egypt simply don't agree on the best way to get something done. However, they are both committed to finding ways to compromise so they can move forward.
3. The Show Was Filmed In The Atlanta Area
Unlike some other shows on HGTV, Married to Real Estate won't be filmed in different states or cities. All of the people featured on Married to Real Estate will be looking for homes in the Atlanta area. This is also where Mike and Egypt are based, so the chances of filming ever taking place anywhere else seem very slim.
4. The Show Doesn't Have Any Official Social Media Profiles
Unfortunately for all of the people who like to follow their favorite shows on social media, that won't be possible with Married to Real Estate. At the moment, the show doesn't have any official profiles although people can use the hashtag #MarriedtoRealEstate to be a part of conversations on social media. If the show develops a large following and gets renewed, there's always a chance that social media profiles could be set up in the future.
5. The Show Combines The Best Of Real Estate And Home Design
Whether you love the house-hunting process or prefer a good home design project, Married to Real Estate will have something to offer you. Egypt handles the real estate side of things by helping clients find a home they love. Mike is responsible for the home design side.
6. The Show Is Produced By 51 Minds Entertainment
Married to Real Estate is produced by a company called 51 Minds Entertainment. Although you may not be familiar with the company's name, chances are you've seen some of their shows. Their other credits include Below Deck Mediterranean and T.I. & Tiny: The Family Hustle.
7. The Show Will Also Touch On Egypt and Mike's Personal Projects
In addition to showing the work they do with clients, Married to Mortage will also highlight some of the projects Mike and Egypt are working on in their own home. Some of those projects include designing a bedroom for their youngest daughter as well as building a design studio in the basement.
8. Viewers Will Get To See A Variety Of Design Styles
One of the coolest things about the show is that it offers a lot of variety in terms of the kinds of houses that will be featured. Since the clients are looking for their dream homes, each of them will want something different out of their space. From modern to Georgian, people will get to see a little bit of everything.
9. Egypt and Mike Will Focus On Budget-Friendly Solutions
Buying and renovating a home is one of the most exciting things a person can experience; it's also one of the most expensive. For that reason, Mike and Egypt make it a point to try to be as budget-friendly as possible. For the people watching from home, this can help them get some ideas that they might be able to implement in their lives.
10. Season One Will Be A Little Short
If you were hoping that Married to Real Estate was going to have a long season, I have some bad news for you. Season one will have just eight episodes. On the bright side, however, the episodes will be an hour long. If the show gets renewed, hopefully the second season will be longer.
Tell us what's wrong with this post? How could we improve it? :)
Let us improve this post!