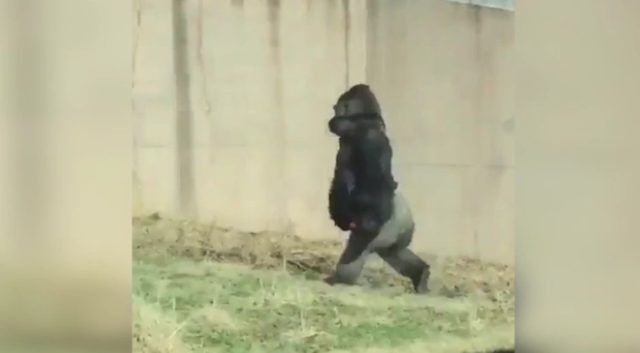 It's kind of a Planet of the Apes type moment when this gorilla is spotted walking around like a human. It's already sparked an online frenzy and it might be something that gets talked about eventually on many a channel and possibly on late night if it goes that far. To some people this would almost seem like the beginning of the end largely because of the movies and their implications, but really it seems more like a form of mimicry than anything else. People need to remember that gorillas are not entirely stupid animals. Their overall intelligence might not seem like it could match a humans but their ability to follow and mimic human beings is something that's been documented many upon many times throughout history. To see one walk upright like this is definitely odd but it doesn't seem like something that should be worrying people too much.
You kind of have to admit though this gorilla must have been doing this for a while since his gait is pretty sure and he doesn't wobble side to side like other gorillas might. It'd be interesting to know just what prompted this and when it began. You can almost be certain that someone's going to be looking into that tidbit of information in order to discover just how many particulars they can find concerning this bit of strangeness. But really to think that it's anything but an oddity would be jumping to a lot of conclusions. There's no need to dismiss it outright but there's also no need to start panicking that apes of all kinds and sizes are going to be taking over the world. This guy just looks like he's taking a casual stroll along the paddock, minding his own business, perhaps just collecting his thoughts.
To think that this would unnerve some people isn't too surprising since some folks just can't handle the weird things like this that happen occasionally. But not being able to handle it and being outright afraid of it are two way different things. Fearing that the gorillas might take over eventually would be paranoid to the point of ridiculousness and even needing psychiatric care of some sort. Rest assured though that if such a scenario happened and mankind wasn't ready the apes would likely do a lot of damage. They're stronger, faster, and inherently tougher than human beings. They might have the capacity to feel and reason like we do but given that so many of their kind have been kept in captivity, abused, and otherwise forced to suffer at the hands of mankind it'd be best if they didn't realize that they could rise up one day. Something seems to suggest that they wouldn't have a lot of pity on anyone even if they weren't the ones that did them any harm.
But really, take your mind out of the movies and simply enjoy this clip for what it is, a gorilla that has figured out how to walk like a human.
Although gorillas occasionally walk on two legs (bipedal), it is less common. Not for Louis though – he can often be seen walking bipedal when his hands are full of snack or when the ground is muddy (so he doesn't get his hands dirty)! pic.twitter.com/6xrMQ1MU9S

— Philadelphia Zoo (@phillyzoo) March 5, 2018