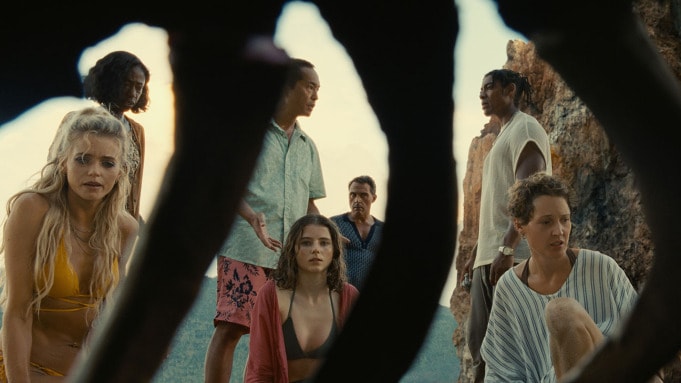 This past summer, two-time Academy Award nominee M. Night Shyamalan released Old, which is loosely based on the French language- Swiss graphic novel Sandcastle by Pierre Oscar Levy and Frederik Peeters. The film centers on a family relaxing on a secluded beach discovering that somehow the tropical place is causing them to age rapidly reducing their entire lives into a single day. The latest M. Night Shyamalan picture finally dropped into theaters on July 23, 2021 and it opened at No. 1, topping Snake Eyes. The Problem? The film opened at a measly $16.5 million, Shyamalan's lowest box office opening ever, topping 2006's critically panned Lady in the Water, which had an $18.2 million opening.
The reported budget for Old was $18 million, so the latest Shyamalan thriller has already made back its budget as it currently stands at around $30 million domestically and $48 million worldwide. However, there's no denying the fact that the box office for the latest Shyamalan picture is very disappointing. So, what happened? I'm going to explore several theories on why the picture failed to make a splash at the summer box office.
Audiences Are Choosing To Wait Until the Movie arrives On POV and Digital
Based on the lackluster box office numbers, it's clear that audiences weren't all too interested in Old. For movies like F9 or Black Widow, their lackluster opening can be explained away because of the pandemic or being offered on a day-t0-day release in the case of Black Widow; however, I don't buy that the pandemic had something to do with Shyamalan's weak box office numbers. Despite an intriguing premise, it was notable how little buzz the film had going in and the mild 49% on rotten tomatoes certainly didn't help create excitement about the film.
Shyamalan's career has had plenty of ups and downs, with the writer/director coming out of the gate strong with The Sixth Sense, which catapulted him as one of the top filmmakers in Hollywood as the movie was both a critical and commercial success with $293 million domestic gross and $672 worldwide gross. Unbreakable, Signs and The Village didn't have the same performance as The Sixth Sense; however, those films still performed well at the box office. The Lady in the Water happened to be his first critical bomb. At $75 million, the movie only returned $40 plus million, Shyamalan's first critical and commercial failure. Then The Happening, The Last Airbender, and After Earth followed, all three movies were also panned by critics and audiences.
However, Shyamalan had a resurgence with The Visit, a little horror film that received solid reviews and made back its $5 million production budget with a domestic total of $65 million and a worldwide total of $98 million. Shyamalan's stock rose again with Split, the James McAvoy vehicle that drew critical praise and grossed a domestic total of $138 million and $278 million worldwide. At this point, M. Night Shyamalan was back on top of the filmmaking world; however, that momentum would be shattered a bit with Glass. Despite the poor critical reception, audiences didn't agree as the film has a 67% audience score on rotten tomatoes and made $111 million domestic and $246 worldwide. So how was Shyamalan's momentum shattered?
By word of mouth. Despite Glass's success, there's no denying that the film is a disappointment. Granted, it wasn't on the levels of Lady in the Water and The Happening, but it was surely the weakest of the string of films that Shyamalan has done lately. Two years later, Old notably didn't get much promotion and mild reviews for the film didn't help its cause. In a world when COVID-19 is still an issue, it's likely audiences chose to skip Old in theaters and wait for its digital release. This is the same thing that happened to Nobody, and while that film received great reviews, audiences chose to skip out on it in theaters. While the numbers for its digital release haven't been confirmed, Nobody has reportedly been doing well on that home/digital market.
Audiences Just Didn't Care About Shyamalan's Latest Offering
It's also possible that Old was just a project nobody cares about. Old is a solid film, but is a movie worth going out of your way to see right now? With more exciting options such as Black Widow, A Quiet Place Part II, and F9 on the current box office, Old probably didn't feel like a must-see film for many audiences right now. Let's be honest, there really isn't a spectacular film playing in theaters right now; however, movies like Black Widow, F9, and A Quiet Place Part II feel like event movies that you and your friends should see in the theaters, thus the reason people are flocking out to catch these movies. With The Suicide Squad coming out this week, the chances of Old having long legs are slim as that blockbuster is expected to do big business this weekend.