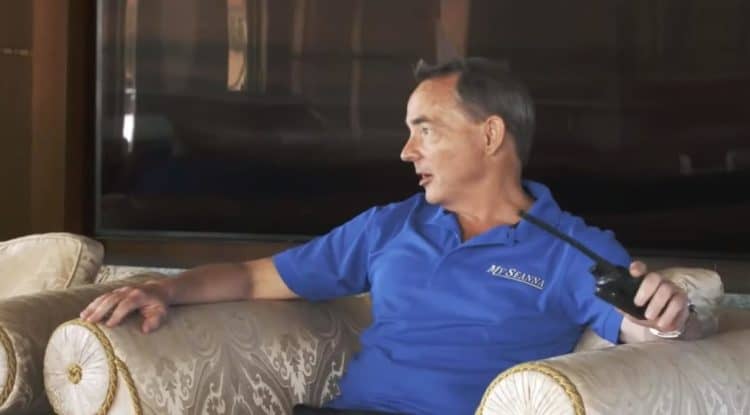 Below Deck is a show with a unique concept. Rather than following people around their everyday lives at home, they are followed through their lives at work. Their jobs are beyond interesting, too. They work on luxury yachts that travel the world with high-class passengers, high expectations, and a lot of internal drama amongst the crew. There is so much entertainment to be found onboard a luxury yacht, and this show has proven season after season that it is something special. Captain Sean Meagher is the new captain for season nine, and he's showing us a thing or two we might not already know about this fast-paced life.
1. He's Licensed
By the Coast Guard at that. He's spent a lot of his life on the water, and he knows more than a thing or two about boats, captaining them, and yachts. He's got a long history of being on the water to draw experience from, and he is not afraid to take things a day at a time and focus on those things when he has the chance.
2. He's Educated
When he was finished with his high school diploma, he did a few things for himself before he settled himself into his career. He got his college education. He enrolled in courses at the University of Massachusetts Boston and worked on his degree. He graduated with a degree in English Lit.
3. He's a Speaker
Not just anyone can stand in front of a room filled with people listening intently to every word they utter, but he can. He can do it, he did it, and he's making a career of it. He is a professional speaker who likes to talk about his expeditions around the world – and trust us when we say that they are exciting expeditions, too.
4. He's From Massachusetts
We mentioned he went to college in Boston, which might lead some to wonder if he is from the area or he simply wanted to move to Boston to explore and learn. He was born and raised on Cape Cod. While most people summer there in the North East, he lived there all year. To get to live in the midst of winter in a vacation community on an island must have been the coolest thing.
5. His First Boat Came A Long Time Ago
When Sean Meagher was only 8, he got his first boat. Growing up on an island, it's not uncommon for kids to get boats, learn to captain them, and work on the water and with the water from a young age. It's common because the water has to have the respect of anyone who is in or around it on a regular basis, and you have to learn these things. It's like learning to ride a bike when you live on the water.
6. He Believes in Being Hands-On
When you reach the pinnacle of your career, you don't have to do things yourself. You can leave them to others and delegate so that you can finally enjoy the fruits of your labor, but he does not. He is a captain who likes to be very hands-on with his crew and his boat, and his client's happiness is paramount. He will do whatever it takes to keep them happy.
7. He's An Explorer
Not only has he sailed the waters of the Caribbean as a boat captain, but he's also been everywhere. He's been to the Arctic, the North Pole, and just about everywhere in between. He fills his Instagram page with all the photos of his journeys, and they are impressive. He has a long list of places he's been to, and we know he wants to see more.
8. He Helps Save the World
If there is one thing important to the Captain outside of his work, it is Mother Earth. He works tirelessly to help preserve the natural beauty of our planet, to save it, and to make sure that it is here for generations to come. He's worked more than once with a number of charities and foundations to help bring awareness to the earth and how important it is to all of us.
9. He's Private
You can check out his public Instagram page to see what he's been up to all his life, but you won't find too many personal details on his page. He's not into sharing his personal life, but he loves to share his journeys with the world.
10. Travel is Everything to the Captain
The world is a big place, and people want to see it. The Captain is one of those people, and he has done a remarkable job of seeing as much as possible. He loves to travel, and that is not just a perk for him in his job. It's everything.
Tell us what's wrong with this post? How could we improve it? :)
Let us improve this post!