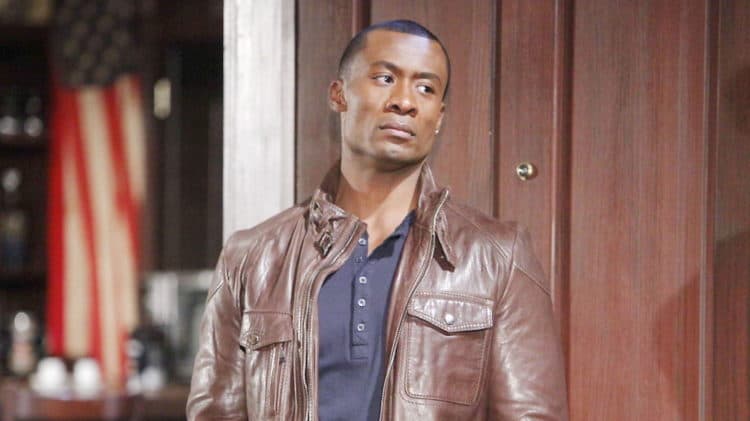 Sean Blakemore has been acting professionally for the last 25 years, and during that time he's built a very impressive resume. His acting skills have allowed him to easily move between genres and he's earned the respect of viewers and peers. Most recently, Sean is best known for his role in the OWN series Greenleaf, but his longtime fans will know him best for his work in General Hospital. Sean was a regular on GH for more than a decade through his role as Shawn Butler. After being away from the show for five years, it looks like Blake is returning to General Hospital and fans couldn't be any more excited. Keep reading for 10 things you didn't know about Sean Blakemore.
1. He Is From The Midwest
Sean was born and raised in St. Louis, MO and he comes from somewhat humble beginnings. He was raised by a single mother and he has six siblings. While Sean will always be brought of his roots, he eventually decided to move to Los Angeles to give him a better chance at pursuing a career in entertainment.
2. He Is A Husband And Father
For the most part, Sean is a relatively private person, but his love for his family is one thing he's always been open about. He has been married to Nadiya Jones for about a decade and they have one child together. Like Sean, his wife and his child appear to be private people, too.
3. He Started His Career As A Model
Since the 90s, Sean has been famous for the work he's done as an actor, however, he actually began his career as a model and he found lots of success. We weren't able to track down the specific publications/brands that Sean worked with. Sean eventually decided that he wanted to follow his dream of becoming an actor and he left the modeling world behind.
4. He Loves To Inspire Others
Sean's journey hasn't been easy, but he is the kind of person who is all about positivity and spreading good vibes to others. He loves being able to use his skills as a tool to inspire other people and he also uses his social media presence to share uplifting messages to his followers.
5. He Is An Emmy Award Winner
Most of Sean's fans would agree that he hasn't always gotten the recognition he deserves. At the same time, however, his work hasn't been completely thankless. In 2016, he won a Daytime Emmy Award for Outstanding Supporting Actor in a Drama Series for his work in General Hospital. In 2012, he was nominated for the same award.
6. He Is A Football Fan
From what we can tell, Sean doesn't have a background in playing sports, but that doesn't mean he can't be a fan. Sean loves watching football, but many people will be surprised to know that he appears to be a big fan of the Pittsburgh Steelers. It'll be interesting to find out how he got interested in the team.
7. He Is A Painter
Sean is a very creative person and acting isn't the only way he likes to express that. He is also a very talented painter. He loves creating unique and bold paintings – especially those that tell stories of people of color. In recent years, Sean has shared some of his work on social media.
8. He Plays Poker
While it doesn't look like Sean is a professional poker player, he has put his skills to good use to play for good causes in different charity poker tournaments. It doesn't look like he's played in any tournaments in the last few years. Having a good poker face has definitely come in handy for Sean throughout his career.
9. He Is Passionate About Voting
Voting has always been a hot-button topic in the United States, but the 2020 presidential election made voting even more intense than usual. Lots of celebrities, including Sean, used their platforms to share their thoughts on the importance of voting. In a YouTube video for Felicia D. Anderson, Sean briefly spoke about why voting is important to him and why he always makes it a point to exercise his right to vote.
10. He Has Dozens Of Acting Credits
If there's anyone out there who doubts Sean's track record in the industry, all they need to do is take a look at his resume. As of now, he has 70 on-screen credits to his name including a couple of upcoming projects. With the way he's been going, Sean could easily reach 100 credits before his career is over.
Tell us what's wrong with this post? How could we improve it? :)
Let us improve this post!