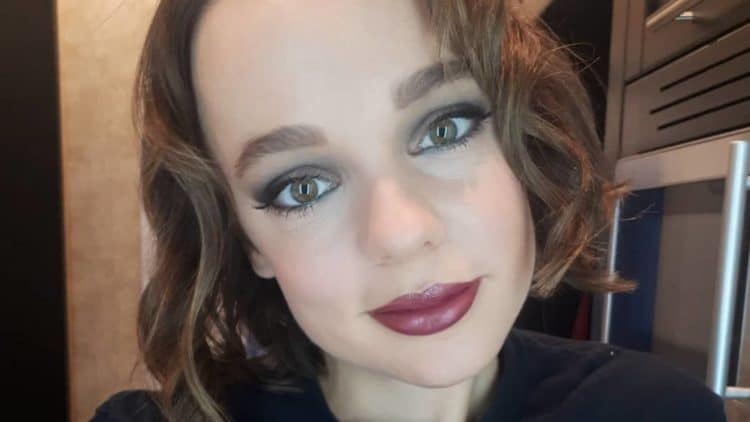 In the seven years since making her on-screen debut, Em Haine's career has been in overdrive. Her resume currently has two dozen on-screen credits and, with the way things are going, she's going to have many more in the years to come. Many people will recognize Em for her role in shows like Fargo and Chilling Adventures of Sabrina. Now there's another role that has people talking. Her portrayal of Winnie in the new Disney + series The Mighty Ducks: Game Changers has the ability to help take Em's career to new heights. If you haven't seen any of her work yet, now is the perfect time to get familiar. Keep reading for 10 things you didn't know about Em Haine.
1. She Is Canadian
Em was born and raised in Vancouver, British Columbia and she began her acting career in Canada. She speaks English and French fluently though it appears that she has only acted professionally in English-language projects. It's unclear where she is currently based.
2. She Studied Acting In London
Although there are several well-known drama schools and acting programs in Canada, Em decided that she wanted to take her acting studies abroad. Em received formal acting training from The Actors Temple in London where she studied the Meisner Technique. Prior to enrolling at The Actors Temple, Em had been backpacking through Europe.
3. She Isn't Afraid To Speak Her Mind
Lots of people find it hard to say what they are really thinking because they don't want to upset others. Em doesn't seem to have that problem, though. Em has no problem sharing her opinion on the issues that are important to her. Some of the things she's passionate about include human rights and sustainability.
4. She Is Always Wanted To Act
Em was just a little girl when she realized that acting was her calling. During an interview with Violeta Nicola, Em said, "Ever since I was a little kid I've wanted to be an actor. I've always been dramatic and theatrical. Big emotions, a strong creative inclination and not very good within the confines of the education system." Even with her love for acting, Em never could've imagined that it would take her as far as it has.
5. She Loves Improv
Even when Em isn't acting in the traditional sense, she likes to make good use of her skills Improv is another way that Em likes to get her creative juices flowing and it's one of her favorite things to do in her free time. Sadly, we weren't able to find any videos of her doing improv.
6. She Took Ballet
Em has been performing for almost her entire life, but acting wasn't always the only way. When she was younger, she took ballet lessons, but unfortunately, things didn't work out. According to The Promotion People, "As a kid Emily was pulled out of ballet because she was too wild."
7. She Loves Spending Time Outdoors
Sometimes it's the 'small' things that can really make a person happy. Em loves taking time to enjoy the beauty of nature. When the weather is nice, you can usually catch her outdoors hanging out by the water or simply exploring her surroundings. She also has a dog that she loves to hang out with.
8. She Was In A Punk Band
Em's time in dance may not have worked out, but music has always played a very important role in her life. At one point in time, she was even in a punk band. These days, however, it looks like acting is Em's main focus and it doesn't appear that she has plans to continue with music as anything other than a hobby.
9. She Has Some Advice For Up And Coming Actors
When asked if she had any advice for people looking to pursue careers in acting, Em told Violeta Nicola, "Know that the majority of actors have side jobs. It's a tough long game. Which is why many people give up on it. But if you really love it, if you can't do anything else, then don't quit! There is space for everyone. Keep your friends close, chase your muse and feed your soul. The highs are soaring."
10. She Was In An Episode Of Supernatural
Em hasn't always had the largest roles over the years, but she has gotten the chance to work on some very impressive projects. In 2015, she appeared in an episode of the popular TV series, Supernatural. Some of the other well-known shows Em has been in include The 100 and The Magicians.
Tell us what's wrong with this post? How could we improve it? :)
Let us improve this post!