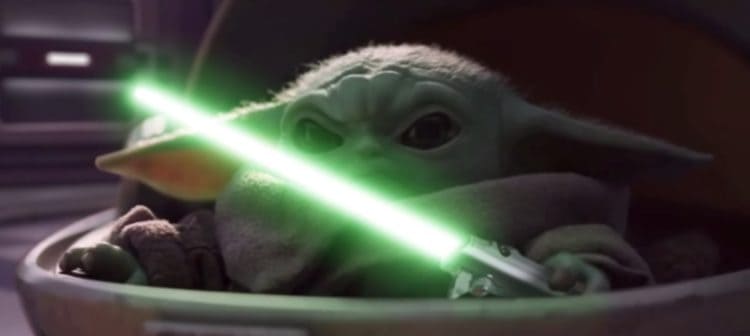 A favorite line from Game of Thrones comes to mind when thinking about why the Jedi don't name their lightsabers. As Christian Bone of We Got This Covered states the Jedi Knights were basically armed warriors not unlike knights from the medieval age, but I'm not really sure how he equates the two. Knights were far more apt to act as aggressors as well as peacekeepers and didn't follow even half the tenets that Jedi were taught. If you recall the Hound's take on people that name their swords, I won't say it here, his attitude was pretty much along the same lines as Star Wars story editor Matt Martin, though in a much cruder way. Martin's explanation is pretty sound as to why a Jedi wouldn't decide to name their weapon, and this is because it's a tool. Normally people don't name their tools unless it's for vainglorious reasons or delusions of grandeur. It is in some ways acceptable to name a weapon that has been in a family for generations, though all in all that weapon is still a tool, and can fail after so long, leaving one with only memories of what was and not what could still be. The Lord of the Rings might argue with this point but it would lose that argument quickly since the sword that was broken was remade and given a new name upon being gifted to Aragorn. When a Jedi's lightsaber is lost, stolen, or otherwise damaged beyond repair it's a tool that can be replaced at a later date or as needed, not much else.
It's also a way to avoid attachment as the Jedi have practiced in prior movies since one of the tenets of being a Jedi is that attachment is not generally banned but it is frowned upon. Forming attachments can lead to being possessive and so on and so forth until the dark side is mentioned. It's amusing really that it's been said that a lightsaber is a Jedi's life, much as a katana might contain the soul of a samurai, but in the end they're just implements, weapons given an importance because of what they can do and what they represent. One of the only reasons why a lightsaber could ever be argued to have a name is because each Jedi had to make their own saber, meaning that it had personal touches that were all theirs, making each lightsaber distinct and unique from all others. The parts used to make a lightsaber were usually very distinct pieces that each Jedi picked out and would use to reflect who they were in a way. Some would fashion theirs as to remind them of their home planet, while others would fashion them to their style of fighting and their particular grip. There was always a purpose behind making a lightsaber, and thanks to the fact that none of them in the current canon have been mass produced in the story, it's easy to think that their uniqueness is enough to identify them without having to give them names.
Like it or not, a weapon is an implement like any other, designed and fashioned for a purpose and made to be used by those that are trained and ready to use it for that specific purpose. A lightsaber, just like any weapon, can be used for a few different things given that its components can be taken apart and used in an emergency for spare parts, or it can be used for its intended purpose in many different ways. It's no different from regular sword or blunt weapon, there are multiple uses that it can be applied towards so long as the wielder knows how to perform said acts and understands just how such an action will affect the weapon. Lightsabers are magnificent weapons really since they are all edge and are therefore one of the most efficient weapons in the Star Wars galaxy. But they are meant for those that are trained in their use and are uniquely gifted in the Force since otherwise they require a great deal of concentration to wield. Despite the science of the weapon not being fully supported by reality, the sabers are a truly impressive implement to watch in use since they can pick off blaster bolts, they can even block stun bolts if a Jedi is skilled enough, and they can deflect anything but heavy blaster fire. But at the end of the day they are expendable tools that when broken can be replaced, just like anything.
The idea of attachment being the issue is sound enough, but it's also not the whole story since the Jedi have never been that great at eschewing all attachments since they're still sentient beings that have emotions and feelings no matter how they try to tamp them down. So the explanation about the lightsabers being tools is a little more sound than saying that a Jedi doesn't want to become too attached to their weapon.