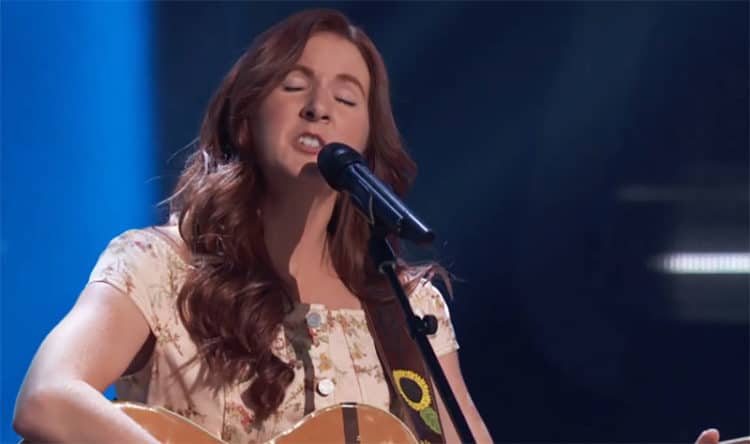 When you're born and raised in a town as small as the one Savanna Chestnut is from, making it to a show like The Voice can seem out of reach. Savanna, however, has been able to defy any odds that have been stacked against her and her blind audition on The Voice was a crowning moment. Her performance of "Hold Me Now" by the Thompson Twins was enough to get Blake to turn around. Since Savanna is a country artist, she probably would have chosen Team Blake anyway, so she couldn't have asked for a better scenario. As she moves forward in the competition, there are a lot of people who are excited to follow her journey. Here are 10 things you didn't know about Savanna Chestnut.
1. She Started Performing As A Teenager
Savanna grew up listening to country music and by the time she was a teenager, she knew it was something she wanted to do. When she was 13 she began writing songs and performing and it was clear that she had found her 'thing'. Savanna has been consistently working on her craft ever since.
2. She's Opened For Some Well-Known Country Artists
Every singer dreams of getting the chance to work with some of the artists they've always looked up and that time has come for Savanna. She has gotten to open for some pretty big names in country music including Sunny Sweeny, Ward Davis, and Restless Heart.
3. She's Already Put Out An Album
Over the last several years Savanna has been working incredibly hard to make a name for herself. In addition to doing shows and performing covers she's also been working on her own sound. She's already released two albums and an EP and she has plenty more music where that came from.
4. She's A Full-Time Musician
Many musicians often find themselves having to do music on the side while they work a traditional job that allow them to make ends meet. Savanna is fortunate to be in a situation where she's able to do music full-time. While some would say she's already living the dream, Savanna hopes that being on The Voice will help her elevate her career to the next level.
5. She Had A Record Deal
In the music industry, people often see record deals as the end-all, be-all. When an artist gets a record deal, it's considered a sign that they've finally made it. In reality, however, a record deal isn't always everything it's cracked up to be. A few years ago, Savanna got signed to a small record company in Kansas. Unfortunately, the label ended up going under not long after she was signed.
6. She Lived In Nashville
Savanna was born and raised in Kansas but she eventually decided to move to the country music capital of the world, Nashville. Although Savanna enjoyed living in Nashville and learned a lot during her time there, she eventually chose to move back to Kansas. She is a firm believer that being in Nashville isn't the only way to make it as a country musician.
7. She Loves Nature
As someone who was born and raised in the 'boonies', Savanna spent a lot of time outside growing up. Her love for nature hasn't changed and she still enjoys being outdoors when she gets the chance. She loves hanging out by the water and sometimes she'll even bring her guitar outside to enjoy some outdoor musician sessions.
8. Her Mom Is Her Best Friend
Savanna was raised by a single mother and the two have a very close relationship. In an Instagram post, Savanna shared that her mom is her best friend. She also expressed how proud she was of her mom for going back to school to get a PhD. Savanna said, "I'm proud of her for having the courage to start over and chase her dreams just like she's always encouraged me to do. I miss her a lot but my happiness for her overrides it."
9. She's A Lee Ann Womack Fan
Savanna was raised on country music and Lee Ann Womack has always been one of her favorite artists. Womack's career has spanned the course of four decades and she's one of the most well-known names in country music. During an interview with 360 Degree Sound Savanna also added that Kacey Musgraves is one of her favorite songwriters.
10. The Voice Is Her First TV Show
People come to The Voice with varying levels of experience and quite a few contestants have been on other TV competition shows. There are even some people who were contestants on previous seasons of The Voice. Savanna, on the other hand, is a newcomer to TV talent shows. From what we know, this is her first time doing a TV show and she hasn't auditioned for any others.
Tell us what's wrong with this post? How could we improve it? :)
Let us improve this post!