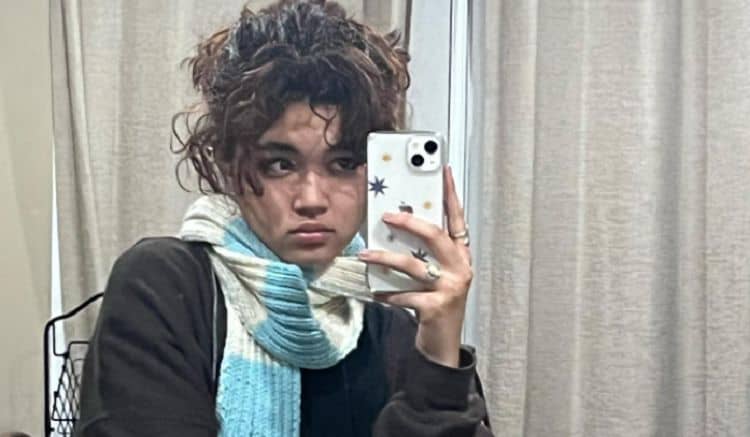 Sam Morelos is new to the professional acting scene, but she's ready to hit the ground running. The talented young actress is on track to make a name for herself and her role in the upcoming sitcom That 90s Show is certainly going to help. The series, which is a spin-off of That 70s Show, will be released on Netflix although an official date hasn't been revealed. Although the series is going to have some big shoes to fill in order to live up to That 70s Show's legacy, there are already lots of people who are looking forward to it. If the show ends up being a huge hit, it could open lots of doors for Sam and the rest of the young cast members. Keep reading for 10 things you didn't know about Sam Morelos.
1. That 90s Show Is Her First TV Role
If you're not familiar with Sam's name and/or face, that's because she's never been on your screen before. That 90s Show will mark her first TV appearance. Lots of actors start their careers with really small projects, but she's been fortunate to be part of something big and exciting. Plus, That 90s Show will have a built-in fan base thanks to That 70s Show.
2. She Is a Formally Trained Actress
Sam may not have a lot of acting experience under her belt, but she has been working hard to hone her skills. She attended the California School of the Arts San Gabriel Valley where she studied at the art conservatory. There's no doubt that her time there was beneficial to her career.
3. She Is A Musician
Acting appears to be Sam's main focus, but it isn't the only area of the arts she participates in. She also plays the guitar and sings. She performed for the first time in the fall of 2021. That said, it doesn't appear that she has released any original music and it's unclear if she wants to pursue a career as a musician.
4. She Likes Spending Time Outdoors
Some people can't stand being outdoors other than when it's absolutely necessary. However, there are also a lot of people who find great joy and solace in spending time with nature. Sam is part of the second group. She loves being outside and she has lots of appreciation for nature and everything it has to offer.
5. She Likes to Travel
Traveling is one of the best ways for people to broaden their horizons and learn about different people and places. Sam has been fortunate to do some traveling both in and out of the United States. As her career grows, she will likely get to visit even more places.
6. Family Is Important to Her
There isn't any information online about Sam's upbringing or her family, but her Instagram profile makes it clear that family is very important to her. She seems to have very close relationships with her loved ones and she looks forward to spending time with them whenever she can.
7. She Likes Taking Pictures
The world is getting introduced to Sam as an actress, but the reality is that there is much more to her than that. She is an overall creative who loves being able to express herself through the arts. Sam is an amateur photographer and she loves snapping photos digitally and on film. She has a great eye for knowing exactly when to snap the perfect moment.
8. She Has a Great Sense of Style
There are lots. of things that make people unique, and fashion is one of the most common ways to show that. Sam is one of the many people who enjoys sharing her personality through her clothing, and she has a knack for putting great outfits together. She also isn't afraid to switch things up every once in a while.
9. She Is Fairly Private
As of now, there isn't much information about Sam floating around on the internet. This will probably change as she gets a little more well-known. However, based on her social media profile it's clear that she isn't the kind of person who likes to put all of her business out there for the world to see.
10. She Has Theater Experience
While it's true that Sam is new to the professional entertainment business, that doesn't mean that she doesn't have any acting experience. She has been a part of several plays which has probably been a great way for her to prepare her all of the great things that are coming her way.
Tell us what's wrong with this post? How could we improve it? :)
Let us improve this post!