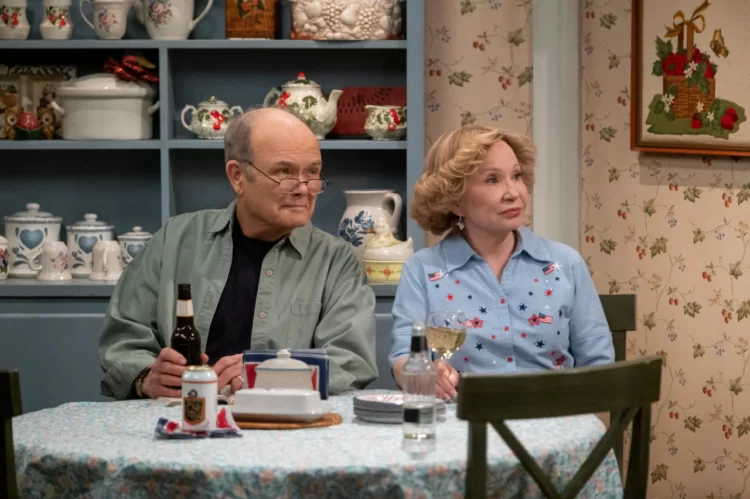 A spinoff to the hit Fox comedy series That '70s Show is set to drop on Netflix this year. Titled That '90s Show, the upcoming comedy will be set 15 years after the finale of the original series, comfortably setting the show right in the middle of the '90s. Here's a description of the show's storyline, according to Deadline: "In That '90s Show, it's 1995 in Wisconsin and Leia Forman (Haverda), daughter of Eric and Donna, is visiting her grandparents for the summer, where she bonds with a new generation of Point Place kids under the watchful eye of Kitty (Rupp) and the stern glare of Red (Smith). Sex, drugs and rock 'n roll never dies, it just changes clothes." That '90s Show promises a cast of performers that mixes newcomers and familiar faces. If you want to learn more about the actors set to appear in this series, read ahead. Here are the cast members of the upcoming Netflix comedy series That '90s Show.
Debra Jo Rupp
Debra Jo Rupp stars in That '90s Show, reprising her role as Kitty Forman. Aside from her work in That '70's Show, she is also most notably known for her recurring role as Alice Knight-Buffay in the hit '90s sitcom Friends. Some of Rupp's more recent TV appearances include This Is Us, I Feel Bad, Grey's Anatomy, WandaVisio, and The Ranch. On film, she performed in movies like She's Out of My League, She Wants Me, Congratualtions, Super Buddies, The Opposite of Sex, Fair Market Value, and The Social Ones. Rupp is also known by theater geeks for her prolific appearance on stage. She portrayed renowned sex therapist Dr. Ruth Westheimer in stage productions depicting her life, Becoming Dr. Ruth and Dr. Ruth, All the Way. Her more recent stage work includez The Cake, Time Flies and Other Comedies, and Three Viewings. Rupp has had decades of experience in show business, and she doesn't show any signs of slowing down. When asked by Theater Mania whether the pandemic made her consider retiring, this is what she had to say: "Not really. I will say when you're younger, you go, go, go all the time – you keep track of your career, you figure out how to do this and that. But then what happens is you get older and you realize you need to breathe and appreciate people the around you. I was tired when the pandemic hit and it was great to take a break for a while. And then I got bored. Also, I turned 70 in February and you have not lived until you turn 70 in a pandemic roasting hot dogs in a freezing driveway. So, yes, I'm glad to be working again."
Kurtwood Smith
Kurtwood Smith will be reprising his role as Red Forman in the upcoming comedy series That '90s Show. Outside of his work in That '70s Show, Smith is best known for his portrayals of Clarence Boddicker in RoboCop and Robert Griggs in Rambo III. Smith is also a mainstay of science-fiction shows, including Lou Grant, Star Trek, and The X-Files. Smith's more recent TV performances include F Is For Family, Future Man, Perpetual Grace, LTD, Suits, Perfect Harmony, Jupiter's Legacy, Ultra City Smiths, and The Dropout. On the big screen, he's appeared in Cedar Rapids, Hitchcock, Turbo, Regular Show: The Movie, Amityville: The Awakening, El Camino Christmas, In Search of Tomorrow, and Firestarter. In an interview with Daily Dead, Smith talked about his appearance in Firestarter, and how familiar he is with the original movie: "Well, I vaguely remember the movie from the '80s, and because this was a Stephen King story, that was of interest to me. I couldn't believe I hadn't done a Stephen King adaptation before, but apparently I hadn't. I keep thinking I'm going to find some little film I did some time ago that was from one of his books, but so far not. And then I looked at the script and there wasn't a lot there, but I thought there was definitely enough to do something with. I just liked the idea of this old man screaming into the wind. Of course, we never get to see him screaming, but I mean, that's kind of what's going on inside his head. People won't listen to him and yet everyone is doomed if they don't kill this creature, because that's what she is. I just found that really interesting, and this seemed like a good bunch of people to be involved with, so you just cross your fingers and close your eyes and take that step."
Callie Haverda
Newcomer Callie Haverda stars in That '90s Show as Leia Forman, Red and Kitty's granddaughter. Her previous work include The Lost Husband and Shut Eye. A promising young actress, Haverda explained to Texas Lifestyle Mag how she decided to enter show business. "My first commercial was at around six years old, and soon after I worked on "The Adventures of Pepper and Paula." I actually wasn't allowed to act until I was old enough to decide for myself this was what I really wanted to do. After working for the first time, I just fell in love with the whole experience, and knew I couldn't stop!"
Ashley Aufderheide
Ashley Aufderheide will be starring in That '90s Show as Gwen. Her IMDb profile describes her as follows: "The young actor's breakthrough role came when she was cast as a lead in the indie film Infinitely Polar Bear with Mark Ruffalo and Zoe Saldana. In 2014, Infinitely Polar Bear premiered at the Sundance Film Festival and Ashley received critical acclaim for her role. Ashley's role as Morgan Freeman's granddaughter in Going in Style soon followed. Her television credits include guest star and recurring roles in AMC's Preacher and The Slap on NBC."
Mace Coronel
Mace Coronel plays the role of Jay in That '90s Show. Coronel is a widely popular social media star, having a whopping 1 million followers on Instagram as of writing.
Maxwell Acee Donovan
Maxwell Acee Donovan will be portraying Nate in That '90s Show. His other works include Gabby Duran & The Unsittables and Good Kids.
Reyn Doi
Reyn Doi will be portraying Ozzie in That '90s Show. He appeared in the hit comedy movie Barb and Star Go To Vista Del Mar, Kidding, and S.W.A.T.
Sam Morelos
Sam Morelos will be playing the role of Nikki in That '90s Show. She had previously appeared in Extraordinary Night.
Special Guest Stars
Guest stars expected to grace the screens of That '90s Show include Topher Grace as Eric Forman, Laura Prepon as Donna Pinciotti, Mila Kunis as Jackie Burkhart, Ashton Kutcher as Michael Kelso, and Wilmer Valderrama as Fez.
Tell us what's wrong with this post? How could we improve it? :)
Let us improve this post!