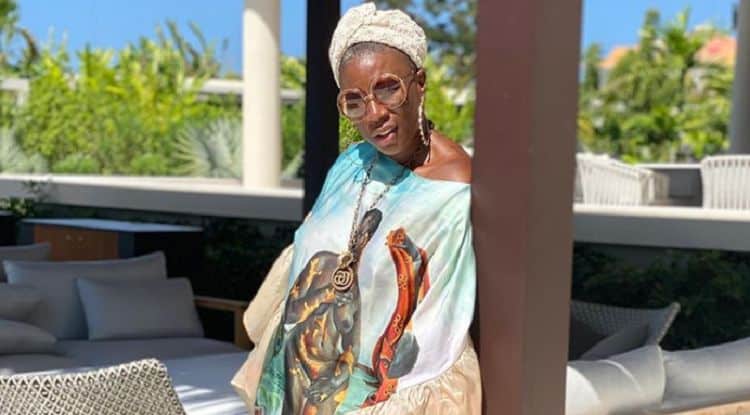 You might have seen her on "Underground," "9-1-1," and "Shots Fired" among many more TV shows as well as films in her career. Her bald head has made her both notable and unforgettable. Among the many things you may in fact know about this actress, here are some things you might not know about the amazing Aisha Hinds.
1. She is a lone survivor of a shooting incident
Aisha is one lucky woman to be alive because, at only 16, she almost lost her life thanks to a bullet. Aisha was walking home and was only a few feet away from her door when someone shot her with a .45 gun. At first, Aisha thought the gunshots were fireworks, but after hitting the ground and trying to stand up, she realized she had been shot. Thankfully, people called 911, and although Aisha's life was saved, she, unfortunately, lost one of her kidneys. As if destiny was telling her that she had more to live for, Aisha remains the only survivor of the entire incident. The man who was supposed to get shot died the following year while the shooter died a year later, after the intended victim.
2. She memorized 45 pages of "Underground" in 10 days
Aisha Hinds plays Harriet Tubman in "Underground" and preparing for the one-woman episode was not easy. She thought that she would have the script two months before the film's shooting. Aisha received the first half and second half ten days and seven days respectively before shooting day. She planned to memorize ten pages a day for four days but realized it was impossible since she had to take breaks and eat. It took such a toll on her that she tried getting the scriptwriter to reduce the words in the script. Finally despite even the college professor telling her it was impossible to learn 45 pages in a week, Aisha proved him wrong. After ten days and a canceled Thanksgiving, Aisha had managed to squeeze 45 pages in her head.
3. Her earliest inspiration
Young Aisha did not know that she would end up on the screen one day. However, every time Aisha watched television, she was particularly attracted to how Whoopi Goldberg portrayed a one-woman show. As Aisha told The Aquarian, Whoopi gave her a voice because she felt valued and validated. What Aisha did not know was that she was preparing herself to take on a similar role in the future.
4. She began auditioning immediately after college
Everyone has dreams, and we all envision a life that we think is ideal, but nothing ever goes according to plan as Aisha found out. After graduating from the University of Miami, Aisha hoped that she would be looking for a job to work overnight so that she could spend the entire day auditioning. Aisha knew that if she worked during the day, then no manager would be allowing her to take some time off for her to audition. Unfortunately, Aisha's life did not go according to plan; she neither had an agent nor the time to audition because her father had fallen ill.
5. How Aisha's mother gave Aisha her first car
We all cannot wait to grow up and have our first car, whether it is a gift or we have to work for it. The feeling of owning a car, especially as a teenager beats any other. Aisha, however, did not get hers due to excellent school performance; it was a reward for portraying that she could handle herself. One day as she and her mother visited Aisha's grandmother, Aisha was alone in the car, and she accidentally moved the gear from "park" to "drive." The vehicle started moving but Aisha despite being scared and having no driving experience, shifted the gear to "park" again. Her mother was so proud of her that she let Aisha keep the car.
6. She did not believe she could play Harriet Tubman
When Anthony Hemingway mentioned to Aisha that there would be auditions for Harriet Tubman's character, Aisha said she would fight for the role. However, deep within her, Aisha felt she could not do the iconic woman justice if she auditioned. Still, Aisha read the book about Harriet and the more she read, the more she became convinced the role was not for her. She even encouraged a fellow actress to pursue it instead. As luck would have it, the actress had auditioned for another role. Therefore when Aisha got the call to audition, she sat outside the venue for three hours gathering up the courage to do it. Aisha was the last person to audition for the role, but she ended up clinching it.
7. Why she went bald
Aisha had the misconception that for one to be cast on either film or television shows, they had to have a specific look. For her, that meant long, relaxed hair but when she moved to California, affording to maintain her hair became a struggle. Aisha decided that she had to cut her hair at least because, in the summer, there would be no casting. However, Aisha saw herself in a different light upon going bald; for the first time, she appreciated herself and discarded the idea that she needed a bob to get a role. She now maintains her bald head which has become her signature look.
8. She attended LaGuardia High School
LaGuardia High School has for so long been referred to as "Fame" school after one film, and a television series was based on the student life in the institution. Initially, it was known as School of performing Arts hence anyone interested in the arts profession enrolled in the school. Aisha Hinds is among those who have coined successful careers after gaining a quality education. However, recently, the school has been in the limelight for a different reason. Its former principal, Lisa Mars, had to leave the institution after students protested the adverse effects her decisions had on the school.
9. She leads a private life
It has been said that when people do not know, they fabricate and speculate, but Aisha does not care about what the public thinks. She has been rumored to be a lesbian after playing a lesbian mother in "Under the Dome." In 2010 she was pictured holding a man's hand which sparked rumors that it could be her boyfriend. However, according to NetworthBuzz, neither Aisha nor the man ever came clean about the photos, so the rumors died. To date, the public does not know who she is dating, her siblings, or any other personal information.
10. Her net worth
For someone whose acting career spans almost two decades, Aisha can proudly say that she has made it in the industry. Her net worth of $6 million as of 2019 is mainly from her impressive performance in various movies and series.