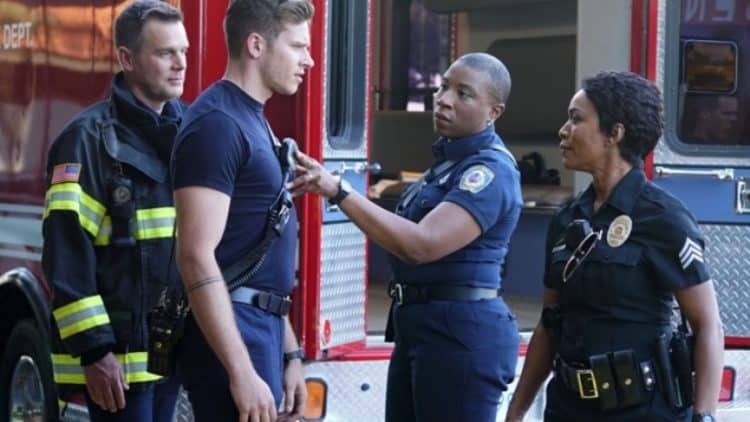 Los Angeles is one of the popular cities when it comes to shows like 9-1-1 since it offers a wide scope of humanity from which to pull and a lot of different rescue services that continually vie for dominance in one way or another. The goal of all of them is to work together obviously to control situations and keep the populace safe and secure. But every now and then there's bound to be a little friction between the many different services based either on profession or on jurisdiction, or on something else that has little to do with the job. The main point is that they're all there to respond to any and all crises that pop up and work together to create a safe and professional atmosphere that allows them all to do their job. One thing with this show that seems primed to come through however is the fact that everyone's different and the propensity for tension is going to be a driving point of the show.
Here's the cast that you can look forward to, or some of them at least.
Jennifer Love Hewitt
There was a point and time when it wasn't really known if Hewitt's career was going to survive the I Know What You Did Last Summer slam that it took when the first movie, then the second movie came out. She managed to make a lot of other appearances after this but the level of fame she enjoyed was never quite the same. By the time Can't Hardly Wait was out she was a teen queen, but it didn't last all that long as she kind of slipped away after a while and took some time to make her way back. As of now though she's definitely been on a roll with the parts she's taken on in the last several years.
Kenneth Choi
You might remember Kenneth Choi from very stereotypical parts in movies such as War with Jason Statham and Jet Li, or perhaps in Sons of Anarchy where he finally met his end at the hands of the traitor, Juice. Choi has also starred in Wolf of Wall Street however, so he's been in films and other productions where he's not just the stereotypical Asian man. Though his short stint in Last Man Standing kind of re-upped that role.
Aisha Hinds
Aisha might be one of those individuals you lose track of pretty easily but it's just as easy to pick up her trail again as she's been in enough great films and definitely enough TV shows to take a look at and remember just where you saw her last. Her addition to many productions has been as a supporting actor and someone that's there to serve a definite purpose, and she's always delivered with a great amount of skill and talent.
Oliver Stark
Oliver Stark hasn't had a supremely long career yet but he has managed to make his way into a few movies of note such as Underworld: Blood Wars, and even Into the Badlands, a TV show that has taken AMC by storm during its first season and is still fairly popular. Despite his lack of experience compared to much of the cast he's still a welcome member since he brings a bit more youth and verve to the set.
Peter Krause
He's been in quite a few productions at this point in his career but one that people are likely to remember him for besides 9-1-1 is Parenthood since he took on a huge role in that show and became one of the biggest actors on the set considering that he was one of the father figures and the most responsible of the Braverman kids. His style of acting is sometimes a little stiff but he still makes a good counterpoint to other actors that are little more loose in their methods.
Angela Bassett
Angela is a classic no matter where she goes. She's been around long enough that just having her walk on the set is a treat and having her act in the show isn't so much guaranteed to make it better as it is to get people to actually stop and take a look at what she's doing now. Her stint on American Horror Story, multiple seasons no less, has helped to invigorate her career in a way she might not have needed but is still no doubt appreciative of. Showing authority with her role is simply what this woman does.
Connie Britton
Connie Britton is another legend that can walk into the room and be at ease as she settles into her part and makes it work in a way that's hard to explain without using the word 'amazing'. She's the kind of actress that doesn't really need the accolades but is grateful for them since she's just that awesome.
With this kind of cast there's not a lot of chance that the show won't be great in some way.
Tell us what's wrong with this post? How could we improve it? :)
Let us improve this post!