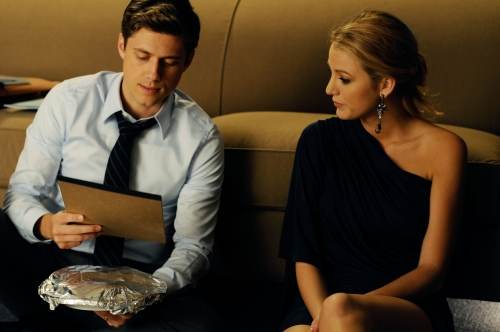 So It's Cotillion Time again in the Upper East Side. Remember the fantastic Cotillion episode from season one? Tonight's Gossip Girl matched that one and then some, but in the drama department, not the elegant part. And that little Threesome bit? That was awesome, as well.
Blair plans to be a mentor for the Cotillion, but has to face Serena, who she is still beefing with. Chuck tells her to go, because he's Chuck Bass, dammit, and probably deep down wants to see a catfight go down. Meanwhile, Serena has just been hired by Trip Vanderbilt as his publicist, despite the Congressman not needing a new publicist. Ahem…
Jenny preps for the Cotillion, but since she has missed one practice (and is not a ballet student) she has to practice extra hard. Throw in the fact that Jenny doesn't have a escort for the biggest night in a junior Upper East Sider's life, I smell a disaster right away. Jenny wanted to take a guy by the name of Graham Collins, but he doesn't know him like that. Enter Kira, who knows Graham, but is a nobody to Jenny, but she tells Eric that she can get that hook up to happen between Graham and Jenny. Eric tells Jenny, while they are on a mini truce, that he can talk Jonathan into being her escort since she can't find one. Jenny appreciates the favor, but when she leaves the area her cellphone buzzes with a text from Graham Collins saying that he is down for the escort gig, but Eric texts back as Jenny saying that she found someone already. What does lil Eric have up his sleeve?
On the Dan front, Olivia finds out that Warner Bros. have moved ahead with production of Eternal Knights 4 and want her on board. But this will put a serious crimp in Dan and Vanessa's plans for Olivia to complete the list of 15 Things Every College Student Must Do. Olivia decides to try out everything on the list with Dan and Vanessa to get the college experience that she has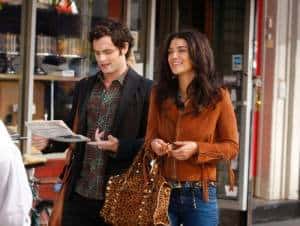 been dreaming of before she leaves for the shoot.
Mmhmmm….
Meanwhile, Blair and Serena both show up to help with the Cotillion. Serena makes it known that Jenny is her charge for mentor ship, but Blair makes a scene about how Serena is not the one she needs since Blair was Queen Bee during her Cotillion. Serena surrenders her duties to Blair to go hang out with Trip. But Blair's job as mentor to Jenny doesn't last long , because Jenny finds out about Eric's little coup and does damage control. Kira finally gets the balls to approach Jenny, where Jenny finds out that Graham actually did contact her. When Jenny confronts Eric about it, Jonathan (who had shown up and agreed to be Jenny's date) leaves in disgust more out of Eric's treachery than Jenny's mean. And when Jenny finds out that she has her junior class's version of Nate Archibald willing to escort her, she ditches Blair as her mentor and commenting that Blair and Blair's headbands are "so '07".
DAMN! Blair Waldorf, pick your face off the floor please.
Blair doesn't take this nicely and she and Eric plot sweet revenge on Jenny. First she stops by Chuck's where the annual Lost Weekend had just wrapped up. Chuck and Nate both recognize Blair's 'serene' demeanor is the equivalent of the calm before a storm. They make plans to prepare for the impending Hurricane Blair aftermath.
Serena stops by Trip's office to bring him food and to help out with his projects. The setting goes from professional to damn near sexual, but both parties halted all hormones and no one got bonked, courtesy of a text from Blair.
But the writers are setting great red herrings for the big threesome bit, don't you think?
Blair has selected Kira to be the person to bring down Jenny and take over as Queen, going as far as putting in a full overhaul of Kira's 'dowdy' looks. Kira is reluctant at first, but the thought of being Queen of Constance calms her nerves as well as being escorted by Graham Collins, courtesy of Eric.
That little runt!
As I stated above, the Cotillion doesn't hold a match to Season One's in the execution department, because it seemed as if it was done in a public banquet hall. Anyway, the drama was still there.
Jenny is happy, but it's like seeing Carrie all over again, because we know it's not going to end pretty. Eric and Blair set up the chess pieces and Nate approaches Blair with an envelope from Chuck. Blair goes to meet Mr. Bass, but meets Serena instead. Turns out that both girls got duped by Nate and Chuck and now they have to stay locked in an elevator until they make up.
While doing just that, the show wins my heart back and we see improvement. I want to hug Blair in this scene, because she realizes that its not always about her and she is a damn good friend to Serena, who reveals going to Europe to find her dad and being shut out once she got there. Serena also tells Blair about the attraction between her and Trip, which Blair rightfully says is not a good idea and that Serena needs to nip it in the bud, ASAP.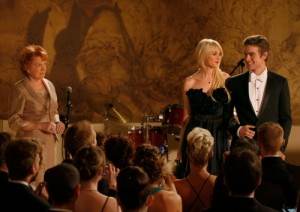 At the Cotillion, the girls are being called out to society and Jenny gets the slap of her life when Kira is called out with Jenny's date. The murmurs in the crowd are scalding enough for me to even blush in embarrassment. Jenny thinks Blair did it and Eric lets her think that, but Jenny has been in the game waaaayyyy too long to just give up. She gives a call to someone she saw at the ball earlier. That person?
Nate Archibald.
When Nate appears on stage with Jenny, her stock in clout went through the roof. First of all, she has Nate Archibald. Secondly, he is a college student. Thirdly, she saved face from the most embarrassing moment in Cotillion history. It takes a lot for half of the room to not bow in awe from the weight of respect.
Even Blair and Serena are extremely impressed, but Eric is extremely pissed. Then to throw more salt on the wound, Eric gets dumped by Jonathan, who feels that Eric is no better than Jenny at this point. But Eric, nor Kira, are through with bring down Jenny Humphrey for good.
Serena makes her way to Trip's office and they both agree that they need to calm it down and Blair stops by to make sure that's what is going on.
So who had a threesome?
After drinking, partying and completing the Top 15 Things to Do Before Graduating College, the new Three Musketeers (Dan, Vanessa, and Olivia) decide to have a quiet night cap. Dan and Vanessa tell Olivia that she completed 14 out of a 15 things on the list and that she's set to leave for London. But Olivia wants to know what it was and she finds out that it is to partake in a threesome.
CHA-CHING!!!!!
Dan and Vanessa declare that they never done such a thing before and Olivia says she did it for a movie once, but that it didn't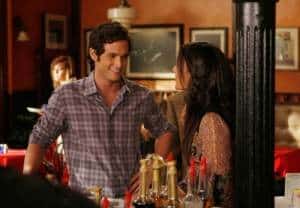 count. Then she instigates the boomchicka wow wow scenario by kissing Dan first, then kissing Vanessa, and then Dan kisses Vanessa and it's all she wrote.
As the three lay blissfully in bed together, Olivia's phone starts buzzing with a text from KC saying that the director backed out the movie again and the movie is not going to happen.
Uh-Oh!
And the last scene of the night involves Lily finding a card/letter from Dr. van der Woodsen, Serena's father.
Did NOT see that coming!!!!!
Bizarre Love Triangle
– So I take back some of what I said in the letter from last week, because THIS is Gossip Girl!
– Jenny's saving grace? Classic.
– Blair being an adult. Boy, Christmas ran early on that one!
– Is Dr. van der Woodsen back in the picture? Let's hope so.
– The threesome? Tame at best and the PTC should be ashamed of screaming "fire!" in a building that isn't on fire and causing panic. I wonder how they will look in the morning…
Your thoughts?
Tell us what's wrong with this post? How could we improve it? :)
Let us improve this post!