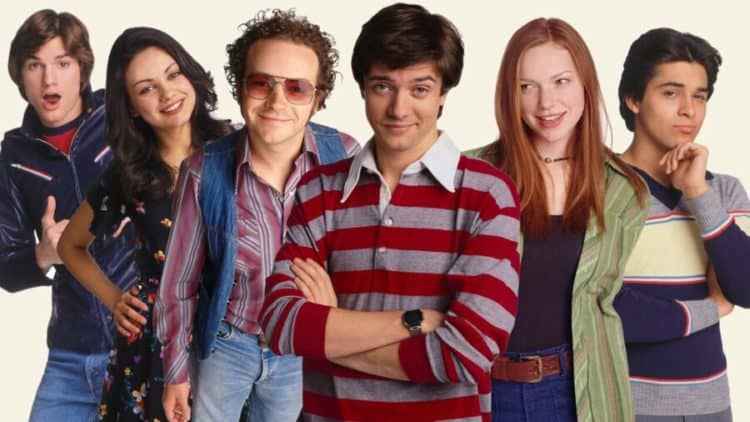 Centered around the lives of six teenagers, That '70s Show premiered on Fox in August of 1998 and ran for eight seasons until its end in 2006. The sitcom grew wildly popular, bringing forth stars like Ashton Kutcher and Mila Kunis, who would later get married. Its success birthed a United Kingdom spin-off dubbed Days Like These. It's been more than a decade since the show came to an end. Here is what its main cast members have been up to in recent years:
1. Topher Grace (Eric Forman)
As Eric Forman, Topher Grace was the geeky brainy one with an above-normal obsession with Star Wars. Following the ending of That '70s Show, he has made appearances in a number of films, including Valentine's Day, where he portrayed the role of Jason Morris, and Irresistible, his last known appearance. Grace also made an appearance as himself on Atomic Tom's video for "Don't You Want Me Baby". He is still very much in the television scene. In recent years, he has appeared on episodes of Get Shorty, Black Mirror, and The Twilight. As of 2021, he plays the role of Tom in Home Economics.
2. Ashton Kutcher (Michael Kelso)
Michael Kelso embodied the not-so-smart boy, cruising through life purely by being handsome. Since his portrayal of Kelso came to an end during the show's seventh season, Kutcher has gone on to appear in a number of romcoms, including What Happens in Vegas and No Strings Attached. In the business world, Kutcher is a successful investor through a venture capital firm named A-Grade Investments. He has been married to fellow co-star Mila Kunis, with whom he has two children. Kutcher has taken a back seat when it comes to the film space but is set to make appearances in Vengeance and The Long Home, both of which are in the post-production stage in 2021.
3. Mila Kunis ( Jackie Burkhart)
As Burkhart, Kunis was the group's youngest member. While she started off as the spoilt rich one, things took a different turn when her father went to jail. Away from the show, Kunis is a Golden Globe Award nominee, thanks to her appearance in the 2010 thriller, Black Swan. Kunis has continued to make appearances in film, her most recent one being Breaking News in Yuba County, in which she portrayed the role of Nancy. She is also set to make an appearance in Luckiest Girl Alive. On television, her last known appearance was in Curb Your Enthusiasm, where she appeared as herself.
4. Danny Masterson (Steven Hyde)
Through the seasons, Hyde, Eric's stepbrother, had a soft spot for his love interest, Jackie. As time flew by, however, he tied the knot with Samantha, who was already married. Since his portrayal of Hyde, Masterson has gone on to make appearances on different shows, including The Ranch, in which he portrayed the role of Jameson 'Rooster' Bennett. His last appearance in a show was in 2018, while, on the big screen, he last made an appearance in Urge. Masterson is set to make an appearance in the upcoming film Killing Winston Jones, which is in its post-production stage.
5. Laura Prepon ( Donna Pinciotti)
As Donna, Laura Prepon was Eric's long-term love interest, who was not quite fond of Jackie in the beginning but eventually grew to become her good friend. Following her appearance on the show, Prepon's next big appearance would be on Netflix's Orange Is the New Black, in which she portrayed the role of Alex Vause, a convicted drug dealer affiliated with the protagonist, Piper Chapman ( Taylor Schilling). Since the show wrapped up, Prepon has made appearances in a number of films, including Lay the Favorite, The Girl on the Train, and The Hero. Prepon has been missing from the television and movie scene, but still shows support to her Orange Is the New Black co-stars. Most recently, she showed up to fellow co-star Uzo Aduba's Broadway opening night.
6. Wilmer Valderrama (Fez)
As Fez, Valderrama was a foreign exchange student who at first had trouble with getting the attention of girls, even going to the extent of flirting with Jackie and Donna. He eventually wound up as a ladies' man towards the end of the show. After it came to a halt, Valderrama went on to land other roles on television, including that of Don Carlos Madrigal on From Dusk Till Dawn: The Series. In 2012, Valderrama played the role of Detective Efrem Vega on Awake. He continues to portray Nicholas 'Nick' Torres on NCIS, a role that has earned him an Imagen Foundation Award for Best Supporting Actor on television. This year, he voiced Agustin Madrigal in the film Encanto.
7. Debra Jo Rupp (Kitty Forman)
As Kitty Forman, Debra Jo Rupp was the mother to Eric and Laurie, her overly promiscuous daughter. Though she had occasional mood swings, mainly fueled by menopause and Laurie's ( Christina Moore) lack of fondness for her, she was accommodating when it came to Eric's friends like Fez and her bonus son, Hyde. Jo Rupp's last appearance in a film was in 2019's The Social Ones, in which she portrayed the role of Sheila Berger. On television, Besides That '70 Show, Jo Rupp's portfolio is as long as they come and includes appearances on television films and several guest roles. This year, she made an appearance on Wanda Vision, in which she played the role of Sharon Davis, also known as Mrs. Hart. She also appeared on the show's documentary episode dubbed Assembled: The Making of Wanda Vision.
8. Kurtwood Smith (Red Forman)
As Red Forman, Kurtwood Smith was a Navy veteran, who was part of the second world war. His portrayal of the role, he mentioned, was born out of the real-life relationship Smith had with his stepfather. An interesting fact is that he wasn't the first choice. Chuck Norris was to play the part but he was tied up with commitments to his own show, Walker Texas Ranger. Following the end of the show, Smith has made appearances in a number of films, his most recent one being El Camino Christmas. On television, he has appeared on episodes several shows, including Jupiter's Legacy, his 2021 appearance.Black Mirror
Tell us what's wrong with this post? How could we improve it? :)
Let us improve this post!